7 Ways to Take Care of Your Nintendo 3DS: Tips and Accessories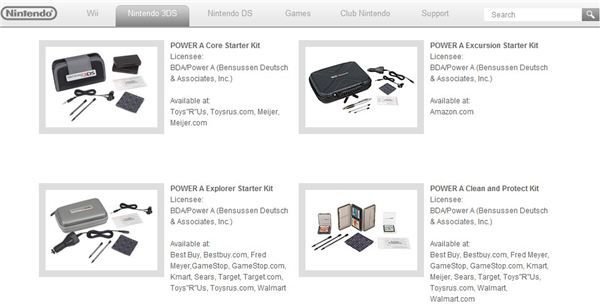 Buy Accessories with the Official Nintendo 3DS Seal
Use 3DS accessories compatible with your portable handheld. Before ordering any of these accessories, look out for the "Only for Nintendo 3DS" official seal. Beware of low-quality kits, car chargers, screen protectors and traveler bags. You can get a good list of accessories from the official Nintendo website. It features some of the top accessories providers, such as Hori, Bensussen Deutsch & Associates, Inc, PDA and many others.
Use Only Nintendo-Certified Stylus
Do not replace the stylus with just any pointed object. If your stylus is broken or lost, consider buying a new one, but please avoid using your granny's knitting needle or any pointed object. Objects not intended for use on the 3DS will scratch the touch screen. Buy a new one online or from any reliable retail store that sells official Nintendo products. I recommend buying the Rainbow Telescoping Stylus Pack from PDP, which is available at Amazon, the official Performance Designed Products website and other online retail stores.
Get a High-Quality Screen Protective Filter
The upper screen of your Nintendo 3DS is very vulnerable to scratches. This is mainly caused by the bottom screen. When you close the handheld console, the bottom screen plastic may cause smudges and scratches on the top screen.
To avoid this, you can either put a lint-free cloth between the two screens and then close the device or buy a screen protector, which in my opinion would be a better choice. In the list of high-quality protectors, the Hori Wow Screen Protective Filter is the best choice.
Avoid using any low-quality screen protectors for your device screen. They leave a chemical residue on the screen, which can be quite difficult to wipe off using a plain cloth. Also don't use any chemicals to clean your skin. A better option would be to purchase a Clean and Protect kit from BDA/Power A.
Protect Your 3DS With a Polycarbonate Case or a Vinyl Skin
Like the interior, the device exterior is prone to damage. You can protect it with a vinyl skin. A much better option would be a polycarbonate protective cover or a messenger bag if you travel a lot. You might want to check out some of the best pouches, covers and traveler bags at the Nintendo website. Many believe that choosing a skin over a protective case is a good choice because it is durable, replaceable and comes in different designs and styles. Whatever be your choices, just make sure the exterior does not get damaged.
Use Chargers That Are Compatible with Your 3DS
Do not use any other chargers. Avoid experimenting with using a Game Boy Advance SP charger on your Nintendo 3DS. If you're looking for a charger kit for your traveling needs, then the best option would be Car charger kit designed by PDP. This portable charger has a 6 foot long cable and charges your 3DS right away once you've plugged it in. It is available at the Nintendo World Store and K-Mart.
Keep Your 3DS Cartridges Organized in a Game Card Holder
If you have a large collection of Nintendo 3DS game cartridges then you should consider buying a game card case to keep them all in one place. The best game card cases are offered by Hori and are available at the product website, Amazon and other retail stores online. Hori game card cases are available in different sizes and colors, but I would recommend buying a compact case that lets you store up to 24 cartridges. This case also has a small attachment to hold the memory card. The transparent design allows for easy viewing.
Clean the Top Screen with a Lint-Free Soft Cloth
The screen is prone to smudges and fingerprints, so it is very important to clean them with a soft cloth. You can use an eyeglass or a lens cleaning cloth to clean a dirty screen. A lint-free cloth would be an ideal choice to clean the upper screen. You can also buy a cleaning kit, which contains two game cases, a cleaning lint-free cloth, screen protectors and replacement styli.
To clean the top screen, make sure the cloth is slightly dampened with water. Wipe off both the screens to remove any stains. Avoid using any cleaning agent with water as they may damage than clean the screen. You can then use a dry cloth to wipe off the moist.
Hope these Nintendo 3DS care tips and accessories will help you take care of your handheld device. If you have some questions and suggestions, do leave a comment and I or my readers will try our best to answer them.
References
All Images, Courtesy of Their Respective Developers