Game Basics for High Rollers Casino for the Playstation 2 (4 out of 5)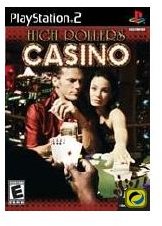 Ever been to the local casino (or even one of the really cool ones in Vegas) and watched all those card sharks win thousands of dollars on games that you didn't understand? Did you ever wish that you could learn some of those unique card games that pay out well without losing your cash to try to just learn? Well, wait no longer. High Rollers Casino for your Playstation 2 console will offer you tons of the funnest card games out there along with some fun video slots to wet your chops on so that you don't have to lose money to just learn to play. Here are the great games that you'll be able to check out with High Rollers Casino for the Playstation 2:
3 Card Poker
5 Card Draw
7 Card Stud
Baccarat
Blackjack
Caribbean Stud Poker
Craps
Double Exposure
Let It Ride
Omaha
Omaha 8's or Better
Pai Gow Poker
Razz
Roulette
Sic Bo
Slots
Spanish 21
Texas Hold'em
Triple 7
Video Poker
Video Slots
There are tons of different video slot machines that you can check out, and the best thing is that you can change up the denomination that you want to play – such as quarter slots, dollar slots, and so on.
So, in terms of the different games that you can play and enjoy, there are so many that you won't get bored too easily. For the basics of the games and the number of different ones that you can check out on this PS2 game, I give it a 4 out of 5.
Learning Curve on Games (5 out of 5)
When it comes to the learning curve on the games here in this Playstation 2 title, they are pretty easy to learn. You can also head up to the bartender in the middle of the casino and he will actually give you lessons on the different casino games that this PS2 console game offers you. So, if you aren't familiar with a certain one and want to learn to play it, simply head to the bar. You can also easily read the instructions off the signs that are posted around the different card games near the bar. By reading the rules and instructions, you can normally figure out any of the card games that are offered. Then, head to a table and sit down. The learning curve isn't long, as the game will play out in front of you with any other players that are currently seated with you. So, you can watch their moves and how they play as well. For me, I think that the different ways to learn all the games is great as you can take your time and learn at your own pace for any thing that you want to learn. For this part of this Playstation 2 console game, I give it a 5 out of 5.
Graphics and Sounds (4 out of 5)
While there are many other games for the Playstation 2 console out there that have better graphics, there are also many that have worse graphics. When it comes to the games themselves, the graphics are pretty realistic, which is nice. Even the slot machines are realistic when it comes to the rolls, the pay out lines, and even the bonus screens – so for those that enjoy video slots like I do, this is a great way to enjoy some without losing money. As for the card games, they are realistic as well, and the roulette and craps games have a great feel to them with the dice and the balls, which make the games fun to play.
For the characters in the game, they are a bit flat to me. I do understand that you are more concerned with the game graphics, but I do feel that they could have put a bit more into the characters overall so that they are a bit more realistic to match the game itself. So, when it comes to the graphics, they get a 4 out of 5 from me.
Sounds are another area that could be better, and also could have been worse. While the constant cheering and clapping get annoying in the background, they are normal casino sounds. My only complaint is that they should not be on just a flat loop over and over – they could have a little variation to them to make them a bit better. The game sounds (especially on the video slots) are pretty realistic as well, but again, are just a flat loop when it comes to rolling the slots. Overall, for the sounds on High Rollers Casino, the sounds get a 4 out of 5 from me as well.
Screenshots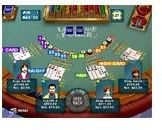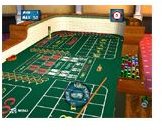 Overall Rating (4 out of 5)
For those that love casino games, or that just want to try their hand at some new ones, this is a great way to enjoy everything with money that you won't miss. I personally love this game in my collection, and find myself playing the slots when I get the craving to hit the casino. I love the different games that you can enjoy and how realistic they actually are when you are playing. So, for a cheap PS2 game that will also give you some great times just hanging out and playing some fun casino games, then this is a great one to buy. Overall, I give High Rollers Casino a 4 out of 5.