Gamers PC Review "Stacked" with Daniel Negreaunu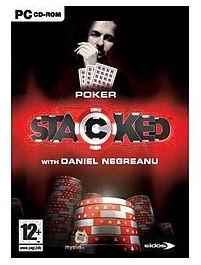 Introduction
Stacked with Daniel Negreanu was a 2006 PC video game featuring poker champion Daniel Negreanu. A truly useful interactive training
video for beginning, and even intermediate poker players, this MTV produced games helps players understand the rules and game of Texas Hold'em.
The ability of humans to just go wild and try anything to get a different result is still a trait that sends all current poker AI bots into tilt mode and has been the problem with all previous interactive poker games before and a bit after.
Gameplay (3 out of 5)
The challenging AI bots used number 8 according to the developers, meaning there are 8 separate and distinct poker styles that the computer generated players can play, each with suitable differences. This makes for a good set of playing, as the AI was able to make note of my play style and I of theirs. If you've ever played Texas Hold'Em with friends, you know who bluffs, how they bluff, and who gets excited when their hand is good (that would be me).
Poker profesisonal Daniel Negraneau provides a lot of useful hints and tips to help you along the way, some of it's good advice that should be heeded, while others should only be used as a guide, not an absolute, you still need to play your own game. Either way, if you've never played Texas Hold'Em before, these tips and tricks are good knowledge for your first game against your friends.
The career mode is long and challenging, you will need patience and stamina as you would for normal tournament Texas Hold'em, but if you pay attention the game can teach a beginning Texas Hold'em player some of the basics of the game.
The online play is fun, entertaining and enjoyable if you love playing poker, and while it's no substitute for live players on the internet, it is still challenging and engaging.
Game Graphics (3 out of 5)

The visual presentation is only average in Stacked, but then the poker is the main draw. I would've been impressed if they had added a few more screens of some of the worlds' finest poker rooms and casinos, since the poker room in Stacked is always the same. The poker rooms in Vegas, Reno and many of the European poker rooms are spectacular and visual treats that would have really added to this game.
The animation of the characters was good; the developers added the ability to manipulate your characters facial expressions, which I was able to use to fool the AI at times, once I learned the suitable differences and what each was looking for. This takes a lot of patience and game time though, you need to play many tournaments and use perception to implement their tendencies against them.
Sounds (3 out of 5)
Many of the comments and dialogue in the game are repetitive and uninteresting. Mostly done to be funny, like if you were playing with friends, rather than informative or engaging. They did use the voice of Daniel for his hints, tips and suggestions, but the other characters are non-descript.
The basic sounds of chips stacking, the dealer dealing the cards can be suitably heard, but for the most part sound effects in a poker game are going to be a non-issue.
The soundtrack is pretty basic, with tracks that are a little slow; poker is a slow paced game to begin with, and the use of down tempo songs only slows the energy level and stamina of the gamer and will certainly bore many players quickly.
Additional Features (3 out of 5)
The career mode is the main meat of this title, but the online play isn't bad. You can play in tournaments, against live opponents, and

even hosted tournaments, but I found that only one poker game didn't provide enough variety to hold my interest. These tournaments took many hours to complete - for each - and hundreds of hours will be required to make it through the career mode.
You will need to scroll through a number of screens in order to navigate around the game and find poker tips and other information required during play and this becomes tedious because you have to follow the trail you made to get to the screen, back and way you came, and this slows the game even more.
The developers of Stacked did include a Poker School mode with pre-taped educational segments hosted by Daniel, but this is pretty basic and only really good for the beginning poker player. Also included is a handy percentage meter that gives you information on the statistical standing of your hands and can teach you some of the basic numbers that are prevalent in poker.
Final Call (3 out of 5)

Stacked isn't going to challenge the medium level or advanced poker player, but if you're just looking for a game that can teach you the basics of Texas Hold'em and how the game is played, then Stacked will do the job. Daniel Negreanu and the developers appear to have wanted to produce a fun, engaging, and useful poker game that can make the experience fun, and yet teach beginners a few of the basic strategies and tactics and the game succeeds here. If you're a beginning poker player who wants to learn the rules, some basic tactics and strategies employed while playing Texas Hold'em, then Stacked will teach you what you want to learn.
Stacked with Daniel Negraneau only allows you to play Texas Hold'em, and a widely popular version of the game, additional poker games would have really helped provide variety and additional entertainment value for the money. A player can easily get a bit bored after while just playing the mainstay and certainly, in real games of poker, even the variation needs to be switched up once in a while.
The over all presentation is average, some of the professional players are easy to distinguish with the level of detail and texture, others I had trouble recognizing, even after seeing them on television dozens of times. Overall, the game isn't going to be as spectacular as up an coming games, but for beginning poker players it does a fairly good job of giving you a virtual hands on learning experience. After playing for a while, you may want to give your knowledge a work out by playing with friends who are fairly good Hold'Em and see how you stack up.