iPhone Games Review: Smack Boxing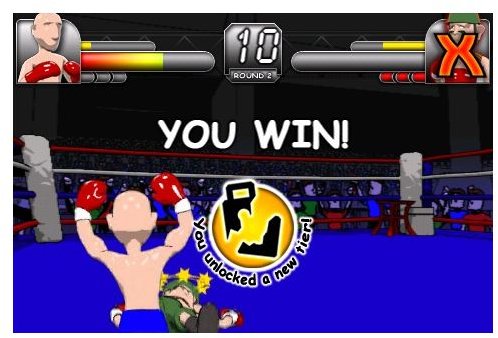 Smack Boxing Gameplay (4 out of 5)
First things first: Smack Boxing is a straight out left-and-right-punch-until-your-opponent-drops kind of game. You go up against another boxer in a 45-second round match and the first one to get knocked down three times loses the match. A match can go as long as five rounds.
Smack Boxing features two game modes, a short training mode where you learn the eight controls of the game and the fight mode which have four difficulty levels - easy, medium, hard, and insane. The hard and insane game modes are locked the start of the game and can only be unlocked if you beat the easy and medium levels. To beat the easy level, you need to complete the three tiers of each of the difficulty levels. To beat each tier you need to beat two of the three opponents available in every tier. Beating the first tier will open up the next tier until you beat the third tier.
During a match, pay attention to your character's stamina bar. Once the stamina bar turns red your character can easily get knocked down by your opponent.
Smack Boxing Game Controls (3 out of 5)
So after knowing the different game levels, how do you go about opening those unlocked levels and game characters? Of course, you have to do some smack boxing using the touch features of your iPhone screen.
The game has eight controls representing the various movements that your character can perform:
Tapping on the right/left sides of your iPhone delivers a jab
Swiping from the left/right delivers a left/right hook
Tapping on the left/right side followed by a forward swipe will deliver an uppercut
Tapping both left and right sides of the screen and remaining your fingers on the screen puts your character into stance mode
Tilt the phone to left or right to move your characters from left to right
Smack Boxing Graphics and Sounds (3 out of 5)
This game is not for the gamers who are into serious boxing game. One proof is the fact that the game's graphics are done in a cartoon-like manner. The graphics is not that great; the characters are a bit boxy. As this is just a simple boxing game, there's not too much too expect in terms of animation and character movement. Hence, your characters can only move from left to right, in a side-scrolling manner.
Fortunately, Smack Boxing made up for the not so great graphics in the sound department. The punches sounds decent, the roaring crowd was fun enough and even the ring of the bell sounded close to how it actually sounds in reality.
Our Verdict (3 out of 5)
If only for the different game levels and unlockables, we could say that Smack Boxing is a rich iPhone game. It's fun and enjoyable if you don't have high standards for characterization and detailed graphics. While the first two game levels are easier to beat, the other two difficult levels will definitely pose a challenge. It's beatable but would take quite an effort to do so. If you're looking for a straight-out smacking boxing game, then _Smack Boxin_g is a good download. It costs $2.99 at the Apps Store.
Photo credits:
Screenshot of Smack Boxing by Full Control and Wit Entertainment.