iPhone Game Review: FaceFighter for iPhone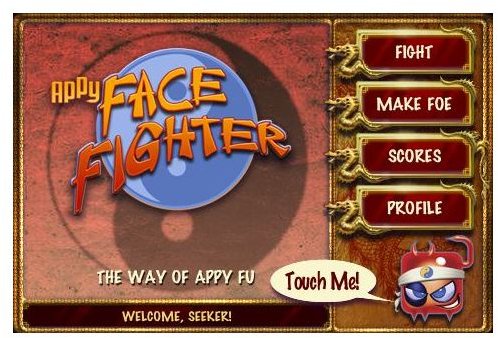 FaceFighter iPhone Game Review (4 out of 5)
If you've ever wanted to punch your boss' face, this game will help you fulfill your long time wish, even if it is just on your iPhone. FaceFighter is a dead simple, straight-out 2D boxing game. You get to do left and right punches, kick your opponent on the face and block your opponent's punches.
Initially the game gives you four opponents. But if you get tired of beating these four opponents you can always add new players or as the game calls it, foes by creating them using photos of people in your iPhone's camera roll. You can also take new photos using your iPhone camera and use them to create new foes.
It's really dead simple to create new foes using your friends' photos. You can zoom in and out their faces, crop them, rotate the pic and even line up their eyes and mouths. Creating foes out of your friends' photos is the main buy-in of this game. It's pretty fun once you finally see how your friends would look like after you beat them.
During the fight you must knockdown your foes three times. At the upper left part of your iPhone screen just below the name of your foe, you can see their stamina indicator represented by three dots that have the same color. Once three dots of the same color are erased, watch as your foe goes down. After the referee does his job, the game will continue until the next similarly colored dots are gone. There are practically 3 sets of similar colored dots which you need to eliminate to win a fight.
What's so funny about this game is how your foes get swollen lips, black-eyes and even lose their teeth. Imagine fighting with an opponent with your boss' face? This is like a dream come true, right?
Another interesting feature of the game is the Kung-Fu inspired game sound. It's upbeat, it's lively and it adds up to the fun factor of the game.
Before you even think that this game is easy, wait until you change the game difficulty to hard mode - you're lucky if you can even win once in every rounds.
FaceFighter also has multi-player mode, which is done through Wi-Fi connectivity. You can play against your friends provided they have the application on their iPhone.
For controls, there only four actually - right punch, left punch, kick and block. It's practically a button-smashing type of game, like all other 2D fighting games.
Our Verdict (4 out of 5)
FaceFighter for the iPhone got everything that you'd look for in a nice little fighting game. With cool graphics, superb background music, novelty factor and of course the fun element - this game is definitely worth buying. My only gripe about the game is that it doesn't show your face after a fight. It would funny to see how you turn out after getting beaten by - yourself.
You can score FaceFighter from the iTunes apps store for $1.99.
Image credit:
Screenshots of FaceFighter by Appy Entertainment.