What's Cooking?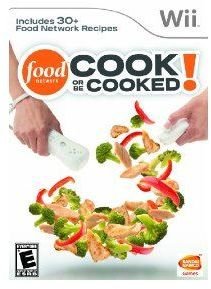 While pretty much all of us like to eat, there are those who like to cook too. Watching cooking shows can be fun, but doing your own cooking is better. Eliminating the mess by doing the "cooking" on the Nintendo Wii is even better than that. Being able to do the cooking on a large TV screen not only makes everything easier to see, but also makes the culinary delights you've cooked up look as delicious as they can be.
Now the Food Network doesn't expect you to just jump in and put the apron on without any help – so food mavens Mory Thomas and Susie Fogelson are here (or at least their animated graphic alter-egos) to help as needed with the 30+ real recipes that the Food Network knows you'll be interested in .
Getting Ready (5 out of 5)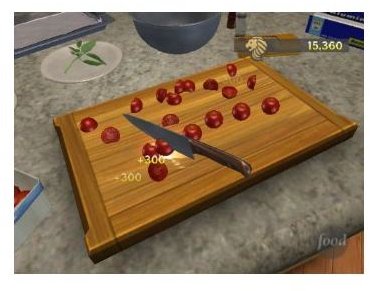 You're using the Wii remote to move your way through the kitchen but it's not just pans and pots. There's recipe challenges to take on – breakfast or lunch or dinner, anyone? – that will show whether you've got the pan to the burner on the mark or not. Forget multi-player mode and work your way amidst the colorful and animated graphics that will help you "design' a meal and serve it up to the food mavens for a "thumbs-up" if done right (at least there's no food spoiled if you much up). The mouth watering graphics had me salivating so it's a good thing the Wii can't provide smells to accompany video and audio!
Getting It Done Right (4 out of 5)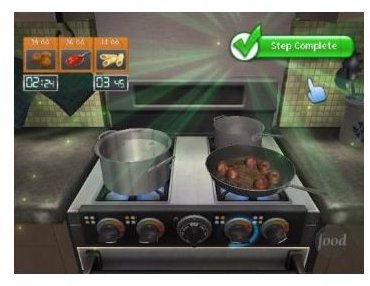 The sounds of the kitchen accompany you as you produce meals that you hope will appeal – at least to the mavens on the screen! They're not all about judging like it's American Idol either, so expect some tips and help along the way to improve your odds at producing a great meal even if it's simple fare.
Making Bacon (5 out of 5)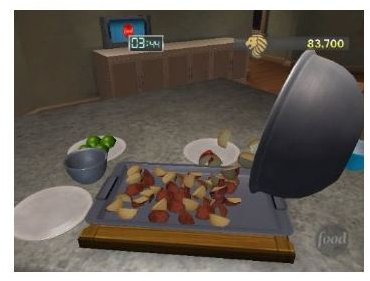 Gameplay gets a leg up – lamb? – because the challenges are fun even as they help you in learning how to do those recipes. Those with "butter-fingers" along with those who don't really know their way around the kitchen will appreciate that incorrectly using a knife or cooking tool (like that chopping thing or whatever it's called that cuts up vegetables) can't result in a finger heading off to points unknown. Not that you don't have to learn to be precise and accurate with the various kitchen utensils if you want to be a top chef in the video game world at least. Completing tasks that result in cooked food can be as tough as clearing a stage of bad guys – and it certainly is a lot more delicious.
Eat It All Up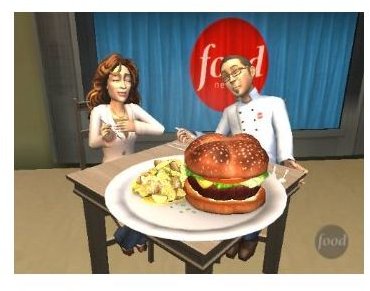 Food Network: Cook or be Cooked is a lot more adult than those other cooking games, and as noted above it's easier to see on the big screen compared to the Nintendo DS that so many of them appear on (Nintendo seems to have a lock on munching games, eh?). The best part is that after a while you'll start feeling more confident about making your way around the kitchen and more importantly, the recipes for making different food. Then you can turn off the Wii. put on an apron and tackle the real thing in your own kitchen. There won't be anybody looking over your shoulder and you won't be getting encouragement from animated companions, but when you're done you'll have real food that will taste real good. What could be better than that?