About Coffee Rush 2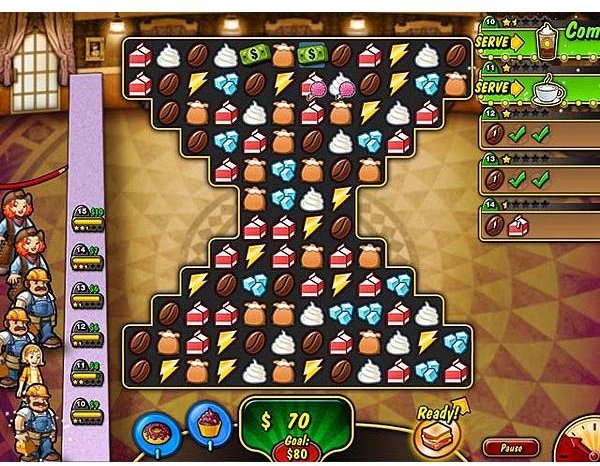 In this match three game sequel, the evil Smokestack Coffee Company is trying to run all other coffee places out of business. You are a business owner who is determined to make it a success with lots of customers and profits.
Game Play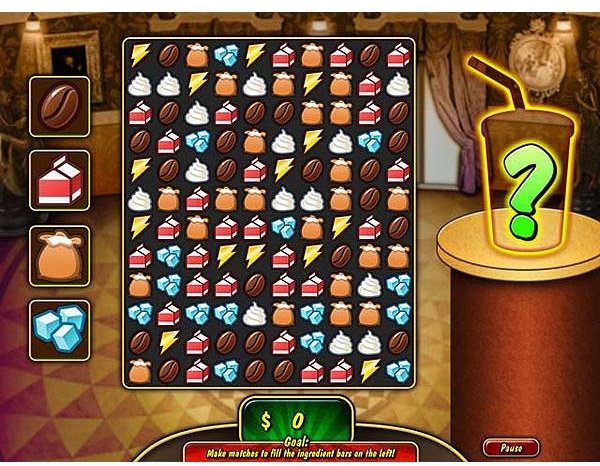 In this Coffee Rush game, you will spend most of your time in match three levels. As customers arrive, you will need to match items that are needed to fulfill their coffee order. Once all ingredients needed are matched, the customer's order is completed and can be delivered to them by clicking on the item. The money is then collected by clicking on the dollar icons that are left behind as the customer leaves.
Each level is timed. You will need to earn a specific amount of money on each level before time runs out . If unsuccessful, the level will need to be repeated in order to move forward in the game.
In between some levels you will have special match three rounds for creating new recipes. These are completed by multiple matches of specific items. As matches are made, they will fill up an icon container. Once all ingredients are collected, the new recipe is made available in future levels.
Another type of bonus round will give you the opportunity to add a new type of character to the game. These are match three rounds where you will need to change all of the tiles on the board to yellow. These levels are not timed, so bonuses are guaranteed on successful completion.
Coffee Rush 2 has 10 different shops you can play in with a total of 100 levels. Win the game after all levels are completed.
Game Tips
Customer's have different levels of patience. This is indicated by the small bar located in front of them. Increase their patience by giving them donuts or cupcakes.
To make faster customer deliveries, watch the screen for the ingredients that are needed. When the order is completed, immediately click on it to deliver it to the customer and collect the money (there are no bonuses for chaining actions). A new customer will then arrive to take their place.
Create matches by clicking on an item you want to move. Then click on an adjacent space to move it to the new location.
When coffee pot icons are matched, they will cause a line of items to disappear. This can be a useful strategy to help remove Smokestack icons or other items on the game board.
Adding sandwiches to orders will earn bonus points.
Special match three rounds for recipes and new customers can be skipped.
Coffee Rush 2 can be played in fast (Espresso) or slow (Decaffeinated) mode.
Screenshot images for the Coffee Rush 2 article were created by Sheila Robinson.