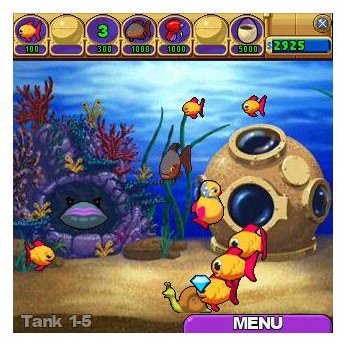 Insaniquarium
For a Palm Pre game with a difference, look no further than Insaniquarium Deluxe. To a certain extent it will please gamers who like games of the Farm Frenzy variety, as the idea is that you look after your aquarium of fish, and get rewarded for your efforts - but there is a twist to this game. Not only do you have to do the usual feeding, and keeping your fish generally happy, you also have to defend your fish from aliens. Coins and jewels are obtained from doing a good job looking after your fish, meaning upgrades for your tank or egg parts; these eggs then hatch into tank pets with special powers. It is with these special pets that you can keep the aliens at bay. You can also buy weapons to get rid of those aliens more quickly.
Rock Band
Lovers of Rock Band as a console game won't be disappointed in its transition to the mobile arena. It has, of course, fewer songs for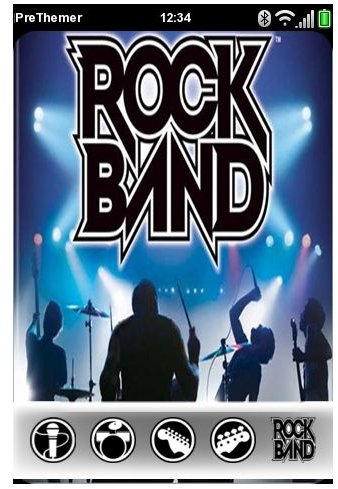 you to rock out to, but 25 big hits to play in the 4 ways any group can, offers enough to keep even the keenest rocker happy. You have the choice of being lead singer, bassist, guitarist, or the drummer, in either easy, medium, or hard difficulty levels. Tracks by the likes of Lynyrd Skynyrd, Blink-182, and the Foo Fighters offer enough difference according to your mood too. The choice of a quickplay mode, or a full-on tour experience, complete your game choices in this fabulous Palm Pre game offering.
Connect 4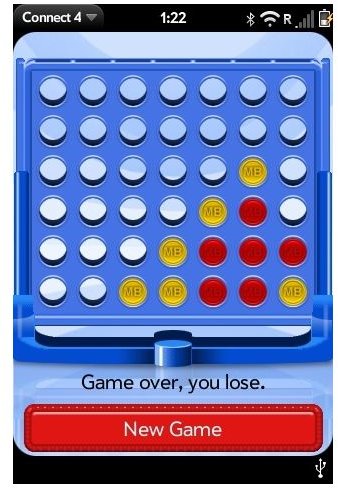 Connect 4 may seem like an odd title to find in a top ten list of games, but its popularity can't be dismissed. It is definitely one of those simple but addictive games, in the league of the likes of Tetris, and bust-a-move, that will get you gaming for more time than you originally planned to. Just like the original board game, the idea is to match up 4 tokens in a row, either vertically, horizontally or diagonally. You can play alone, against friends online, or use the 'pass and play' option. It makes full use of your touchscreen controls, making it a perfect way to while away some time even when you're on the move.
Read our full-length review of the Palm Pre edition of Connect 4.
Westward
Westward will suit fans of games like SIM City, who also like a bit of cowboy action added to their gaming experience. Make a camp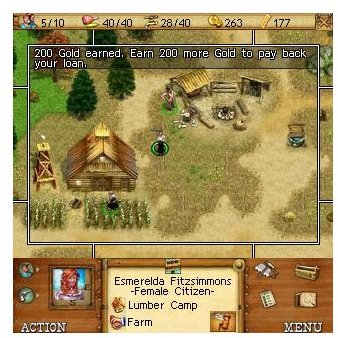 and help your little people build up a community, from a choice of 25 different buildings. There are 4 different locations, that you can explore on 20 different levels. To add a bit of something extra there are some additional side levels to add a bit of yee-ha to the usual game, and there is also the challenge of tracking down the Mad Russian, in order to bring him to justice too. If you want to experience a bit of life as a frontier settler in the wild-west, no matter where you are, then Westward is a truly absorbing game, that will keep you occupied for hours on end.
Battleships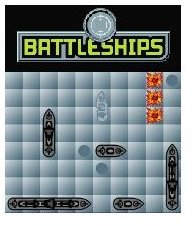 There are many free Palm Pre games available, but this is one of the few that is actually worth playing. There is nothing fancy about Battleships, and I'm certainly not going to start drooling over the graphics, but it is what it is, and it does it well. The classic grid of the game you played as a child is all too familiar, with the usual choice of ships and subs etc., to plot and blow-up. The only addition to this game is a high-score table, if you want to get competitive with your play.
Bzzz!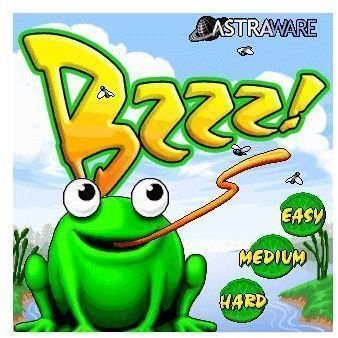 Games for the Palm Pre don't get much simpler or more absorbing than Bzzz! The idea of the game is to look after your frog - keeping him happy and well fed with flies. Sometimes the flies will try to get their own back, so you need to make sure that long tongue catches the flies quick enough, before they turn the tables and bite your frog. You also need to keep a look out for those pesky wasps that wander around too. With 3 difficulty levels there is plenty of playing action to keep you going in this simple game, and you can pick up bonuses along the way for accuracy too.
Tradewinds 2
Tradewinds 2 sets your ship in the Caribbean, where you trade in 20 different ports and locations, that you are free to explore, buy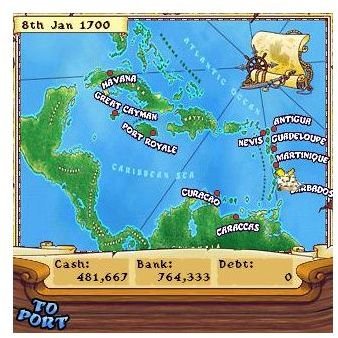 new ships, weapons, and goods to buy and trade, from. The second edition of the Tradewinds game also has the new feature of dealing with the governor of each port who may ask your help to complete simple tasks such as shopping, rescuing maidens, or even more exciting tasks like battling pirates. To travel from one port to the next you need to round up help from the Inn, buy charms and the like from the trader, which should ensure a safe passage to the next port.
It's not cheap though (at $9.99 this is pretty steep for a mobile game), but then again it does have a lot better graphics, and has a lot of different levels and more depth than most other mobile games have; you may feel this price is justified for a game that has more of a console feel to it.
For more games like this, why not check out our rundown of the best games with a pirate theme, available for all platforms.
Bejeweled 2
Most of us are familiar with the Bejeweled 2 game, or its predecessor, and it is an ideal game for the Palm Pre gaming environment. For the uninitiated in just how addictive this game is, the point is to swap your gems around the screen, matching colors in a line of 3 (horizontally or vertically), which will then clear them from the board. If you can match 4, or even 5 in a row, you get rewarded with bigger bonuses such as the Power Gem or the much prized Hyper Cube.
Bejeweled 2 is very much the 'must have' game for Palm Pre, featuring high in most bestselling mobile gaming charts. For a fan of puzzle games like this, why not also consider a game like Tetris, to keep your brain occupied with some colorful fun.
GTS World Racing
It's hard to find good driving games that work well in a mobile environment, but GTS World Racing is a popular game for Palm Pre,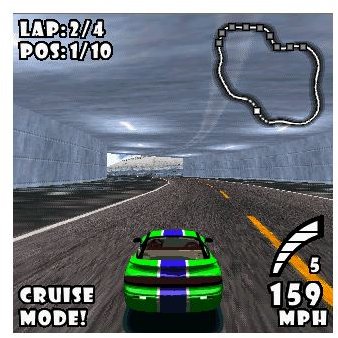 featuring in many top 10 bestselling lists of mobile games. It's a take on the classic arcade game of the same name, allowing you to race on 64 different track layouts in 16 locations worldwide - not a bad range considering this is a mobile game. You can also choose from 3 different cars, 4 difficulty levels, and 4 different modes of play, giving as much choice as you need to keep this a fresh gaming choice time and again.
My Little Tank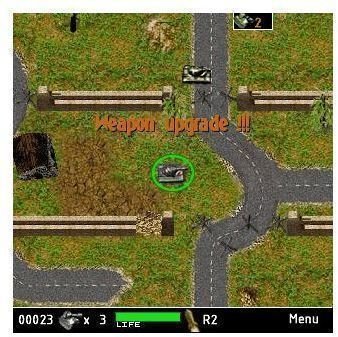 The My Little Tank game is an unlikely choice for a top ten listing, but its unique look and gameplay make it a very appealing choice, for a game that's a little bit different from the rest. And if you think it sounds like just a "game for the boys", well the developer has thought of that too, even offering a pink tank, if you find that a more agreeable option to shoot down the opposition with - don't worry though, there are 6 other colors to choose from too. Compete in whatever color tank you choose, in 80 different missions that increase in difficulty as you progress, keeping you occupied and your gaming skills stretched all the way. There are 5 different enemy tank types, 6 choices of power ups to help you in your battles, and even destroyable scenery.
It offers so much more than this though as you the better you do, the better weapons, bonuses, speed boosts, and freeze bonuses to halt the enemy tanks, you collect as you progress through the levels.
Games for Palm Pre have much to offer, from puzzle games, games with a pirate or cowboy theme, and even some weird and wonderful options too, meaning that there is a choice for even the most experienced gamer.