Review of Kingdom of Loathing - Wear Corduroy Pants and Be Merry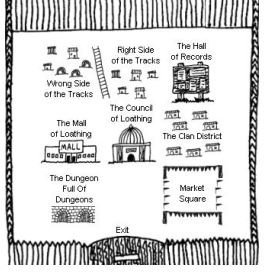 Enter Kingdom of Loathing (KoL)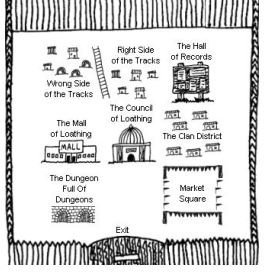 Kingdom of Loathing (KoL) is truly one of the most original free online games I've ever played. Filled with evolving storylines and a cynical sense of humor it takes MMORPG players into a different type of virtual world. This turn-based style browser game has a growing MMO following worth taking notice. When you enter Kingdom of Loathing you will notice the seamlessly breathtaking stick figure characters and scenery. Go on an allotted number of adventures a day exploring KoL. Journey to various areas including the infamous barrel full of Barrels, misspelled Cemetery, Orcish Frat House, and the Bugbear Bakery (yummy). Fight odd monsters, collect wacky objects, solve puzzles, and loath with the best of them. In Kingdom of Loathing sarcasm and sorcery dominates.
Wear Corduroy Pants and Be Merry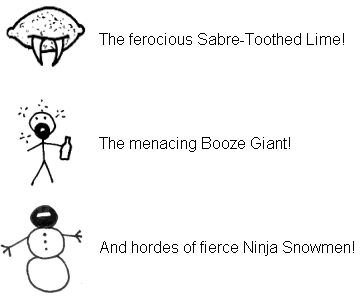 KoL is the only game that lets you wear corduroy pants in mid-summer. There are six different character classes that users can choose from. Each class offers a peculiar mystical skill. The two most popular character classes are the Seal Clubber and the Accordion Thief. Seal Clubbers rely primarily on their sheer strength while Accordion Thieves serenade opposing foes and the ladies. Other classes include the Turtle Tamers who possess the innate ability to move 'like a turtle', the Pastamancer artisan of the noodles, the Sauceror defender for the Gravymakers, and the Disco Bandit a boogie professional. While exploring the picturesque kingdom players complete various quests and collect loot. There are hundreds of little gadgets that you can equip yourself with for later use. Find items like a Meatloaf Helmet, golden twig, or eXtreme Mittens. The Gnollish Autoplunger is another weapon-like tool players can gather. The adventures in Kingdom of Loathing is endless. Enemies potentially lurk around every corner. Users must watch out for the menacing Booze Giant, Ninja Snowmen, and Sabre-Toothed Lime monsters. You never know when one of those pesky Sabre-Toothed Limes might attack and you need to plung him to a smelly death. Put on the filthy corduroy's of a filthy hippie and drink booze in the woods when you need a break in between quests.
Find the Adventurer In You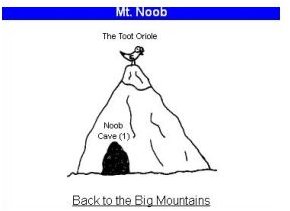 When you start off in KoL you'll meet Toot Oriole a helpful feathered creature that will guide you through the game. Good ole' Toot Oriole makes KoL simple to grasp. Toot eloquently shows newcomers the ropes. He quickly runs through the games features and start you on your first set of adventures. Each adventure sends you to accomplish an objective. Sometimes players will be sent to collect a item from a particular person, shop at the demon market, fishing in the sewers, or killing a bunny for meat. Every time you complete a task points are given. Points are categorized by certain skills. Players earn Mojo, Beefiness, Moxie, Enchantedness, and Sarcasm points for various activities. The more points and tasks you complete the higher you level up. Finding the adventurer in you is easy in KoL. There is no fees or packages required to play. Players are welcomed to donate via paypal or purchase one of the cool items in their loathing gift shop. Browsing the Kingdom of Loathing store is almost as fun as playing. They have a comical documentary about KoL, assortment of stylish t-shirts, logo coffee mugs, calendars, plastic toy collectibles, and other quirky items suitable for any Kingdom of Loathing lover.
Final Assessement – Kingdom of Loathing (KoL) (5 out of 5)

Kingdom of Loathing should be a must-play for MMO gamers. This extremely unique browser based role-playing game is completely free. There is no coins or credit currency required to fully enjoy your adventure. The humorous developing storyline and puzzles embedded in the quests make KoL stand out from other basic turn-based RPG's. Unlike most MMOs Kingdom of Loathing has no advertising pop-ups. It's simplistic, creative, and amusing. The stick figure sketches give the game that extra originality that draws people in. Creator Zack Johnson and staff are constantly adding to the game providing players with new content. It's always a reason to re-visit the Kingdom of Loathing. The fantasy element plays into every aspect of the game. The gift shop loaded with cool collectibles and t-shirts let users take KoL wherever they go. Kingdom of Loathing has a growing following and tight-knit MMO community. For those select individuals who take pleasure in being sarcastic this game is for you.
Kingdom of Loathing Stuff