Build-A-Lot 2: Town of the Year Review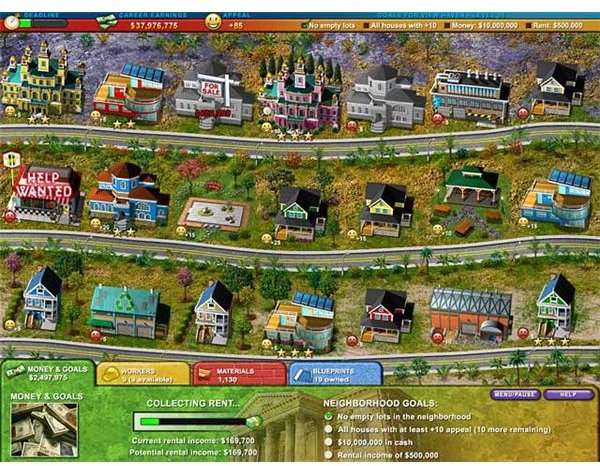 Overview
Build-A-Lot 2 is the second game in the series of casual tycoon games. It allows you to build up a neighborhood as a real estate maverick or a landlord. You will move through 10 different neighborhoods as you try to make each one the town of the year.
It should be clear that this game isn't a tycoon simulation. It is more like a mix of Diner Dash and Sim City. You need to be quick and do things in the right order if you want to do well. It is also based on a level system, so you aren't dealing with long term investments. Each level has a number of set objectives, but you have a number of options concerning how you'll finish them.
Features (4 out of 5)
The game allows a lot of options in building up the neighborhood. You are allowed to buy and sell houses and empty lots to get money for improvements. You will usually need to upgrade a number of your homes to meet various objectives. Everything is done through a number of menus that pop up when you select the house. It is usually just a matter of balancing your money, your available materials, and your available workers. You click the various buttons to send out workers or buy new materials.
This sequel has a few new features. There are more special buildings and new stores that act as a secondary means of income. There is also new addition that allows you to add landscaping to a house to increase its value or even add a new coat of paint. You will also be able to build parks and atmospheric upgrades to increase the property values of the neighborhood as a whole. This really adds a new set of strategy that the previous version was sorely lacking.
Graphics (2 out of 5)
This is just a casual game, so don't expect a lot from the graphics. There are some nice 2D icons in place and you always have a good sense of what's going on in the game. They are at least functional, but they could probably be a bit better than the basic versions they chose.
System Requirements (4 out of 5)
The system requirements shouldn't be a problem for anyone with a fairly modern computer. It just requires 256 MB of RAM and a 600 MHz processor. Any computer that can access the Internet can probably play this game. I personally used a XPS gaming PC for this, so I didn't have any problems. Regardless, it isn't a resource intensive game. If you are worried, then you can try out the demo before you buy.
Final Decision (4 out of 5)
I suggest that you at least look into Build-a-Lot 2. It's a fun game and it's quite interesting. The actions do get repetitive though and it isn't exactly a complicated game. If you are looking for a tycoon simulation, then this probably won't meet your needs. It mainly appeals to the fans of other time management games like Diner Dash or any of it's offspring. The best advice I can give is that you should look for a demo of the game. Just about every store that sells the digital download also offers a free hour of gameplay before you decide to buy. Give it a try and see if you like it.
I personally recommend the game, but it might not be right for you. Part of the factor in my decision is the cheap price I had at BigFishGames.com. If you commit to the gold membership then it is only $6.99, and the game is definitely worth that. Anything higher, and you should probably try it out first.
Images