Build a Lot 3 Game Review for Windows PC: Best Time Management Simulation Game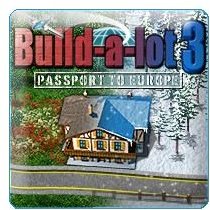 Build a Lot 3 (4 out of 5)
The Build a Lot 3 game is all about time management and strategy that integrates the real estate scenario in a more entertaining and fun way. It is one of the best time management games of the decade. You, as a real estate/construction giant, are responsible to restore rundown houses, build English cottages, Swiss chalets and Spanish haciendas, recreate beautiful neighborhoods and construct service buildings. The game's fast-paced action and random gameplay make it quite re-playable and entertaining.
Gameplay (5 out of 5)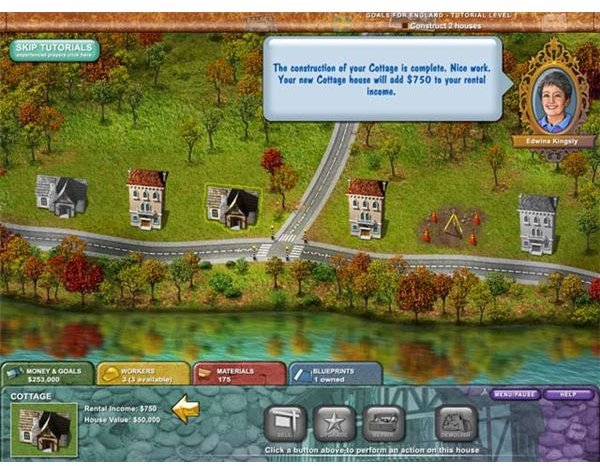 If you thought Build a Lot 3 is one of those boring sequels without anything new, you are wrong. The game has some fresh new challenges and alternations that encourages players to strategize. The third installment transports you to the lush green valleys of Europe where you spend your time building and renovating English Cottages, Swiss chalets and Spanish haciendas. Its intuitive point-and-click interface is complemented with informative menus that help you to play the game.
For beginners, there is a tutorial mode that touches the important aspects of gameplay. Apart from the tutorial mode, the game includes a campaign and a casual mode. The campaign mode has 43 challenging levels whereas the casual mode is more like a sand-box mode that promises extra hours of gameplay.
The campaign levels come up with different challenges such as building a certain number of properties, earning rental income and raising a town's curb appeal. The game does not limit you to expand your real estate empire in a single location unlike other Build a Lot games, but allows you to fly back and forth between England, Spain and Switzerland. Thanks to the passport system!
Build a Lot 3 allows you to paint and landscape houses to increase their curb appeal. You can get clever by buying a cheap derelict building, renovate it, put a new coat of paint and sell it at a neat profit. In fact, one of the most fun features is painting houses with different colors. You can also build landmarks around low curb appeal buildings to have a positive impact on customers. But, beware as building industrial buildings can lower curb appeal.
New features in Build a Lot 3 game include weather systems and various random crises. The weather system introduces rain and snow weather conditions. These are not for fancy purposes. The weather conditions affect the pace of the game, especially when you are doing some outdoor jobs like repairing and painting.
The introduction of various crises adds more entertainment to the game. Your properties may get engulfed by fire or some troublesome neighbor may disturb the neighborhood, anything can happen. These random occurrences never cease and discourage you to collect rent. But, if you build friendly service stations like hospitals or fire stations you can get saved from any unnecessary expenses.
Graphics (4 out of 5)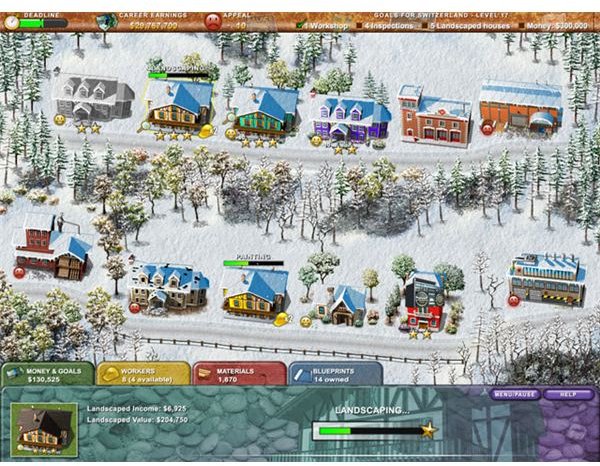 The game is played in a top-down view and has an easy point and click interface. The house models have a cartoony look, but are three dimensional. One of the best aspects of the game is the dynamic weather system. Every few minutes, the weather changes, providing a challenging gameplay. The information screens are quiet neatly laid out. You can easily track materials, workers, rent and many more.
Sound (3 out of 5)
Sounds in Build a lot 3 are average. Each particular completed event, like renovating a house or building a new one is announced with a unique sound. The tunes are not so memorable, but cannot be completely ignored.
Overall (4 out of 5)
You may find many time management games like the Build a Lot 3 game replicating the true essence of this real estate strategy game. But, none of them have been successful to match the gameplay elements and easy user interface of Build a Lot 3. With its casual and story mode, the game brings rich experience of long hours of gameplay and never becomes monotonous. The inclusion of some new features and improved graphics makes this game even more challenging than its previous versions.
Download Build a Lot 3 from HipSoft.com
System Requirements
Operating System: Windows XP/Vista
Processor: 600 MHz
Hard Disk Space: 108 MB
RAM: 256 MB
DirectX Version 6.0