Be Rich Review for Windows PC: Addictive Casual Simulation Game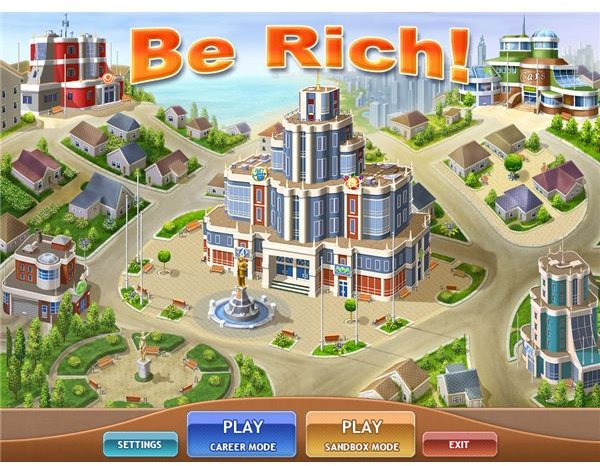 Be Rich (4 out of 5)
Be Rich is a casual real estate/construction simulation game that generously borrows some ideas from one of the most successful franchises in casual gaming, Build a Lot. But, when you play Be Rich game, you will understand the difference between the two. This strategy-oriented casual game's design may be similar to Build a Lot, but there are significant differences. The game cuts down any worries about resource management and follows a more arcade styled way to play the game. In fact, the goal of the game lies in its name: get rich quickly.
screenshots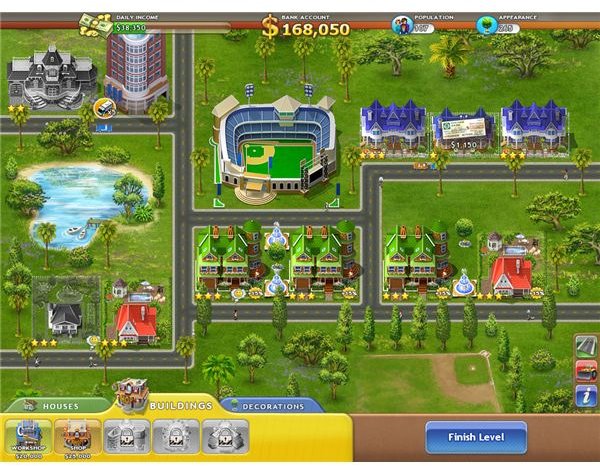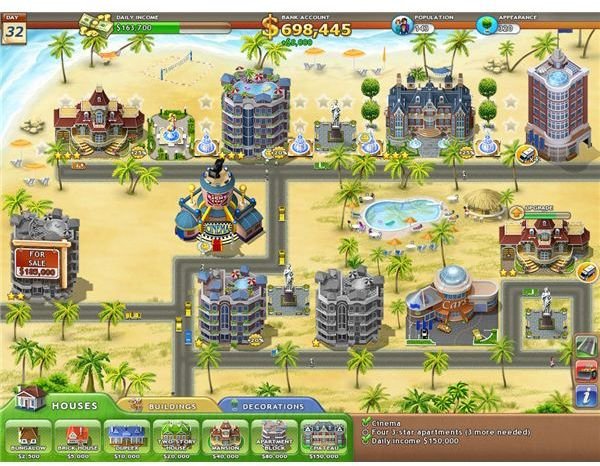 Gameplay (4 out of 5)
In Be Rich, players can travel to various towns and cities within America and work on construction projects. Each town has a set of goals to achieve such as building cinemas, shops, or constructing a 3 star apartment block. Achieving a daily income of $100,000 through rent and other sources is important as this ensures you survive to stay rich. You can raise your earnings or rental income by building more houses, buying lots and upgrading existing units.
Be Rich has two modes of gameplay: sandbox and career mode. As discussed earlier, the career mode has different goals to fulfill within a fixed deadline in order to earn more or achieve promotions. As you progress you get to upgrade your company by taking new construction projects like Repair Garage, Financial Department or a Charitable Foundation. The bottom of the screen shows some tabs. Clicking on them will result in constructing bungalows, mansions, and chateaus and even collect rental from them.
The Sandbox mode in Be Rich has no specific time limits or deadlines. Gamers are provided with a larger map to build their dream town. Apart from building houses, you also decorate your town with trees, fountains, roads and even bridges.
One of the major differences between Be Rich and Build-a-lot is the ability to construct roads. While it reminds you of SimCity, it still is a fun feature. You can tear down roads and build new one running in completely different directions. Another difference is the freedom to construct buildings anywhere you want. You have the freedom to choose buildings and their locations.
Graphics (4 out of 5)
Be Rich fares well in the graphic department. It has all the graphical features required for a 3D casual game. The beautiful, quaint surroundings, people walking on streets, and tiny cars driving on the road adds an excellent human experience. Different terrains including beach, snow and grass are rendered beautifully. The Be Rich game requires a Pentium 2 800 MHz Processor and a Direct X 9 compatible video card to play.
Overall (4 out of 5)
More simulation, no headaches of resource management and addictive gameplay makes Be Rich an impressive game. Developers Divo Games has given a tough competition to Build a Lot by borrowing some concepts, but expanding the simulation experience in challenging new ways.
System Requirements
Operating System: Microsoft Windows 98/2000/XP/Vista
RAM: Minimum 512 Mb
Direct X compatible Video Card
Processor: Pentium 2 800 MHz