Microsoft Flight Simulator X Review for Windows PC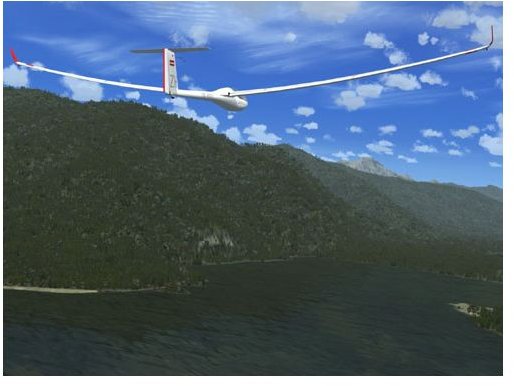 Microsoft Flight Simulator X (5 out of 5)
Think of a perfect air simulation game and the Microsoft's Flight Simulator series comes first in your mind. The original Flight Simulator's release for the commodore 64 spelled instant success and fan-following. With Microsoft's various iterations of this flight simulation game, the graphics and gameplay got better and showed awesome level of depth and breadth. Flight Simulator X boasts an amazing amount of detail, both in terms or graphics and content.
Gameplay (5 out of 5)
Microsoft Flight Simulator X has more than 20 simulated aircrafts ranging from the Piper J-3 Cub and Classic Cessna to airliners such as Boeing 747-400 and Learjet 45. The game also boasts perfectly simulated ultralights, gliders, aerobatic aircrafts and helicopters. You will find some variants for each of these aircrafts sporting different colors, digital displays and modern flight instrumentations. With the entire world modeled in exquisite detail and simulations of every aircraft, the game is a perfect flight simulator in all aspects.
Flight Simulator X includes excellent tutorials and many goal-oriented missions. So, if you are expecting a boring flight from point A to point B, you may get a bit of a surprise. The game has many missions ranging from rescuing stranded workers from an exploding ocean oil rig and seeking a lost camper in snowy mountains to lighthearted missions such as playing a stunt pilot's role and trying to land on a moving bus. The intense search and rescue missions can make even die-hard sim fans sweat with excitement.
The standard version boasts 30 missions while the Microsoft Flight Simulator X deluxe edition has 20 extra missions, 24 airplanes, 45 high detailed airports and more than 30 exquisitely detailed cities. The deluxe version also has unique tower controller module that lets players play the role of an air traffic controller in multiplayer mode.
The free-flight mode offers unlimited options. Gamers can select any one from a long list of aircrafts. There are over 24,000 airports around the world to takeoff. The airports are detailed in every aspect. From the fuel trucks moving from gate to gate to jetways extending to connect your aircraft to luggage carts, all these make you feel that you are in a real-world environment.
Screenshots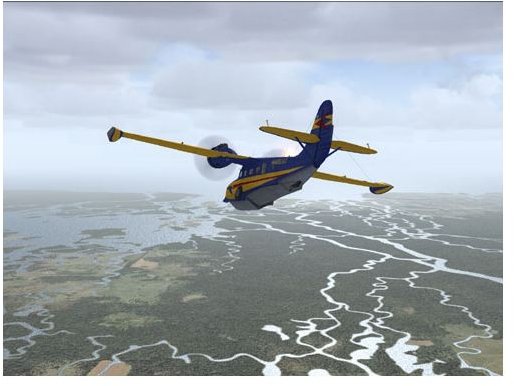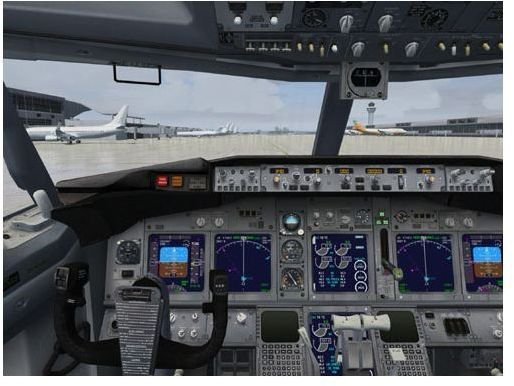 Graphics (4 out of 5)
Well, what do you expect from a simulation game? Great graphics, of course! The graphics in Microsoft Flight Simulator X are excellent both in terms of internal and external airplane bodies. But the best part is the virtual cockpit. You can fly from a virtual cockpit mode with the use of your mouse. The deluxe edition also boasts the cool Garmin G1000 cockpit in some aircrafts. The Garmin 1000 marks a complete makeover in the flight instrumentation. You will see conventional mechanical controls being replaced by electronics panel.
Poor frame rate is one of the major concerns that might hinder your game enjoyment. On systems with a normal graphics card and 2GB RAM, the game frame rates can average about 10 frames per second. So if you are experiencing frame rate problems, you may need to join some flight simulation game forums that can solve your problems, possibly providing some helpful configuration file tweaks to boost the flying experience. But, make sure your PC has the recommended graphics card and drivers.
Sound (4 out of 5)
The sound in Microsoft Flight Simulator X offers much realism compared to its predecessors. The sounds of engines, cockpit and ATC is quiet distinguishable. So whether it is a default setting or customized setting, you will experience some crystal clear sounds.
Multiplayer (3 out of 5)
For the first time Flight Simulator X introduced a "shared skies" concept. The multiplayer concept has been welcomed by many flight simulator fans. You can talk to your friends or take some training tips from an experienced pilot via an integrated voice over IP. You can also take the role of an air traffic controller and do the hectic jobs of controlling air traffic, including takeoffs and landings. For an average gamer, this concept may get a little boring as there is no action or challenging tasks involved, controlling aircrafts can be a lot stressful.
Overall
Microsoft Flight Simulator X is a true flight simulation game. One may call it simulation software rather than a game because of its too-realistic features and gameplay. But, due to some intense rescue missions and new multiplayer concept, Flight Simulator X received a grand welcome from both hardcore simmers and flight sim enthusiasts.
For aviation enthusiasts, Flight Simulator X can be a perfect recipe of different aircrafts and cities. I would recommend buying the Microsoft Flight Simulator X deluxe edition as it has more entertaining features than the standard one.
System Requirements
Operating System: Microsoft Windows XP Service Pack 2/ Vista
Processor: 1 GHz equivalent processer
RAM: 256 MB (Windows XP SP2) 512MB (Windows Vista)
Video Card: 32 MB (DirectX 9 compatible)
Download the Flight Simulator X Demo