Dream Day Wedding Game Review for Windows PC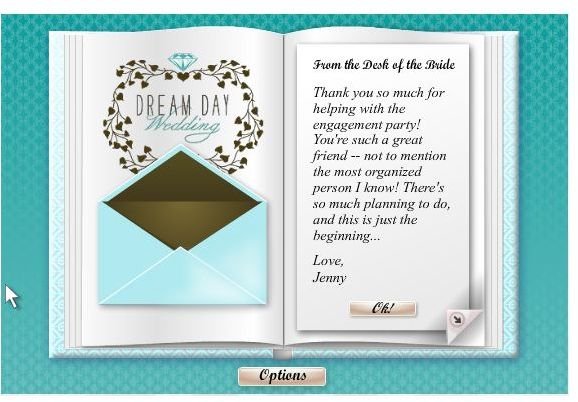 Dream Day Wedding (4 out of 5)
The Dream Day Wedding game is yet another puzzle seek-and-find casual simulation title with gameplay mechanics similar to Mystery Case Files, but angled romantically. The game simulates the experience of the bride's best friend's tireless efforts to make all pre-wedding plans go perfectly right. It presents various scenarios where you play the bride's best friend who has to ensure the wedding goes off without inviting any troubles. The game is certainly for gals who would love its floral presentation and enjoy playing it.
Gameplay (5 out of 5)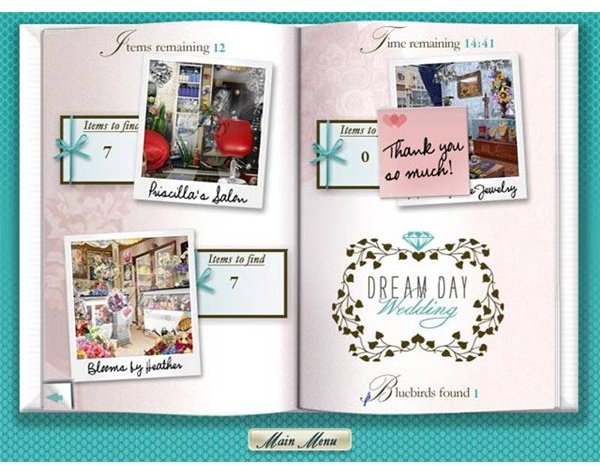 Dream Day Wedding takes the wedding theme to a completely new level. The best part is its slick presentation and some clever game modes. Packed with 12 levels, this hidden object game puts you in the shoes of the crises manager who has to save Jenny (the bride's) wedding from all sorts of last-minute hitches. You will run through the salon, florist, dress maker, the bakery and various other shops to choose the key items given in the wedding list. But, every shop is cluttered with random objects cleverly hidden among other items. You need to have an eagle's eye to locate everything within the given time limit.
The difficult part is the time limit allotted to each quest. Some levels have a 16 minute wrap-up, so the fast paced action can become more tensed. Besides the time frame, the game has some cleverly concealed objects that can challenge even a pro hidden object game expert, courtesy of some excellent background art work. The game has re-playable value as no levels are similar to the previous ones. There's a random selection of items each time you play a new game.
For gamers finding it difficult to play the game with timers on, there's a sandbox mode, also called the "Care Free" mode that allows you to play without any time limits. But, the true test of skill is playing the normal mode.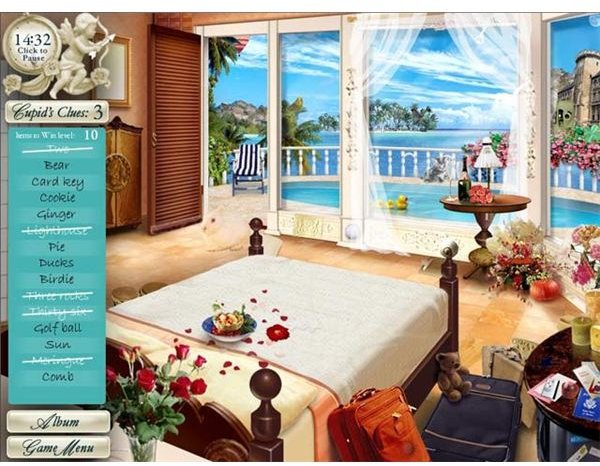 The Dream Day Wedding game features loads of mini games including two bonus games: Perfect Match and Choose a Story. Perfect Match is similar to those Ol' Flash memory games where you have to match two cards to unlock a secret item for Jenny and her beau. Choose a Story lets players select a romantic scenario for Jenny and her fiancé. The story's outcome is determined by the path you choose. The "Choose a Story" bonus game is unique concept by developers Oberon games. It guarantees endless hours of replayability. You can play Dream Day Wedding Online free to experience the sheer delight of being the bride's best friend.
Graphics (4 out of 5)
Dream Day Wedding has colorful eye-catching graphics with intricately detailed shop interiors. You will feel like you have entered a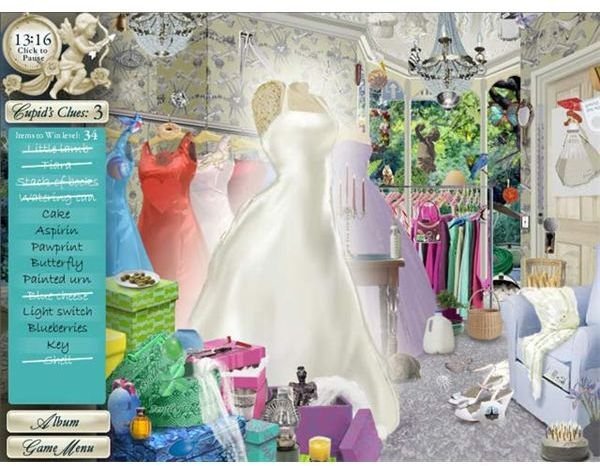 virtual gift shop. Each item is different from the other and the levels do not show any repetitiveness. The artists did a very good job in hiding objects in beautiful backgrounds. It would have been better if the game included some more levels. Overall, the presentation is awesome.
Sound (4 out of 5)
Dream Day Wedding features soothing festive melodies that synchronizes well with the game. It blends with the classical tunes of all-time greats like Vivaldi, Mozart and Bach. The background music will never make you bored. The interface click sounds are equally impressive.
Overall
The Dream Day Wedding game has some nice twists and turns due to its randomness in gameplay. It can be a great gift for teenage girls who would like to have some training before managing their best friend's wedding.
Visit Oberon Games for the Latest Updates on Dream Day Wedding