Best Free Space Games for the PC, Including Sim Games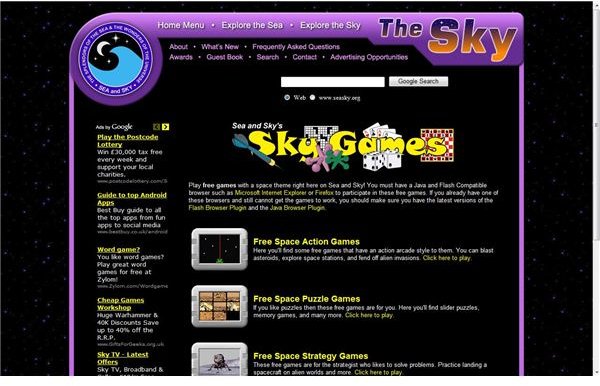 There is a current wealth of free space games currently being touted across the internet. Not only have recent indie titles delved into the idea of 3D space exploration or space simulation, but a number of sites have sprung up providing some great ways to play and enjoy the best free space games on PC.
In this series of articles, we will be looking at some of those sites and analysing what they offer in comparison to other free online space games. Also, we will try to detail some of the bigger independent releases and even stretch to some Xbox LIVE Indie titles also, just to give some brevity to the laundry list of free space games on any platform.
First on the chopping block for review analysis are some of the best browser based games and websites across the internet for free space games. Although there are a variety of options not listed below, this gives a decent start to finding free space games online, hopefully providing a good base for the avid space game fan. Read on for some browser game recommendations!
Sea and Sky Space Games
For some instant gratification and churlish enjoyment, the website Sea and Sky provides a nice array of free space games to play, representing both the JAVA and Flash applications. Providing several categories, each with a small number of space related games to play, the site does a good job of ingratiating easy to play and throwaway fun into the selection of games available.
Categories include space action games, puzzle games and strategy games (although the strategy sub menu is just a facade to show off Lunar Lander). To give yourself a quick setup and while away the days at work or even at home, Sea and Sky provides some moderately enjoyable action.
My Play City's Collection of Free Space Games
My Play City is an established web gaming site, with a multitude of genres and titles to play for free. One of their sub-headings leads us into a listing of some of the best free space games available on PC anywhere.
The choice is more expansive than Sea and Sky while the actual games themselves are often, as a rule more involved, well rounded and impacting. Although the download sizes may vary and you may be inclined to wait several minutes to finally setup and play these titles, in general they are definitely worth the wait, giving a great free space game playing experience. The integration of classic PC titles like your bog standard Lunar Lander experience goes a long way to making this collection of free space games one of the best on the web.
Kongregate's The Space Game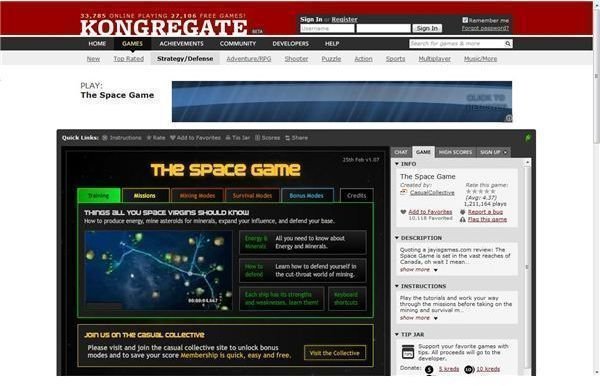 Kongregate is another well versed and expansive online library for Flash and JAVA games etcetera. Not only will you find a gamut of awesome free to play games, but in particular their highly detailed and extensive free space sim games list takes the proverbial cake.
Hopefully games like Lunar Lander or Space Invaders catch the retro heads eye, while even independent Flash games like The Space Game or Casual Space, really bring to the fore Kongregates depth of quality. For browser play I would definitely recommend trying out their system and the well catered too game players they invest in (by having tutorials, a live chat and even high-scores).
After looking at some of the ways to play free space sim games online, the next article of this series will turn to free space RPG games, perhaps lending a hand to some space MMO styling's also. Even if you don't continue onto the next article, I'm sure there will be plenty of opportunity to lose hours playing these free online space games detailed on the web sites discussed. Continue to part 2 of this series for some more free space games…
This post is part of the series: Best Free Online Space Games
A three part series of articles showcasing the many websites and individual games involving space exploration, roleplaying and space combat.