Facebook Poker Games – Power Blitz
Playing poker on Facebook can be done with games such as Poker Blitz from Zynga the company that made Farmville. Poker Blitz is more of a casual poker game ad might not appeal to the hardcore poker players but it is still quite fun. You will start by setting up your avatar and then getting down to playing. The game has a nice tutorial to get you started. The games features different difficulty stages. So for example the tutor stage will be quite easy but then you will move up to Las Vegas or the Jersey Beach levels and the game will get increasingly more difficult to win. You can also open up mystery crates as you play for various rewards. Players can join with Facebook friends to win bigger chip payouts in the game. Poker Blitz isn't for everyone but if you want to play a casual fun card game on Facebook then the game is worth playing just don't expect a well rounded poker game.
Zynga Poker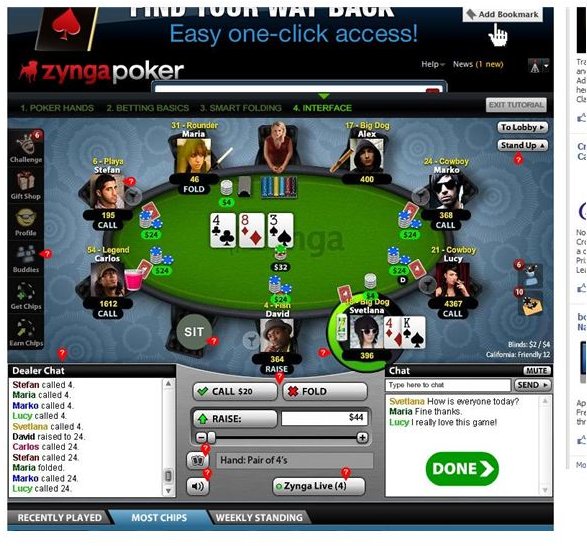 Zynga poker is another poker game you can play on Facebook. This game is more involved than Poker Blitz and requires more actual card game skill. You can play in tournaments and join VIP games once you have accumulated enough chips. This game has a multiplayer aspect to it so you should use the "how to play" tutorial to get used to playing before you join an actual live game. The game follows the regular rules of poker and the tutorial will guide you through it if your not familiar with the card game. The tutorial shows you all about the card hands such as a royal flush or full house. You will learn how to bet, fold, and how the game interface works.
Poker Palace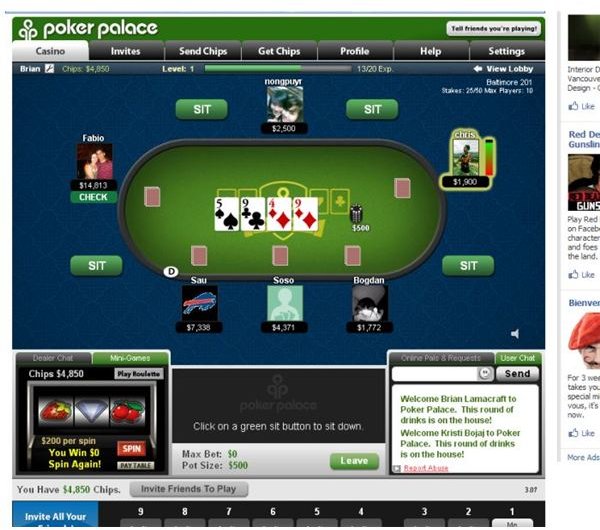 Poker Palace is another poker game you can play on Facebook. You will get free chips to begin playing and you will unlock gifts as you level up. From the casino you can play a game or sit out and watch how the game is played. You can invite your friends to play the game and even send them extra chips. You can buy additional chips with real life cash if running low on them. As you play the game you will accumulate achievement awards which will be displayed on your profile page such as "first timer" for your first game or "winner" after you win a game. There are many achievement awards to collect in Poker palace. Be sure to use the help feature if you are new to this game or Poker in general because the players at the table are usually quite experienced with the game.
MindJolt Poker Games
Mindjolt games offers several basic poker games such as Poker Drop, Poker Challenge, and Poker Patience these games are more for fun and not as involved as the otherrPoker games listed above. You should check MindJolt often as it is always adding more games so you may find a new Poker game that you like.
Conclusion
Playing Poker on Facebook is easy with games such as Poker Blitz, Zynga Poker and Poker Palace. For more casual games try those offered by MindJolt. Be sure to check Facebook often for more Poker games and have fun playing!