If you have decided to buy cheap Facebook poker chips with Paypal from sources other than Facebook or Zynga, you are putting yourself at risk. Here's a guide to help you avoid losing your money because of untrusted poker chip sources.
Facebook Poker Chips Paypal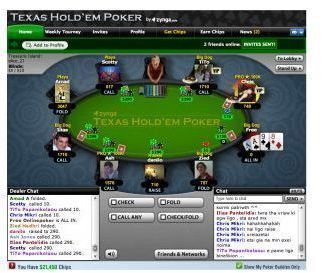 Facebook poker chips Paypal is an option for Facebook poker players to purchase Facebook poker chips using Paypal. There are third party sellers out there who give players the option to buy cheap Facebook poker chips with Paypal, but these sellers are considered fraudulent and must not be trusted. Here are some tips and information to help you determine how you can purchase facebook poker chips securely.
About Facebook Poker Chips
Facebook poker chips are purchased from inside the Facebook poker app itself. Facebook Zynga Poker, the most popular virtual poker game online, has a section inside their poker game app called Get Chips & Gold where players can purchase Facebook poker chips and gold using their credit card or their Paypal account. This makes it convenient for players to buy chips whenever they need it without leaving the Facebook app. There's no need for them to go to untrusted sites or contact shady sellers to get more Facebook poker chips. Other poker game apps offer similar in-game poker chip purchasing services.
Poker chips can also be obtained for free by inviting friends, getting them as gifts from other players and by visiting the poker game app regularly. These free chips are usually not enough to sustain serious Facebook poker players, especially the ones who regularly join Facebook poker tournaments. This is where purchasing additional Facebook poker chips come in.
How do I buy poker chips using my Paypal account?
To purchase Facebook poker chips, just click on the Get Chips & Gold button inside the game app. From the pop up screen, choose your currency and your preferred package. For your payment method, choose Paypal. Click continue and you will be brought to the Paypal payment gateway. Just follow the steps until you are given a confirmation of a successful purchase.
Poker Chips Packages and Pricing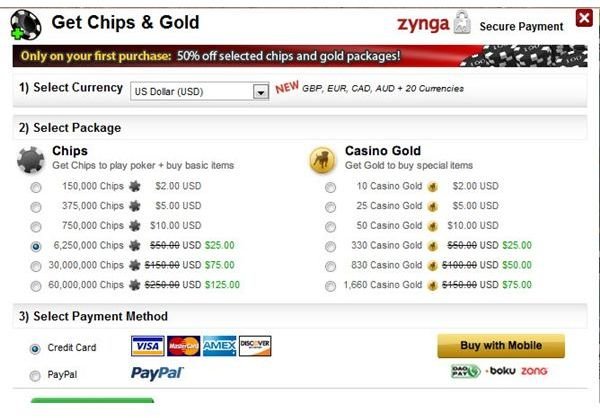 The current poker chip packages and price listing using USD currency are as follows:
150,000 chips – $2.00
375,000 chips – $5.00
750,000 chips – $10.00
6,250,000 chips – $25.00
30,000,000 chips – $75.00
60,000,000 chips – $125.00
Third Party Poker Chip Sellers
Facebook and Zynga discourage players to buy chips from these third party sellers because they are fraudulent and cannot be trusted. Most third party poker chip sellers use Paypal as a payment option for poker chip buyers. This is a security risk for buyers' Paypal and Facebook accounts. If you really want to buy cheap Facebook poker chips using Paypal, you just have to wait for special discounts and offers to pop out from inside the game app itself. It is advised that you only purchase Facebook poker chips directly from the Facebook poker application.