Rock Band 3 Song List - All Rock Band 3 Songs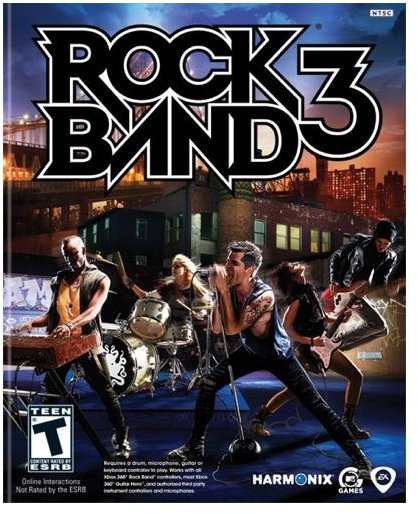 Rock Band 3 Song List - Classic Rock
Rock Band 3 brings some exciting classic rock entries to the table. Some highlights include the spectacular "Bohemian Rhapsody" by Queen and "Break On Through (To the Other Side)" by The Doors. This is the first time The Doors have appeared in a rhythm game, so fans of the band have reason to be excited. Here is the full list of classic rock Rock Band 3 songs:
The Beach Boys - "Good Vibrations (Live)"
Chicago - "25 or 6 to 4"
David Bowie - "Space Oddity"
Deep Purple - "Smoke on the Water"
The Doobie Brothers - "China Grove"
The Doors - "Break On Through (To the Other Side)
Elton John - "Saturday Night's Alright (For Fighting)
Foreigner - "Cold as Ice"
Golden Earring - "Radar Love"
The Jimi Hendrix Experience - "Crosstown Traffic"
John Lennon - "Imagine"
Lynyrd Skynyrd - "Free Bird"
Queen - "Bohemian Rhapsody"
Steve Miller Band - "Fly Like an Eagle"
T. Rex - "20th Century Boy"
Tom Petty and the Heartbreakers - "I Need to Know"
Warren Zevon - "Werewolves of London"
The Who - "I Can See For Miles"
Yes - "Roundabout"
Rock Band 3 Song List - Indie Rock
Many members of the Harmonix development team, creators of all things Rock Band, are in indie bands themselves. It's not surprising that they chose to show some love to other indie outfits by including them in Rock Band 3. While you may have never heard of the Raveonettes or Hypernova, what better way to get acquainted with their music than by picking up some plastic instruments and jamming to their songs?
Hypernova - "Viva la Resistance"
Metric - "Combat Baby"
Pretty Girls Make Graves - "Something Bigger, Something Brighter"
Raveonettes - "Last Dance"
Rilo Kiley - "Portions for Foxes"
Tegan and Sara - "The Con"
Rock Band 3 Song List - Punk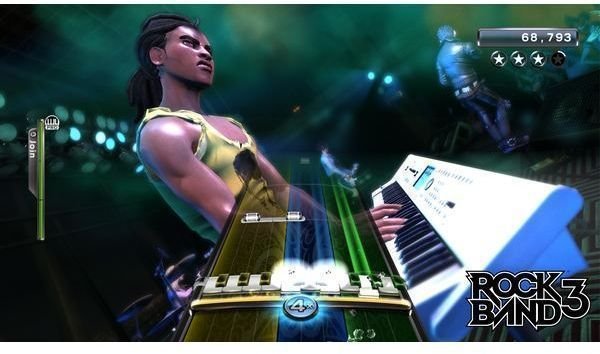 Though there aren't a lot of punk Rock Band 3 songs, what's provided here is solid. A couple heavy-hitters from old-school bands like the Ramones and Joan Jett and the Blackhearts ensures punk fans aren't left empty-handed.
The Bronx - "False Alarm"
Joan Jett and the Blackhearts - "I Love Rock n' Roll"
Ramones - "I Wanna Be Sedated"
Riverboat Gamblers - "Don't Bury Me… I'm Still Not Dead"
Swingin' Utters - "This Bastard's Life"
Rock Band 3 Song List - R&B/Soul and Reggae
Though reggae is an entirely different genre than R&B, I have merged both under one heading as there is only one reggae song in Rock Band 3. That track is significant however as it doesn't get much more recognizable in the world of reggae than Bob Marley.
Amy Winehouse - "Rehab"
Bob Marley & The Wailers - "Get Up, Stand Up"
James Brown - "I Got You (I Feel Good)"
War - "Low Rider"
Rock Band 3 Song List - Pop Rock
For something a little more upbeat, pop rock is the way to go. Some standouts include "Walkin' on the Sun" by Smash Mouth and "Misery Business" by Paramore.
INXS - "Need You Tonight"
Juanes - "Me Enamora"
Mana - "Oye Mi Amor"
The Muffs - "Outer Space"
Paramore - "Misery Business"
The Police - "Don't Stand So Close to Me"
Roxette - "The Look"
Smash Mouh - "Walkin' on the Sun"
Tears for Fears - "Everybody Wants to Rule the World"
Tokio Hotel - "Humanoid"
Rock Band 3 Track List - Metal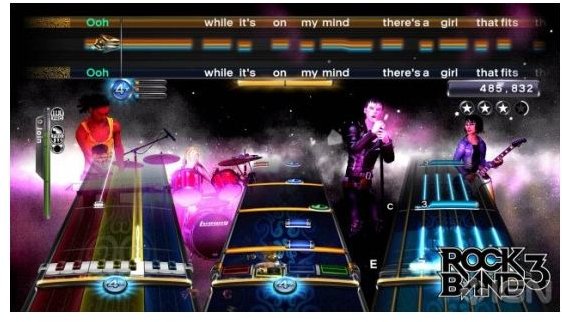 Face-melting solos abound for guitar virtuosos in Rock Band 3. It's nice to see the recently departed Dio get some attention in Rock Band 3, and an Ozzy Osbourne track is always welcome. Here is the full list of metal tracks:
Anthrax - "Caught in a Mosh"
Avenged Sevenfold - "Beast and the Harlot"
Def Leppard - "Foolin'"
Dio - "Rainbow in the Dark"
Ozzy Osbourne - "Crazy Train"
Rammstein - "Du Hast"
Slipknot - "Before I Forget"
Whitesnake - "Here I Go Again"
Rock Band 3 Track List - Alternative
When you're not sure how to classify a band, you label them as alternative. That general rule of thumb certainly seems to hold true for the alternative Rock Band 3 tracks, as they include bands like Marilyn Manson and Jane's Addiction, who couldn't sound more different (though both are welcome additions to the franchise nonetheless).
At the Drive-In - "One Armed Scissor"
Faith No More - "Midlife Crisis"
Filter - "Hey Man, Nice Shot"
The Flaming Lips - "Yoshimi Battles the Pink Robots, Pt. 1"
HIM - "Killing Loneliness"
Ida Maria - "Oh My God"
Jane's Addiction - "Been Caught Stealing"
Marilyn Manson - "The Beautiful People"
Phoenix - "Lasso"
Primus - "Jerry Was a Racecar Driver"
The Smiths - "Stop Me if You Think You've Heard This One Before"
Spacehog - "In the Meantime"
Stone Temple Pilots - "Plush"
Rock Band 3 Track List - New Wave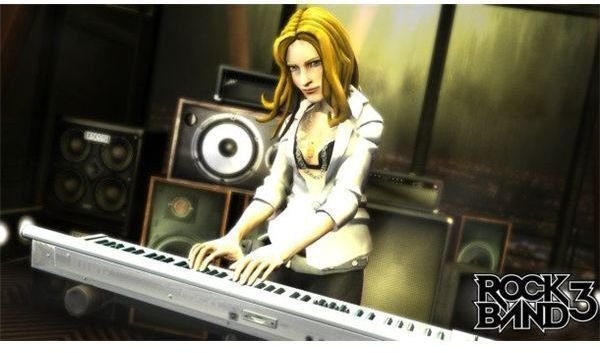 New Wave brings an interesting mix of Rock Band 3 tracks to the table. Highlights include "Whip It" by Devo and "Heart of Glass" by Blondie. Fans of 80's music will definitely experience warm waves of nostalgia playing these favorites.
The B-52s - "Rock Lobster"
Big Country - "In a Big Country"
Blondie - "Heart of Glass"
The Cure - "Just Like Heaven"
Devo - "Whip It"
Echo & the Bunnymen - "The Killing Moon"
Poni Hoax - "Antibodies"
The Sounds - "Living in America"
Rock Band 3 Track List - Rock
Rock music is the foundation of Rock Band 3, and acts like Queens of the Stone Age and The White Stripes are here to make sure it's a fact not forgotten.
Dire Straits - "Walk of Life"
Dover - "King George"
Huey Lewis and the News - "The Power of Love"
J. Geils Band - "Centerfold"
Night Ranger - "Sister Christian"
Phish - "Llama"
Queens of the Stone Age - "No One Knows"
Them Crooked Vultures - "Dead End Friends"
The Vines - "Get Free"
The White Stripes - "The Hardest Button to Button"