Free and Premium Scrabble for Android Apps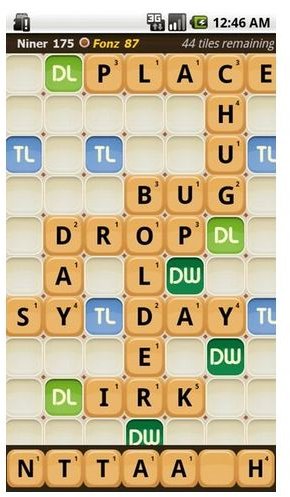 Scrabble for Android!
Word games are hugely popular, and few more so than Scrabble, a board game that first saw the light of day in 1949 and has been taken to championship level thanks to professional players.
The aim of the game is to create words from a selection of 7 letters and score as many points as possible by way of bonus squares on the boards and points on the letter tiles. Common letters occur more often than unusual ones – there is only one Z in a single Scrabble box – and this forces the players to take advantage of laying the tiles to intersect with other words, much like a crossword.
In recent years, Scrabble has moved online; most notable was the Scrabulous game on Facebook which came under a legal challenge from Hasbro, owners of the original.
Such is the popularity of Scrabble that while there is no specific Scrabble for Android app, several similar games are available for Android phones…
Wordsmith
One of the best Scrabble-type games for Android is Wordsmith, a game that throws seven random letters at you and challenges you to battle it out on a virtual board with a friend (either sharing the phone or online) or stranger. In fact you can play up to 50 games at once, although I find this can slow things down a bit. Push notification allows you to leave the game running while you go and do something else, while the score preview and clear button can be used in conjunction to get the best possible score.
With additional functions via the menu button such as chat, game statistics and the ability to pass and quit the game, this is a fun and satisfying game that comes in two flavours, the ad-supported Wordsmith Free and the $1.99 Wordsmith Pro, although you must be using an Android 2.1 or later device. Find Wordsmith in the Android Market or visit www.appbrain.com/app/wordsmith to find the QR codes.
BitLetters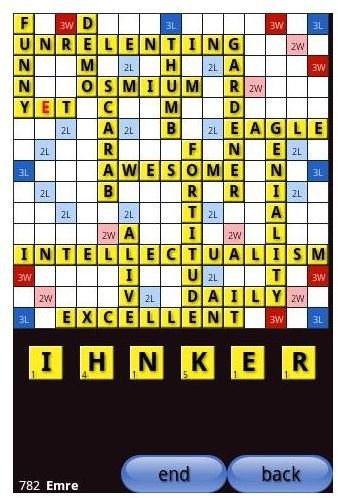 Allowing online multi-player games of up to 4 people, BitLetters is a Scrabble game for Android intended for all Android phone versions.
Rather than the usual 7 letters per turn, BitLetters gives you 6 to form a word with, and the expected multipliers are also present on the board. Words are checked with the official Scrabble dictionary, so you should find pretty much anything goes with BitLetters.
Two versions are available, the ad-supported BitLetters Free and the $1.00 BitLetters. Find it on the Android Market or download via a QR barcode found on a site such as www.appbrain.com.
DroidWords Scrabble for Android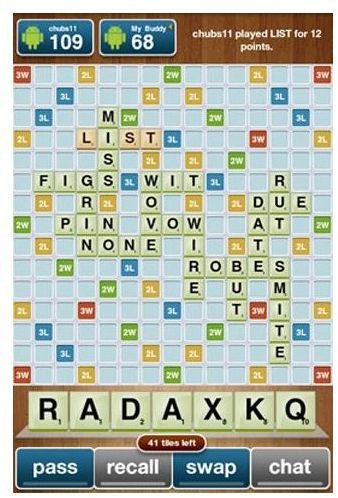 Probably the most visually attractive of the Android Scrabble games is DroidWord, available as a free, ad-supported game and a $2.99 premium version. The ad-supported version features a full-screen advert before each turn, something that has been quite unpopular with some users.
Offering different in-game skins, a shake-to-shuffle feature and the ability to play multiplayer and 25 simultaneous games, the game has also been optimised for tablet devices. Also with DroidWords you can pass goes if your 7 letters aren't good enough or chat with your opponent.
Designed for all Android versions, DroidWords can be downloaded from the Market or via the QR code from a site such as www.appbrain.com.
Wordfeud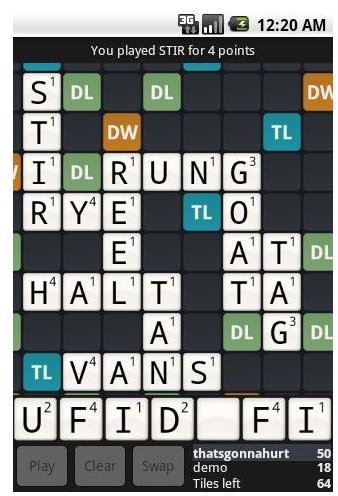 Another title vying for the crown of top Scrabble game for Android is Wordfeud, a game that allows you to play with up to 30 opponents at once.
Compatible with Android 1.6, gameplay follows the standard "tile dragging" pattern, and also allows you to zoom in and out of the board. With chat and the ability to move tiles while waiting for your opponent to complete their turn, Wordfeud features English, Dutch and Scandinavian dictionaries as well as an opponent tracker and ability to choose random opponents.
Two versions of Wordfeud are available – the ad-supported free version and the £3.25 pro version, which can both be downloaded from the Android Market or via a QR link from websites such as www.appbrain.com.