Online Lexulous Dictionary and Word Generator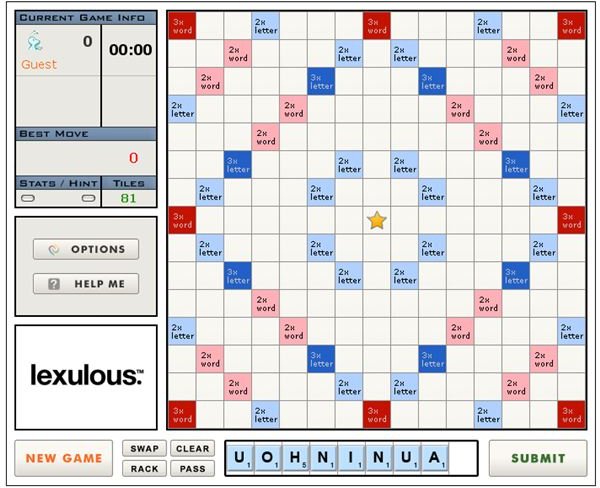 Lexulous Dictionary
Lexulous, being a word game much like Scrabble, has to use a dictionary for valid words to play. Rather than change the rules and create a new dictionary, Lexulous and most other similar games simply use the Official Scrabble Players Dictionary, or OSPD. This
dictionary was compiled from five different english dictionaries in 1978 and has since been updated to keep with the times. It is published in a book form, much like a normal dictionary, and can be used to look up word for their definitions.
Lexulous also offers the choice between the OSPD and the OWL dictionary, which is the Official Tournament and Club Word List. The OWL dictionary was created in 2005 and has been used in play since. It roughly corresponds to the fourth version of the OSPD.
The difference between these two dictionaries is, simply, vulgarity. The OWL dictionary IS the OSPD, but it also contains words that were deemed unsuitable for inclusion in the official dictionary. The OWL is also not published as a book; it is merely a list, and does not contain definitions of the words it includes. Players looking for a wider variety of words with which to rack up huge scores should use the OWL dictionary option.
Lexulous Word Generator
If you're looking for ways to score big in Lexulous, Scrabble, Wordscraper, or any other vocabulary-based word game, the best thing you can do is buy an actual official dictionary and browse through it. Learn a new word every day, even if it's not one you'll ever use o

utside of Lexulous. Nothing helps an avid Lexulous player more than being an avid reader, devouring new books every week and learning new words by the handful. If you're feeling particularly extreme, you could even read the dictionary itself. You're bound to find many new words that way, though your friends may hate you for trying them out.
Failing that, however, the Internet is full of shorter-term solutions. Word generators, such as this one at puzzle depot, can help you out in a tight spot with a rack of tiles you can't figure out a use for. If that doesn't work out for you, you can always try a different generator. Something like a2z's WordFinder may help out. This one even has the benefit of working for games other than Lexulous, such as Literati or Jumble. If you're still stuck, or don't like either of those options, you can always check out our other article dedicated to Lexulous Word Finders for other great options.
Oh and if you're stuck on a rack full of vowels, or you're looking to drop a single letter on a triple letter score tile, you should probably keep this list handy. It's a list of every acceptable two-letter word in the official Scrabble Dictionary, complete with definitions.