(4 out of 5)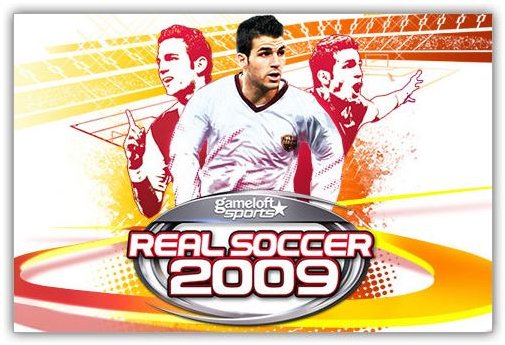 When I first saw that there was a soccer, excuse me, "futbol" game for the iPhone, my first thought was, "How the heck will they pull this off?" I figured it would revolve around a shootout, or something basic, such as maybe you pick your spot, fill up the meter and shoot, the end. Well, that is the complete opposite of what Real Soccer 09 for the iPhone turned out to be. It is a full-fledged simulation soccer game, built into the palm of your hand.
Right from the title screen, you would think that you were playing a ported Xbox game. The graphics probably match more of a Nintendo 64, but the flow is all in the gameplay. When you launch Real Soccer 09, you are given five game modes to choose from;Exhibition, Cup, League, Penalty Kicks and Training.
Exhibition is your standard quick play option, you choose your team, the duration of the game, difficulty and so on. Penalty Kicks is your basic shootout, and Training is another fun word for practice. The coolest part of this game is the League play. Real Soccer 09 has stocked many of the more well-known teams in to the game, complete with rosters and all. Manchester United and Chelsea in the English league, and there is even the L.A. Galaxy, David Beckham and all. The only drawback is you do not have any Major League Soccer teams outside of that really.
Once you choose what mode you're looking for, you can change rosters and depth charts before the match. It's all pretty much there for your customization.
Now let's get to the actual controls of the game. I'm sure you're still not sold on playing a realistic sports game on such a small device. Fear not, the iPhone has mapped the controls out in a simple D-pad and two-button controller. All of the controls react very smoothly to your touch, making the game run naturally. One button passes and defends, while the other can shoot. It's pretty simple, but it works well here. You would not want a game that has you struggling to get controls down, while still trying to maneuver your players.
Something I was most impressed with when playing Real Soccer 09, were the loading times. You probably don't wait more than two to three seconds fore each screen to load. It's quick and gets your right into the action. The graphics for the game come up fairly decent. You aren't going to get incredible detail or player models, but you do get a pretty sweet and smooth game. There are no slowdowns or skips; it's all fluent throughout for all of the animations.
My only gripe came with online play – that is if I could get online. I was not able to really find a match when trying to play the multiplayer mode, that is not necessarily Gameloft's fault, as it just means the game has not been picked up by enough consumers to allow for constant online play.
Overall, Real Soccer 09 is one of the better titles to come out for the iPhone in the application store. The animations are smooth with minimal to no slowdown, you have a large number of teams to choose from, and the gameplay itself is easy to pickup and play. Match that with a variety of game modes and you have a very solid sports title. The only thing that may prevent you from purchasing this game is the price; it runs for about $5.99 in the iTunes application store.
Image Credit:
Screenshot of Real Soccer 09 by Gameloft S.A.