MTV Jersey Shore Game – Review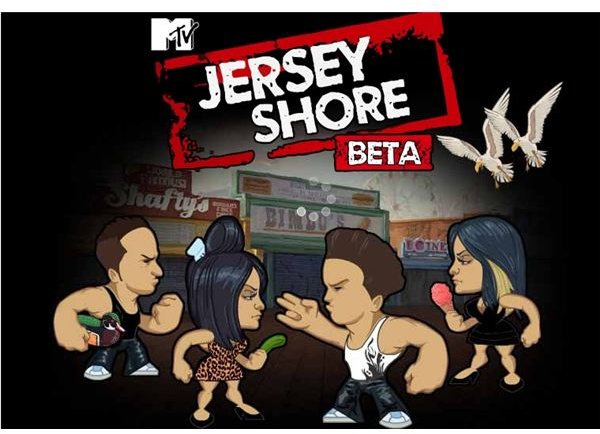 MTV Jersey Shore the game is based off the popular and controversial reality television series that follows eight young Italian-Americans from the East Coast as they spend their summer vacation together partying in the borough of Seaside Heights New Jersey. The game combines multiple seasons of the show with some filmed in different locations like Miami to give players a fun and realistic RPG experience. Users play as their favorite cast member. Become Snooki, the Situation, Sammi, JWoww, Pauly D, Ronnie, Vinnie, or Angelina. Participate in arcade style turn based combat against other Facebook players. Perform jobs to earn coins and XP like Mafia Wars. Hit the gym, tan, do laundry, shop, and party.
Gameplay (5 out of 5)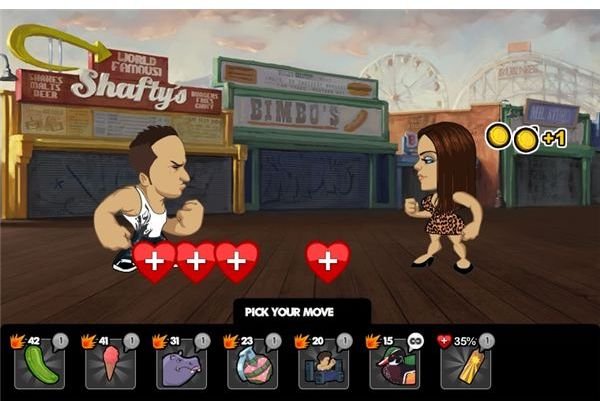 The gameplay in MTV Jersey Shore involves fighting and mastering job tiers. In the store section players can purchase moves, heals, and energy to enhance combat. The moves all derive from various episodes from the series. Fans of the show will definitely notice and find it amusing. During fights players can use special moves like the pickle, hippo, grenades, gelato, Snooki's cartwheel, clinger, hateraide, and the beat up the beat to defeat opponents. Job tiers are categorized from events and themes in the show also. Players start out performing tasks in the Back to the Shore section and work their way up to more challenging tiers like Party Hard. Missions include hitting the beach, peeping on JWOWW in the shower, and taking a road trip to Miami. Similar to how Zynga's Mafia Wars works each mission requires a specific amount of energy to do. Gold coins, XP, and occasionally a mystery gift are rewarded for completing jobs. Players have to successfully complete a job three times to master it. An area called G.T.L. let's players execute additional tasks like working out, tanning, and laundry adding variety.
Graphics & Sound (4 out of 5)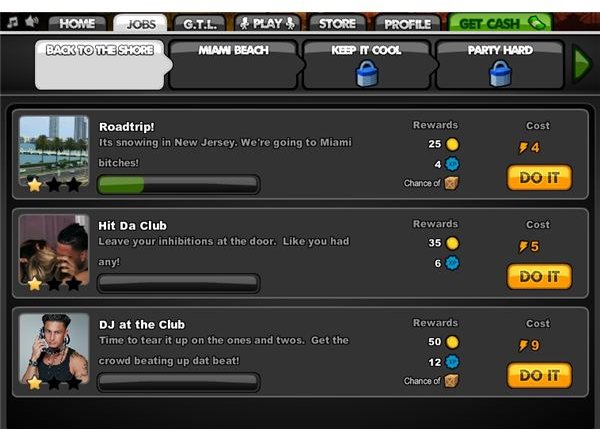 The graphics in this game is awesome. Players fight in vividly animated backdrops depicting the now infamous Seaside Heights New Jersey Shore boardwalk, adrenaline pumping nightclubs, and various back alley dumpster locales. There's only one track that plays continuously during street romps that can become annoying at times. It's a little disappointing especially since the series has multiple soundtracks that they could have implemented into the game. Various cast members like the Situation, JWoww, and Pauly D have voice snippets like "Stay fresh to death." When a player enters the G.T.L. area to perform a task they'll hear the Situation or other cast members' signature sayings.
Overall Rating: (5 out of 5)
Just like the MTV series Jersey Shore the game is addictive. Once you start playing it's hard to quit. Whether you're a fan of the show or have never seen it before the mixture of interactive combat and text based RPG elements gives players an interesting online experience. Similar to other social MMOs on Facebook users can customize their characters with special items or choose random players online to battle. Squeezing pickles, tossing deadly grenades, or hateraide during fights is only half the fun. Players execute jobs like Mafia Wars in order to earn coins for shopping and assist in leveling up. Anyone can beat up the beat and have a good time playing MTV Jersey Shore the game.
References
Source: Author's own experience.
All screenshots from MTV Jersey Shore Game.