Animal Paradise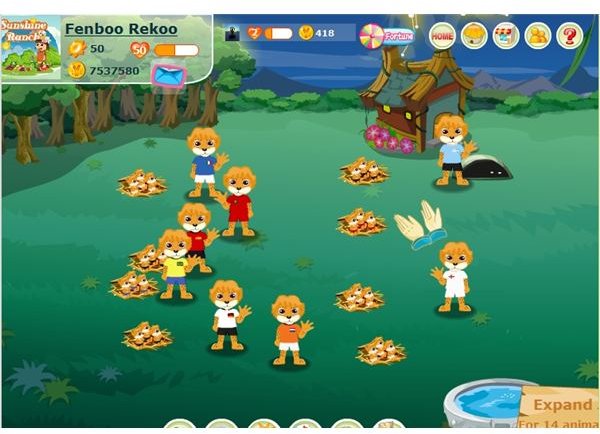 Rekoo's Animal Paradise is a 2D social role-playing game on Facebook. Players step into the shoes of a wildlife sanctuary manager with the daunting task of providing a safe environment for abandoned animals to live out the rest of their days. Care a variety of creatures from domestic to wild beasts. Raise them from infancy through adulthood. Design your own massive rescue shelter. Harvest and sell eggs for profit. Perform medical treatments to heal the sick or injured. Visit friends' havens to steal their supplies or help out. Play fun mini-games like Wheel of Fortune or go treasure hunting. Explore caves in order to find new rare species to adopt. Decorate and create a special world for creatures that desperately need a home.
Building Your Pet Haven, the Gameplay (3 out of 5)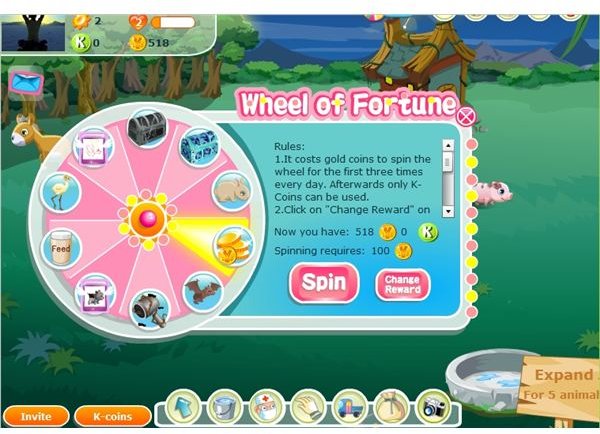 Players start out with a small park and several animals to care for. There are dozens of species to adopt in the shop area. Birds, rabbits, bears, monkeys, pigs, and more exotic wildlife such as zebras or giraffes are available. Once purchased their automatically placed in the sanctuary to roam freely. The large watering tank in the shelter must be kept full to assist in the growth of these furry critters. Players have to click on the bucket icon to refill the water tanks when they get low. Occasionally animals will get sick and need medical treatments. Activating the medic icon will transform the mouse arrow into a needle which can be injected into the ailing pet with a quick click. Certain inhabitants at the sanctuary like the peacock or chicken has the ability to lay eggs. These eggs can be harvested and sold for coins. Coins can be used to decorate and expand the sanctuary to house a higher number of wildlife guests. The gameplay can feel rather slow at times.
Unlike Pet Society or PetVille where players are free to brush and stroke their pals the interaction in this game is limited. Owners can only feed and refill water tanks. Playing one of the mini-games or visiting friends are also an option but have little to do with the creatures already in your haven. The mini-game Wheel of Fortune lets users spin a wheel for a random prize. Win a new species, treasure chest, or cool décor item. When visiting neighbors players can refill their watering tanks, heal, steal supplies, and enter exploration areas like caves. Adventuring usually initiates a hunt for another rare breed or treasure. In this game having lots of friends is a necessity. It's difficult to advance without at least 20 or more neighbors to visit.
User Interface/Controls (4 out of 5)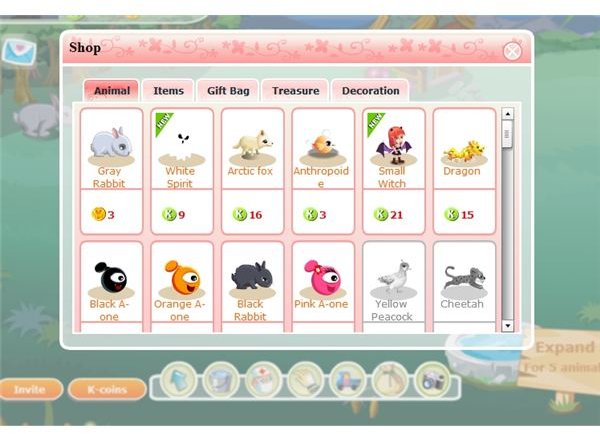 Animal Paradise has an easy to use interface. Icons across the top and bottom of the screen allow players to perform basic actions like buying, shopping, feeding, healing, and even stealing. A quick click will execute most actions. Clicking on the friend icon will prompt a drop down menu of available neighbors. When visiting neighbors a player can heal and then scare their animals to generate a higher output. The game also features message settings that players can customize to appear whenever someone waters, heals, scares, or steals in their sanctuary. It's an unusual option but users can have fun with it. Write personal, crazy, or comical messages to your buddies.
Graphics (4 out of 5)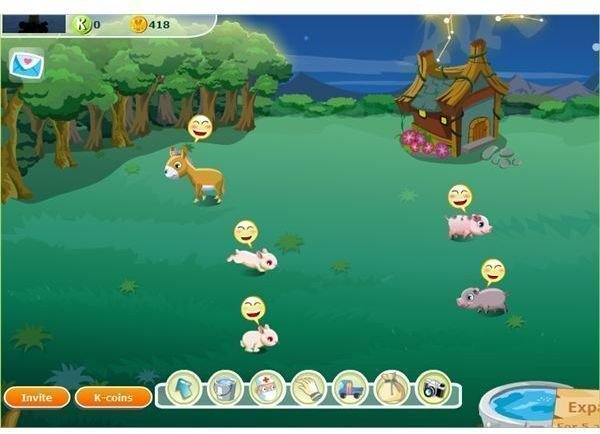 The graphics in Animal Paradise are decent. Animated creatures aimlessly pace the grounds. When they've been feed adorable smiley faces appear above their heads. There's a wide selection of animals to adopt. Players can choose from gray rabbits, arctic foxes, cheetahs, moles, poodles, baboons, koalas, squirrels, otters, crocodiles, penguins, and even bees. Mystical creatures are also available in the form of small witches, dragons, and small monsters. The décor items in the shop lack variety. Only scenery backdrops and a few homes can be purchased. Environments like Wild Africa, Soccer Land, Chinese New Year, Fairy Valley Sky, and Gemini Sky add a bit of personality to the sanctuaries. The inability to place fences, pet toys, or various plants make the option of decorating uninviting. Most of the really nice themes and acceleration items require expensive k-coins.
Sound (2 out of 5)
There are no cool animal sound effects like the ones found in Zoo World. The pigs do not oink. The cows never moo and the chickens avoid clucking. The wide assortment of creatures from common livestock to mystical beings could be more exciting if they had sound. The various backdrop setting options would also benefit from some type of musical score or rhythm to set the mood. It's always nice to have some sort of sound to go along with the surroundings. Unfortunately there's only the visual in this game. Players annoyed by bird chirping noises and growls will appreciate the Zen-like quality of Animal Paradise. Those who prefer listening to music while gaming will also appreciate the silence.
Overall Rating: (3 out of 5)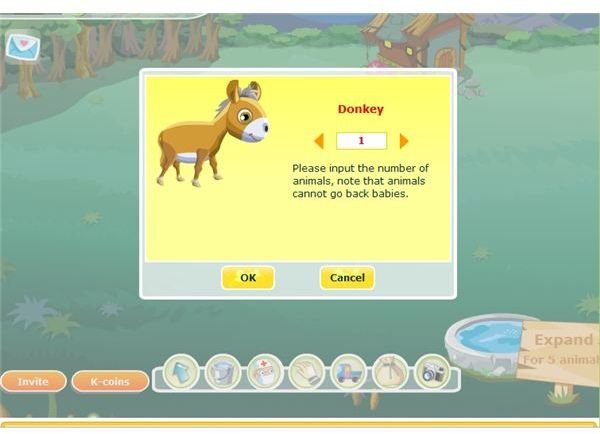 Animal Paradise is at best average. The gameplay tends to lag after the initial purchase or rescue of wildlife animals in the sanctuary. This is definitely for casual gamers. Players expecting it to be a free online version of the Nintendo DS game Animal Paradise Wild should prepare to be disappointed. Although there are some fun aspects that social gamers will find entertaining like stealing from friends or raising dragons its still a lot of improvements that need to be made before it can compete with other popular Facebook games. If you enjoy taking care of cute baby animals or mystical monsters this game may be for you.
References
Source: Author's own experience.
All screenshots from Animal Paradise