Free Online Animal Games Worth Playing - Cute Animals at Zoo World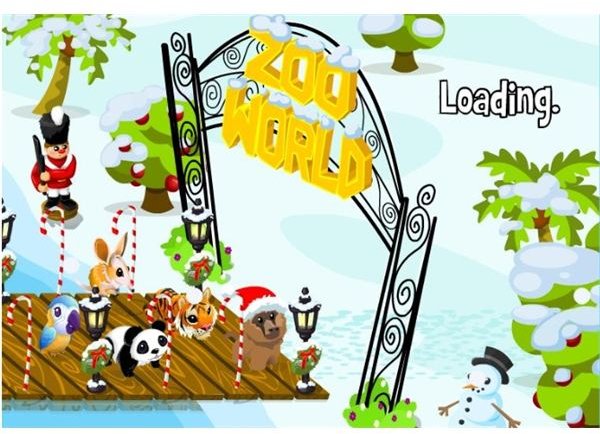 What is Zoo World?
Zoo world by Rock You! is a unique facebook game centered around incredibly cute animals. Players get to create their own massive zoo attracting thousands of visitors a day. Similar to other management games such as Zoo Tycoon or Zoo Empire users have to select a variety of wild life to care for, breed, and train. Hiring a full staff and constructing side attractions is also vital to maintain the smooth operation of your establishment. In this beginner game guide to Zoo World on Facebook learn the basics to building and managing your zoo. Discover how to earn more cash by using secret strategies and tips that will keep visitors coming back in droves.
Entering the World of Zoo Animal Games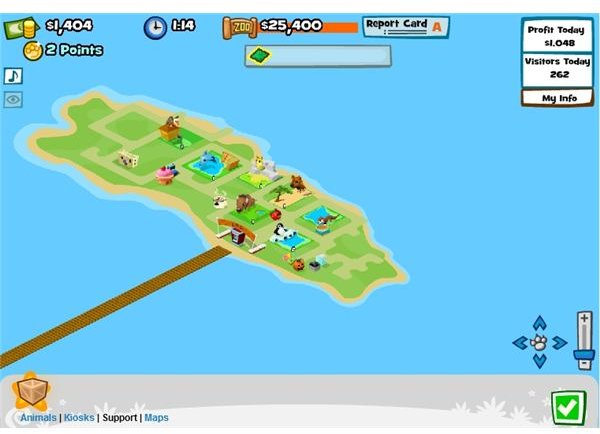 When players begin a quick tutorial will run showing how to purchase animals and maneuver around the game. The goal is to build the best zoo possible filled with an assortment of exotic wild animals, entertaining attractions, and delicious food stands that will draw in large crowds. To accomplish this objective shopping is essential. There are directional tabs labeled across the top of the screen. Simply click the shop tab to enter the store. Here you can buy almost everything required to create your zoo. Also listed at the top of the screen is your zoo cash balance or current profits. Zoo cash is used as the main game currency for buying items.
Players should buy several different species of animals, a few food stands, attractions, restrooms, and trashcans. Every wild animal exhibit requires zookeepers and staff to run them. Unlike management style games such as Restaurant City and Roller Coaster Kingdom the layout does not play a major role in your earnings potential. It's more important to have the right structures up in animal games. How a player decides to landscape their zoo is completely up to them.
Report Cards Equal Cash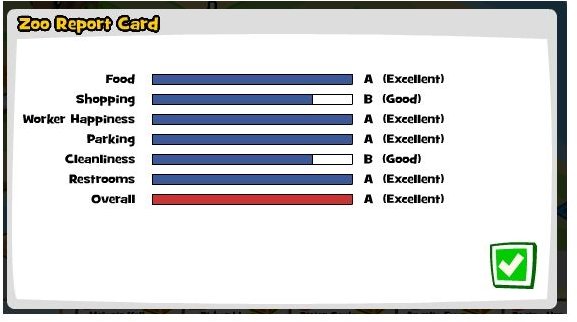 Clicking on the home tab will reveal your current level and the achievements required to advance. In order to level up players have to accomplish achievements. Always check the home tab for the latest achievements available to do and your stats. Players can also adjust the admission ticket price to increase zoo cash in this area. There is a colored zoo grade at the top right corner of the screen. This is your rating. The grade determines how fit your zoo is for visitors. It is important to keep this score as high as possible. The better the grade the more visitors you'll have. Viewing your report card will let you know which areas are in need of improving. Adding restrooms or food venues will boost your grade if they are lacking.
How to Breed & Train Wild Animals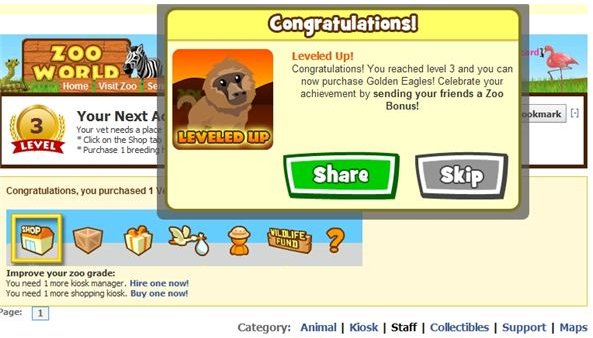 The Bald Eagle and other specific species possess the ability to be trained or breed. Click on your chosen animal's area and select the train option. Every training session costs an allotted amount of zoo cash. Training your animals involves teaching them tricks. This makes the exhibit more entertaining for visitors automatically improving your rating. Players are only allowed to train once per day. In order to breed a breeding house and veterinarian must be purchased first. It also requires two animals of the same species. To start breeding users can click the breed tab at the top of the screen. The time of the new baby animal arrival and first feeding will be announced.
The Wildlife Fund: Rare & Endangered Animals – Optional Subscription Model –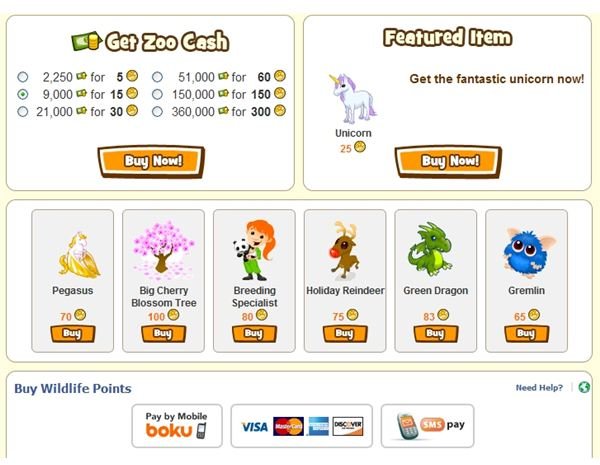 Although playing Zoo World is free there is an option available for players to purchase wildlife points. These points allow users to buy mystical to rare endangered animals and special items to make their zoo unique. One wildlife point is earned each time a player levels up. It can be costly to buy specialty items or rare species in the shop. Cool attractions, bonus trees, gremlins, green dragons, reindeers, and even an enchanted Pegasus is available. Clicking the Wildlife Fund tab will give players access to the page where points are purchased in various bundles. Users can select 20 wildlife points for $5 USD or up to 400 points for $100 USD. The game accepts PayPal, credit card, or facebook credits.
Zoo World on Facebook Strategies & Tips
Earn quick zoo cash, level up faster, and build the ultimate zoo implementing some of these time tested Zoo World strategies and tips listed below.
Purchase as many cute animals as possible. The more animals in the zoo the more visitors will come and the higher daily profits will be.
Increase your admission price. The default ticket for visitors is set at a measly one dollar. Bump it up to double income. Try not to go crazy with it. Overly priced tickets have the ability to decrease overall visits.
Visit friends to earn zoo cash and while you're there click around for their hidden treasure chest. Players are allowed to claim it.
Earn achievements to level up. Leveling up not only boosts your zoo cash but it earns players 1 Wildlife point which can be spent to purchase rare species like unicorns.
Send your facebook friends Zoo World gifts so they'll reciprocate the favor. This is a great way to attain needed items to build up the zoo without spending your own money.
Play the daily quiz. Players receive cash for answering the animal trivia question of the day correctly.
Money does grow on trees. Shake surrounding trees for a significant windfall.
Help lost animals. Occasionally a pop-up will appear asking users to help a creature that has lost its way. If you do it can earn a nice bonus.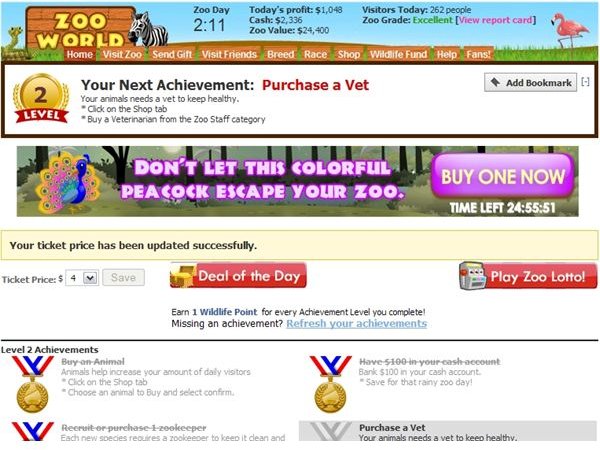 Success in Zoo World relies heavily on your report card and available zoo cash balance. It can be a challenging transforming a local petting zoo into one of the biggest zoos in the world but using the strategies above will make the transition easier. Playing free online animal games should always be fun. Try out these tips next time you play.