Beginner Game Guide to Restaurant City on Facebook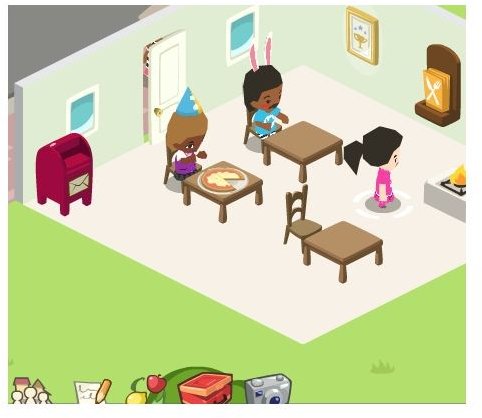 Restaurant City on Facebook
Restaurant City or RC as some refer to it is a very popular game on facebook. Developed by Playfish Restaurant City lets players enter a virtual world full of budding entrepreneurs taking a chance in the restaurant industry. The objective is to manage and grow your restaurant into one of the most successful diners on the block. Players are in total control of their restaurant layout, décor, staff, menu, and overall success. Facebook friends reside in your neighborhood and add to the gameplay. Send messages, trade ingredients, and have plenty of fun in a world where there is always something good to eat.
Coins & Gourmet Points
All players start out with a small plain restaurant, three wooden tables, chairs, and one working stove. The staff for beginners consists of your avatar and one friend of your choice. As you progress in the game your restaurant and staff will increase. At the top of the screen are your coin balance, Gourmet Points Meter, and your popularity rating. Much like in the real world it's expensive to start and run a restaurant. Players earn coins by serving meals and drinks to customers. Picking up trash left behind by customers is another way to get coins. Players can visit other restaurants and pick up any trash they have laying around on the floor. Similar to Pet Society trees can also provide coins by clicking them.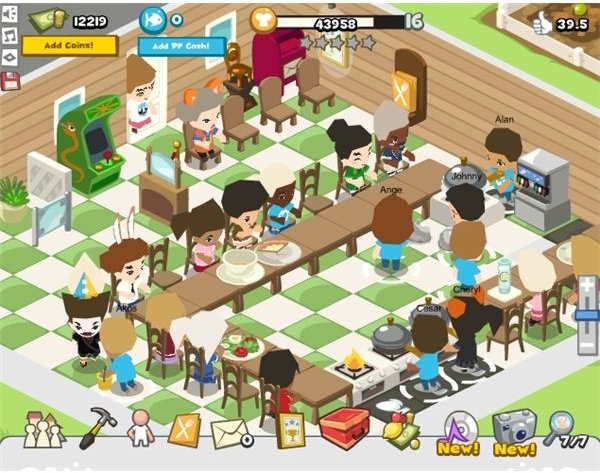 The Gourmet Points Meter monitors the amounts of gourmet points you've earned in order to level-up. Players receive gourmet points when customers are served or by completing various activities like picking up trash. The number next to the thumb icon in the corner of the screen is your popularity rating. The amount of customers you have coming into your restaurant greatly depends on this number. The higher your rating the busier your restaurant will be. A popularity rating of 50.0 is considered the best. Each time a customer leaves your restaurant satisfied or dissatisfied your rating changes. The key to RC success is to keep your popularity up.
Beware of the Hammer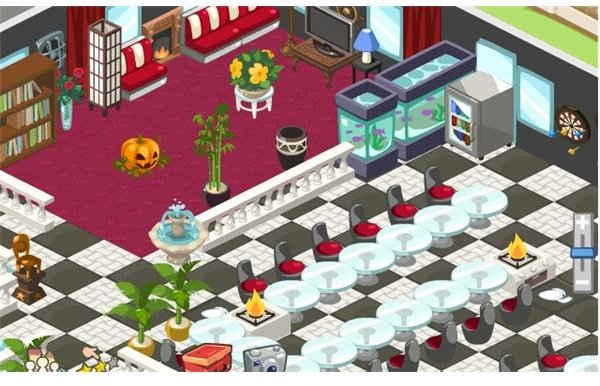 At the bottom of your screen there is a hammer icon. This tab will open the RC store filled with items like wallpaper, tiles, tables, wall décor, and other accessories to design your restaurant. Although, it may be very tempting try to avoid going crazy in the decorating department. Buying marble floors will improve your restaurant's appearance but it will not help you level up faster or increase your popularity. The Menu icon gives users the option to alternate the dishes being served, learn new recipes, and level up dishes. When you serve a dish that is leveled up the gourmet points earned is also increased. To level up any dish in Restaurant City you need the ingredients. Ingredients can be purchased by clicking the food icon also at the bottom of screen. The market only sells three fresh ingredients per day. Ingredients from the Ingredient Market are often expensive.
Ingredients in Restaurant City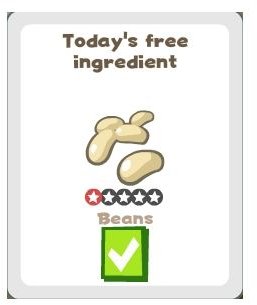 There are several methods to get ingredients in Restaurant City for free. Every day when you check the mail icon at the bottom of the screen a Food Quiz is available. If you answer the multiple choice question correctly you earn one free ingredient. All questions are centered on food. Another method to snag ingredients is by visiting your friends' restaurant. The first time you visit you earn another free ingredient. Adding new friends to your Restaurant City generates free ingredients. Check your neighborhood periodically. When a facebook friend joins RC their restaurant appears on your street and vice versa.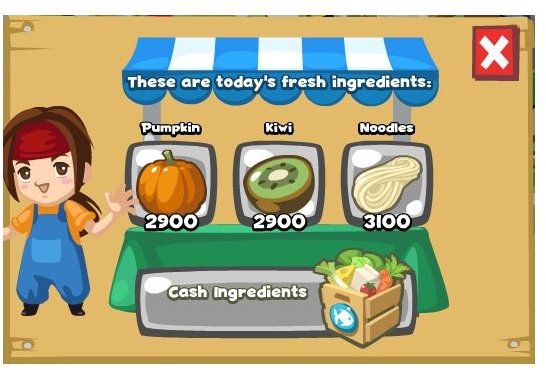 You can get ingredients by trading with your friends as well. A trading ingredients tab appears at the bottom of the screen when you visit friends. Players can swap ingredients that they have extra for the specific ones they need to level up a dish. When you reach level 16 in Restaurant City a plot in the garden outside is unlocked. You can grow fresh ingredients by clicking the plot. The plant that grows is chosen randomly but it's a great way to gather more ingredients.
Keeping Your Employees Happy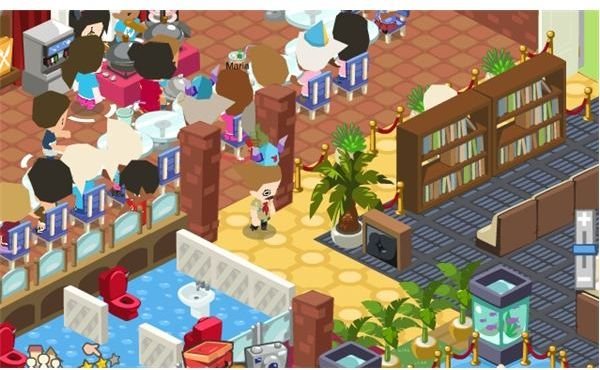 In Restaurant City players can hire up to 9 employees as they progress. To keep your employees working their energy percentage must be managed. A green smiley face will appear above each avatar's head. As it changes color your employee's energy is decreasing. To restore energy players can give them a glass of water, an apple, banana, or sandwich. A glass of water restores 25% energy while a sandwich generates 100%. There is also an option that allows you to send your RC friends free food to feed employees. At any time you can rest or alternate your staff members by changing their status. A magnifying glass icon in the bottom corner of the screen will open a street with all of your neighbor's [](https:// http//www.brighthub.com/video-games/mmo/articles/29883.aspx)avatars. Click them to hire. If you want to fire an employee it will cost you $200.
Restaurant City Tips & Tricks
Re-arrange your table layout in a rectangular square with waiters in the center so they will use less energy walking to tables.
Create a waiting area by lining up a row of chairs. Customers will sit and wait for an available table instead of quickly walking out decreasing your popularity score.
When you want to close your restaurant click the hammer icon and move a chair, trophy or other heavy item in front of the door.
Play Restaurant City every day to progress faster.
Click the random street icon and visit other restaurants beyond your street. It's a great way to gain design ideas and coins by picking trash.
Wait until you've leveled up higher to pimp out your restaurant.
Level up one dish at a time to earn gourmet points quicker.
Buy an arcade machine for your restaurant. Every time a customer plays it you can earn six coins. It's a great investment.