Cafe World Game Review & Guide to Starting Out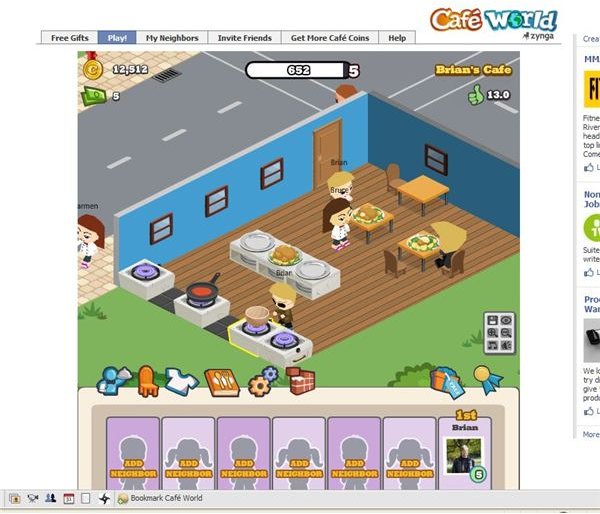 Cafe World Basics (5 out of 5)
Zynga continues to crank out new and exciting games and Café World is their latest offering. The game is similar to Restaurant City another popular Facebook game but it is slightly different.
In Café World your dishes are available to you and you don't need to collect ingredients to make them. As you level up you can prepare new dishes for your patrons.
Preparing a dish is simple, your ingredients are already available and all you need to do is click on the dish you want to make. Your avatar will add the ingredients and wait till the dish is ready before serving it. You must wait anywhere from a few minutes to several hours for your dish to fully prepare. The more complicated the dish, the more servings it will provide for your guests.
Cafe World Dishes (5 out of 5)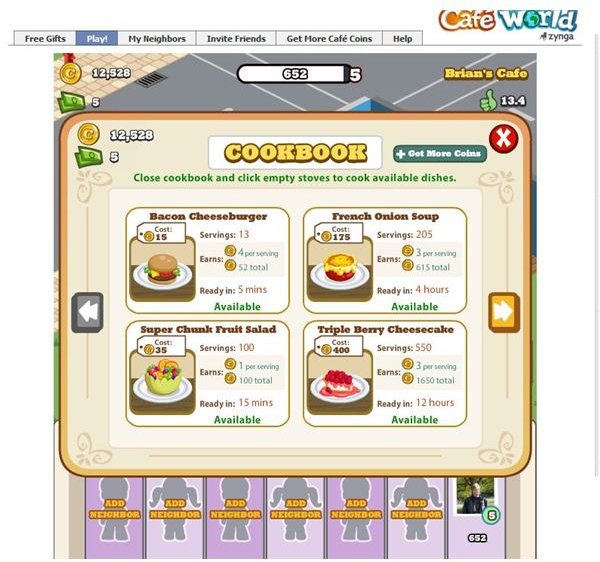 In your café to start you will have several stoves foir food preparation and once you click on a stove, a menu will come up with food you can serve. You will need to be at the right level to serve different dishes. You will start with basic burgers that can be served within five minutes. Once they are ready you can serve them to your guests. If you want to make more than one buger item or any other item the extra portions will stack on your counter space. Watch the preparation times since some dishes will take up to a day to fully prepare. If you want to play right away burgers or fruit salad is your best option. Be sure not to make to many different dishes or you won't have enough space to store them all and you can't get more counter space or stoves until you reach the higher game levels.
Decorating Your Cafe (3 out of 5)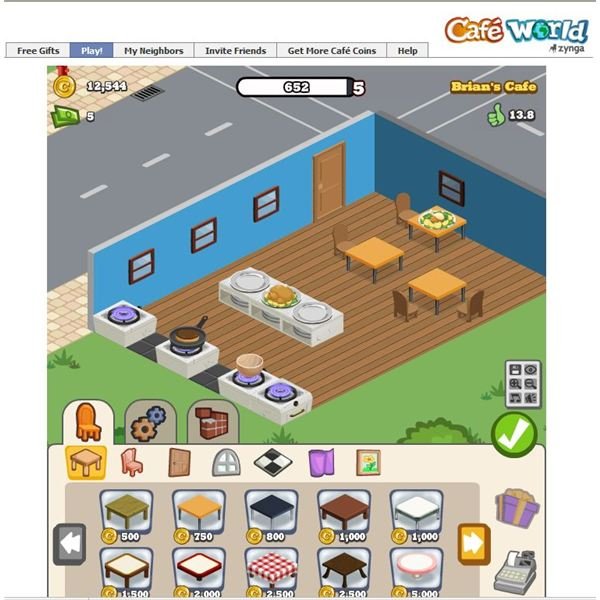 The décor items you can add right now are quite minimal but since Café World is new you should start to see more items added soon. You can add lots of windows, doors, chairs, tables, wallpaper, flooring and other standard items but there aren't many fun decorative items available yet. You can sell any item you don't want by dragging and dropping onto the cash register icon. Position your items in your café by rotating them with the arrow menu. You can also expand your café but many of the larger cafes are not yet implemented in the game.
Earning Money and Points (4 out of 5)
You earn money by selling food and each dish will provide you with different levels of cash depending upon how complicated it is and the time it takes to prepare it. You can spend your cash to customize your avatar or on items for your café as well as café expansion.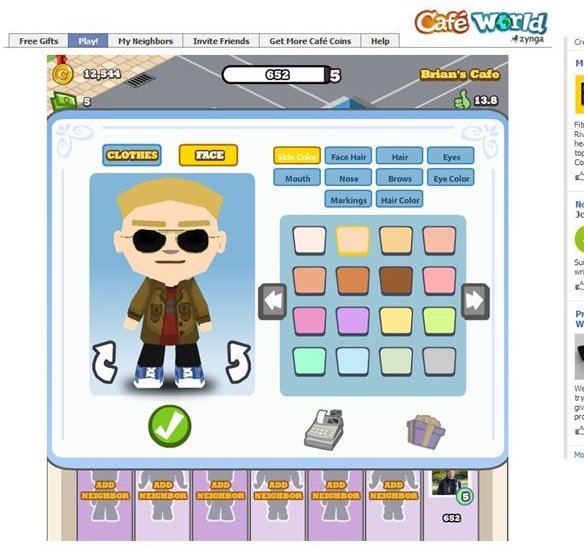 As you make dishes, add ingredients and help friends you will gain Café Points and as you gain more new dishes will unlock for you. Café Points will also allow you to add more employees for your restaurant as well as more counters and stoves.
Visiting Your Cafe Friends and Neighbors (5 out of 5)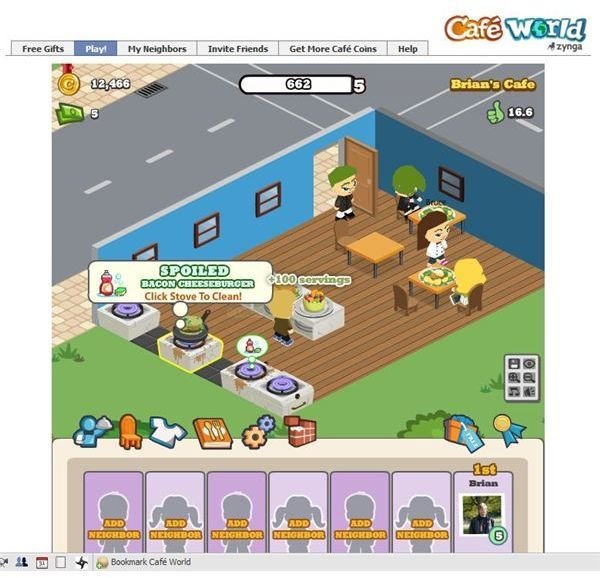 Like Restaurant City you will need to have some Facebook friends to work in your café with you. If they play the game too you can visit their café as well. You can do jobs to help your friends in the game which will grant you some experience and game money. You can leave tips and receive tips from your friends that visit your café. The only way to visit other cafes in the game is to have some Facebook friends you can't visit random restaurants which you can do in Restaurant City. You can also send various gifts to your friends from the gift page like other Facebook games it works the same. Gifts consist of meals and drinks you can serve your guests. You can add neighbors via the links at the bottom of the page.
Game Play Tips
You can toggle the sound, game size, and game quality from the small menu on the bottom left of the game window.
Watch your dish preparation time if you leave it for too long it will spoil.
You need Facebook friends to visit other cafes in the game.
Your stovetops need to be cleaned before you can use them again.
Click on the cafe name at the top of the page to change the name to what you want.
Conclusion
Cafe World is still in the early stages of development and many features are not available yet such as expanded sizes for your Cafe. While Cafe World really doesn't expand upon Restaurant City, it is much more accessible and easier to play. I can recommend Cafe World to those players who want a change of pace from Farmville and other Facebook games but at the same time want something that is easy to play and fun too.