My Fishbowl Game Basics
My Fishbowl takes the concept of Facebook games such as Farmville and Farm Town and applies it to an aquarium. Instead of growing crops and harvesting them you are raising fish in a virtual fishbowl environment. Many of My Fishbowl's game concepts will be familiar to anyone who has played the farming style games found on Facebook. Fish require little in the way of care but you must use fish food to feed them, or they will die. Each fish has an indicator bar that will tell one when the next feeding time is. The fish will lose "energy" gradually over time and you will need to feed it before the bar is completely gone. If your going to play My Fishbowl you need to feed your fish quite frequently. You can also decorate your fishbowl with items that you can purchase.
Your Fish (5 out of 5)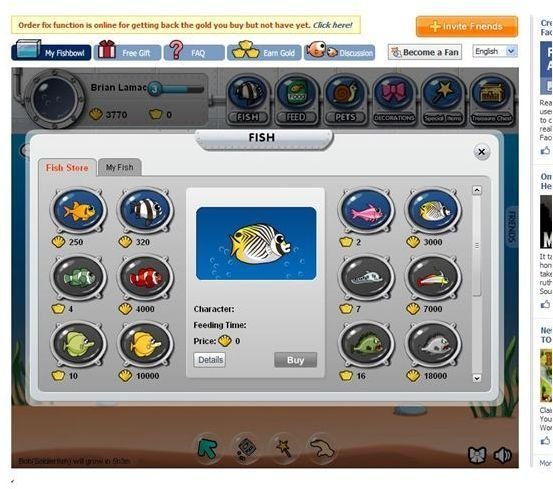 There are many different fish found in My Fishbowl and they are all modeled after real life fish. You will start with two fish available to purchase the Soldier fish, and the Blacktail Damsel fish. Once you purchase fish they will appear in your tank and you can feed them by buying fish food with your shellbucks. As you play the game and gain levels, you will be able to buy more fish. More expensive fish that become available to you at the higher levels, don't require feeding as often as the less expensive fish. All the fish are unique and they are colorful so your fish tank will have a good variety of fish in it. Many fish found in this game can only be bought through real-life cash or by completing offers.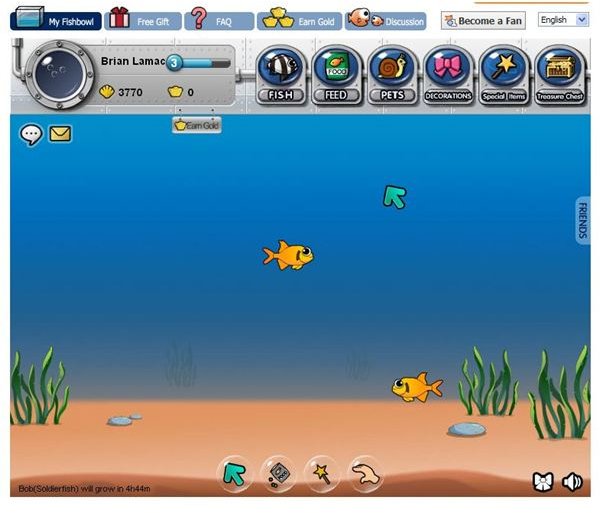 All fish need to be fed and you have three types of fish-feed to chose from. Fish feed contains calories so the higher cost fish feed will fill up your fish quicker and use less pellets. Fish feed comes in low-grade, medium-grade, and high-grade formulas. Clicking the feed icon will bring you to the fish feed store and if you have any feed you can see how many pellets you have left, or you can buy more feed if you need some.
Decorations (2 out of 5)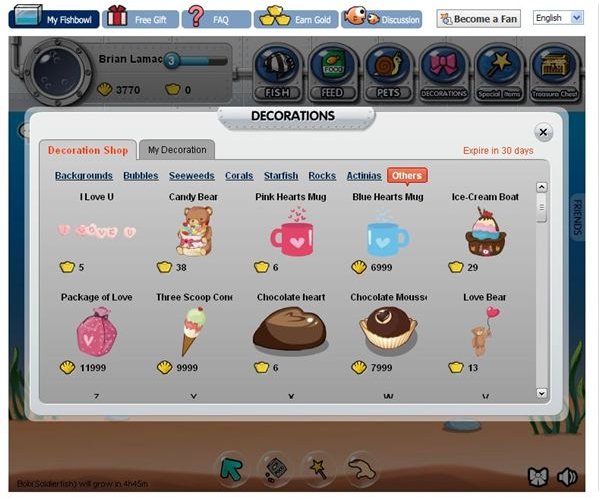 Your fish bowl can be decorated with many different things. You can change the background colors in your tank if you want but this costs real-life cash or "gold" as its called in this game. You can add bubbles to your tank for gold with different bubble styles available but again this costs gold. Different plants and corals are available and you can use both shellbucks and gold to purchase various items for your bowl. My Fishbowl has many different types of starfish available that are very colorful. You can even add some rocks if you want. The highlight of the decoration is the "other" section where you can add some unique items . You can add the typical pirate items such as chests, anchors, bottles and even a ship. Some other items include a doll, lollipop, bear, candy hearts, mugs, and a pyramid.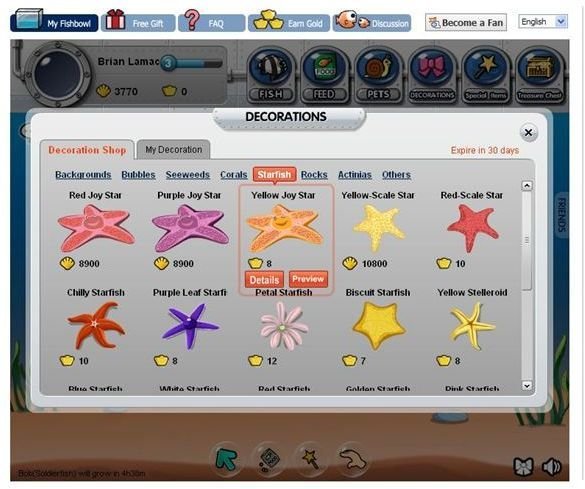 Most of these decorative items are very neat but there is a problem that takes away from enjoying them. First many of the better decorations items such as the pirate gear can only be bought with real-life cash and not shellbucks. The worst part of decorative extras is that they expire in thirty days and you can no longer use them in your fishbowl. There are also no basic decorations to get you started, and the ones that require shellbucks are all very expensive. As a beginner you have a very plain looking fish tank for weeks until you have the cash to purchase a decoration and then after you use the item in your tank, it disappears in thirty days. For me, this is not very fun. At least give the user a few basic items that can be kept as a decorations for the tank and don't expire.
My Fishbowl Pet's (3 out of 5)
You can have pets in this game that will do various things. For example the sea-horse will produce 3 food pellets per hour to keep your fish alive. The swordfish pet will attack other players attempting to steal the treasure in your fish tank. Pets only last fifteen days in your tank and then you will have to buy a new one.
Shellbucks (Game Cash) (3 out of 5)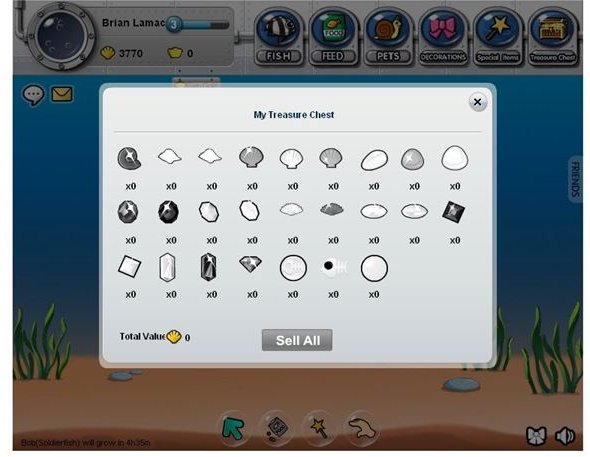 As your fish grow they produce treasure items which you can pickup inside the bowl. Treasure items can be redeemed at the treasure chest icon for shellbucks. Different fish will drop various types of treasure which will net you more shellbucks. The treasure will sit in your tank until you collect it but is your fish die you won't get any treasure from them and the treasure that they produce when you were gone will be lost.
Friends (1 out of 5)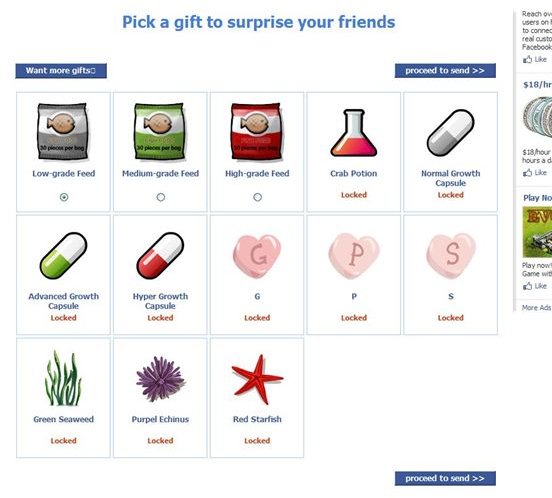 You can add your friends to My Fishbowl just like in Farmville or other Facebook games. The tab at the right will allow you to access your friends Fishbowl and you can feed their fish too. You can also steal your friends treasure but this is very difficult if they have a swordfish pet.
In many Facebook games you get to send your friends neat gifts to enhance their gaming experience. In My Fishbowl you have a pathetic amount of gifts to send your friends and nothing that is exciting or interesting. This is supposed to be a social networking game where you can interact with your friends and in most games like this one the "gift" is an important part of the game experience. With My Fishbowl the interaction is not there. The gift portion of this game is extremely disappointing for me as a player.
Conclusion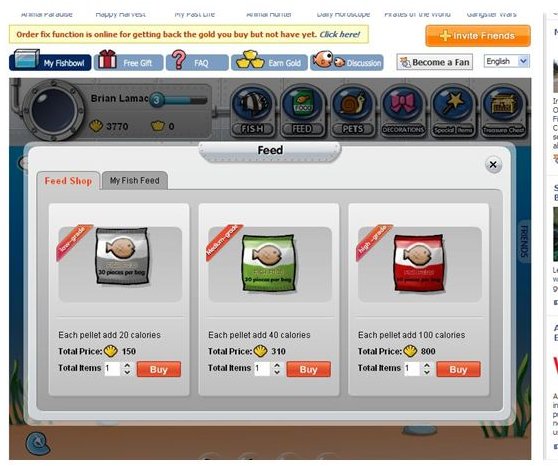 I wish I could recommend My Fishbowl to Facebook gamers. This game introduced a neat concept and is different from the farming style games but the lack of gifts to send your friends makes the game less than it could be. The decorations are neat but you need a large amount of shellbucks to be able to afford them and many of the more unique ones require real-life cash. While spending real-life money on game items is not new, the fact that all these items expire once they are put into the tank does not make for exciting game play. I can understand fish expiring if not fed properly but if I buy a pirate ship for my fishbowl I should be able to keep it and not have it expire on me, especially if I am using real-life cash to do so. There should be some low level decorations that people can use for their tanks that don't cost a lot of cash and don't expire.