Beginner Game Guide to Happy Pets on Facebook - Free Virtual Pets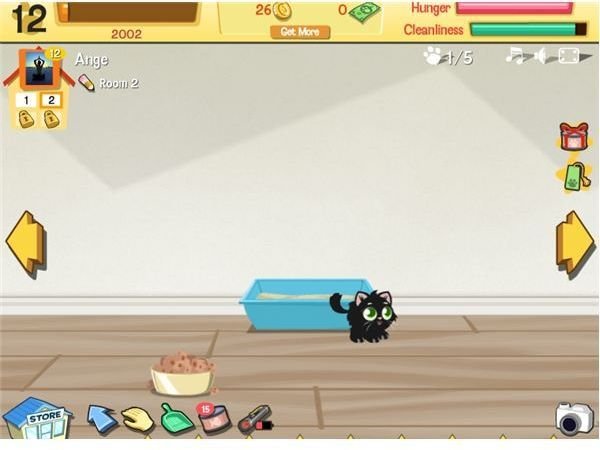 Happy Pets - A Free Virtual Pets Game
CrowdStar's Happy Pets is free virtual pets game on the social networking website Facebook. Similar to other facebook games like Pet Society or Petville players get to adopt a virtual pet and care for it. The main objective of the game is to create a large home filled with happy virtual pets. In Happy Pets players are allowed to have multiple furry friends. Users can customize their pet's home with furniture, decorations, pet accessories, and toys. The amount of virtual pets in the home increases as player levels up. Rooms can be added and decorated to make pets a comfortable and stylish environment to live in. In this beginner game guide to Happy Pets learn all the secrets to having the happiest pets in town.
How to Adopt a Virtual Pet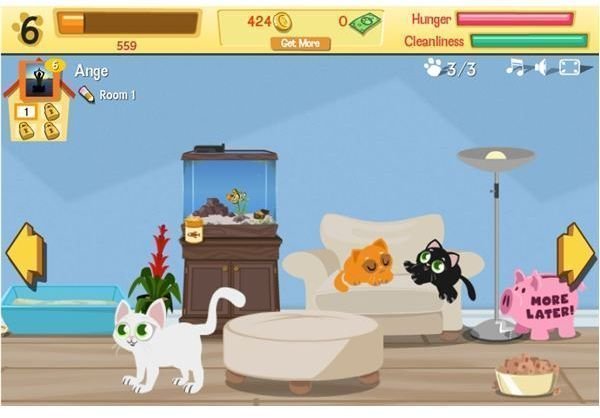 When starting out in Happy Pets players are prompted to adopt a virtual pet. Currently the only type of pets up for adoption is cute kittens. These adorable baby cats come in various breeds. More colorful breeds with striking tiger-like patterns are available as you advance in the game. After selecting your new virtual pet an option to name them and pick gender will appear. Players can use an automated name or conjure up one on their own. Each player starts the game with a litter box and one food bowl. Other pet items or furniture can be purchased with gold coins through the Happy Pets store icon located at the bottom of the screen. Happy Pets is still operating in Beta version with new items and dog virtual pets coming soon.
Caring for Your Virtual Pets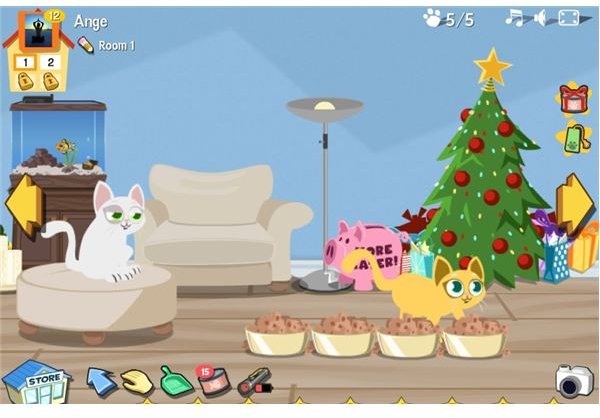 The goal in Happy Pets is to keep them happy. Taking good care of your virtual pets will maintain their health and happiness. Players earn coins and XP by caring for their cuddly friends. At the bottom of the screen there are three icons designed to assist players in caring for their pets needs. The icon that resembles a can of food can be clicked to feed your pet. In order for small kittens to grow into full healthy cats they must be feed regularly. Players earn XP each feeding. Cats like to stay clean. Cleaning out the litter box will automatically clean the house. The meters at the top of the screen that monitors your virtual pets hunger and cleanliness will be full when properly caring for your kittens. A litter scooper icon at the bottom of the screen allows players to remove any messes in the litter box. The hand icon will allow players to pet their cats. Petting or stroking your virtual pets earns coins and XP. It also boosts your pets overall happiness.
Building a Pets Haven - Your Happy Pets Home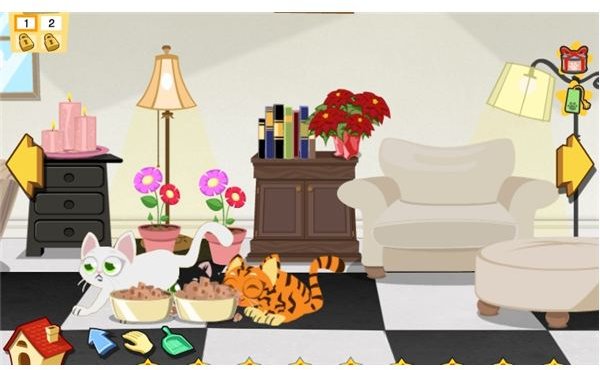 Another major part of Happy Pets like other facebook games is customization. Players can customize creating the ultimate pet haven for their virtual pets. Adding rooms and decorating them let's players expand their family of free virtual pets. Inside the Happy Pets Store a variety of furniture, wall hangings, flooring, and colored wallpaper are available for purchase. Mix and match different styles for the perfect fit for your new kittens. Colorful pet furniture like beds and towers can be added also. Buying comfy couches, stands, and tables give your pet platforms to jump and play on.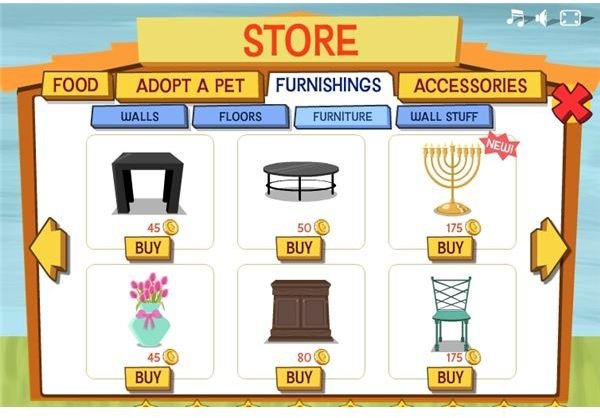 A feature in the game integrates users Happy Aquarium into the Happy Pets Home. All aquariums in Happy Pets mirror Happy Aquarium displaying a dirty tank if the tank in the application is in need of cleaning. Players are reminded to maintain a Happy Aquarium along with their Happy Pets. The cats also enjoy sitting on top of the fish tanks and leaping off. Other customizations in the home that can be made include adding windows. Some windows feature moving clouds that your virtual pets can watch. Televisions, lamps, and flowers are extra touches to personalize your Happy Pets home. There is no limitation to what you can do when it comes to design. Your home can be classic or a wild kitten playground. It's totally up to you.
Tips & Tricks for More Coins
Coins are essential in Happy Pets. Earning more coins allows players to customize and adopt more virtual pets. A piggy bank displayed in the room gives players daily coins. To earn more coins players can visit their Happy Pets neighbors. Like most traditional facebook games visiting friends earns extra coins and XP. The more friends you have in Happy Pets the higher the amount of coins you'll earn. Petting, cleaning litter boxes, and clicking a neighbor's piggy bank will earn coins. Visiting friends daily will quickly increase a player's overall earnings. Joining groups for Happy Pets on facebook can help you add more friends to your neighborhood. Keeping food bowls filled also increases potential earnings in Happy Pets. Taking good care of your virtual pets will keep them happy and coins plentiful.