Best Free Windows Phone 7 Games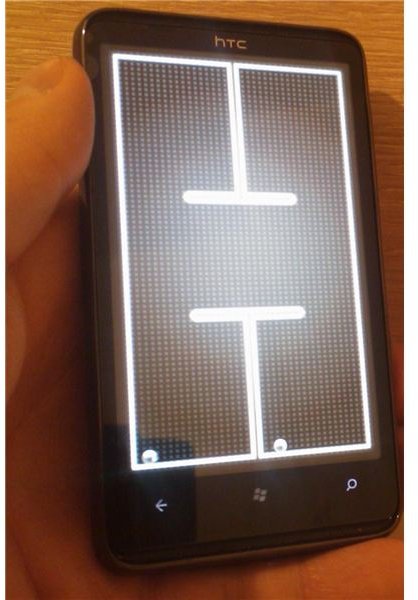 Free Games = Free Fun!
Windows Phone 7 has only been available for a few weeks, and already there is a big selection of games to install. The list of premium games is quite impressive, but so is the selection of free games.
While Windows Phone 7 features integration with Xbox LIVE, this only applies to full price games and we're only featuring 100% free games (no demo versions or "lite" games to upgrade) in this particular list so none of the games featured here will affect your gamer score.
Let's take a look at the best free Windows Phone 7 games!
Unite
A marvellous free game with plenty of challenges of increasing difficulty, Unite is basically a g-sensor controlled ball and hole game with a twist – rather than getting your ball to a destination avoiding the holes, your destination will come to you, in the form of a another ball! By uniting your balls, you avoid the holes (although these are in fact black holes that can help you move around the arena) and this added size can help you get to the other balls quicker.
Unite is controlled via the phone's g-sensor - which is why the balls in this image are both at the bottom of the screen!
This is possibly the best of the free games for Windows Phone 7, although there is plenty more!
The Last Defense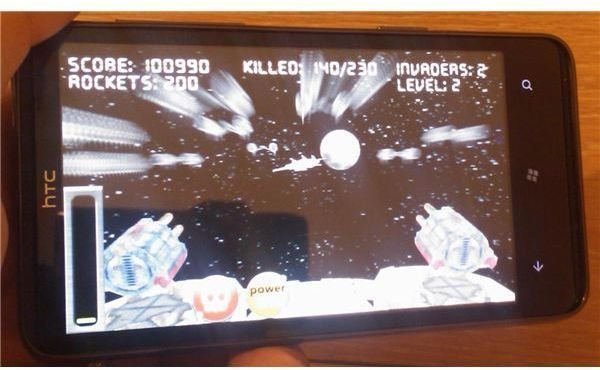 From the very beginnings of computer gaming, designers were entranced by the idea of flying a spaceship and shooting aliens – so it makes sense to discover that there is a game along these lines available among the first wave of free Windows Phone 7 games!
Fast and furious, The Last Defense opens with small video clip, and then it's into spaceship shooting action. You need to aim two sets of turrets – one on the left and one on the right – at the incoming attackers, but be sure not to let the guns overheat!
Bomb Defuser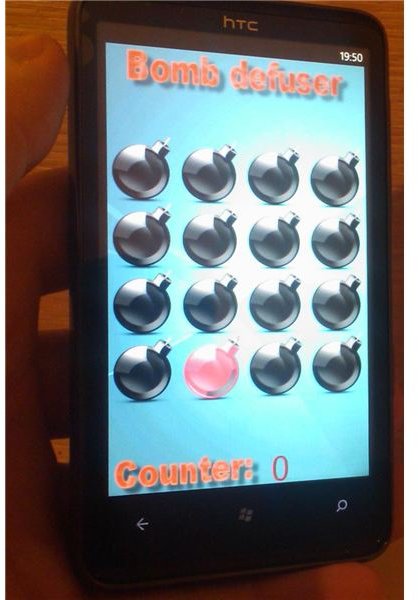 There is very little to this game – yet it remains great fun for filling short gaps in your day. It's a very casual game, requiring you to simply tap random red bombs in a grid of 16. The trick is, the red bombs are going to go off, and the faster you tap them, the faster the other bombs turn red!
Bomb Defuser is a very addictive Windows Phone 7 game, and should be one of your first stops for a good free game for this platform.
Vodafone Sports Manager Football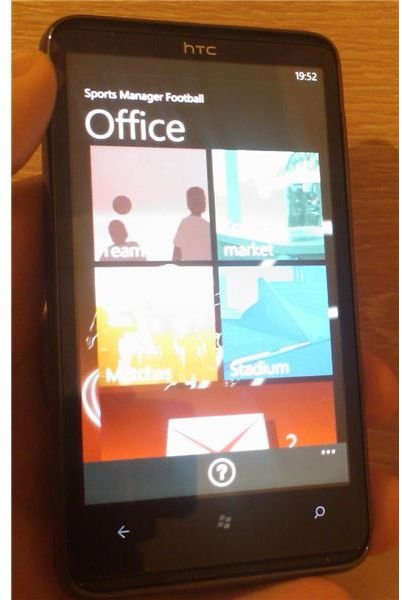 This soccer management sim allows you to take control of a team and try and reach the heights of success! Control the squad selection, make transfers and even manage the club's finances in your quest to find success.
Vodafone Sports Manager Football requires you to be online to play, and matches your team up against a group of other online players. You'll get to grips with this game thanks to the tutorial, and you can easily logout at any time. The game's user interface is similar to the Windows Phone 7 "Metro" interface and the game itself plays out matches as mathematical exercises.
Xbox LIVE Extras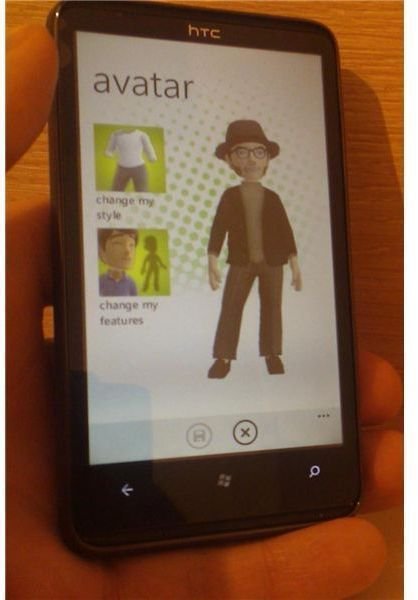 Although not a game as such, Xbox LIVE Extras is a lot of fun, and it is free! Unlike the other games, once this has been downloaded and installed from the Windows Phone 7 Marketplace, you need to run it via the main Xbox LIVE screen rather than from the list of games.
Using Xbox LIVE Extras you can change your avatar's bodily and facial features and the clothes he or she wears, add props and accessories and then update your avatar's new look on both your Windows Phone and on your Xbox. Note that this requires internet access to play, so you might find a generous network plan is advantageous.
All Windows Phone 7 games are exclusively available via the Marketplace.
(Image credit: author)