Introduction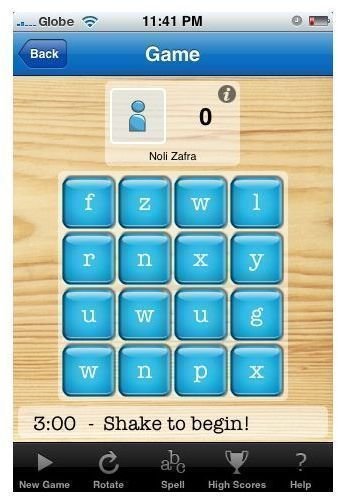 I'm not really fond of word games, be it scrabble, word factory, scrabulous and the likes. Although I play a game or two, most of the time it is more of an obligatory game due to the request of friends during get-together parties. This is the reason why I was a bit apprehensive in installing Shake and Spell on my iPhone. But you know what? I'm actually glad I did. As I found Shake and Spell a truly addicting word game for the iPhone.
Shake and Spell Review (3 out of 5)
This game is definitely a simple word puzzle game. All you need to do is to spell as many words as you can from the letters displayed on your iPhone's screen. The more words you can spell and the longer those words are before time runs out, the higher your game score will be. What is unique about this iPhone game is the fact that you need to scramble the words on the board to begin a game. How do you do that? You guessed it right (although it's already given by the game's title) – using the iPhone's accelerometer by shaking your iPhone.
At first, I thought it was a pretty boring game. But once you begin scoring high points, that's when the addictive factor comes in. Before you know it, you've practically spent hours scrambling the letters to form a good word.
Shake and Spell is definitely a good party game. You can challenge your friends on a race to the highest score using the same board. Alternatively, you can even go up against other players online. Other features of Shake and Spell include uploading of personal photo to accompany your profile online, facility to import your photo to your Shake and Spell profile, facility to connect to Facebook to discover new friends, and facility for receiving notifications through email or SMS whenever somebody wants to challenge you online.
Our Verdict (3 out of 5)
As we said, Shake and Spell is an addictive iPhone game. It's simple gameplay works wonder for this game. And did we mention that it is free? What more can you ask for? We definitely recommend Shake and Spell. Install it at once and enjoy spelling.
Photo credits
Screenshot of Shake and Spell game by Urbanspoon.