Android Simulation Gaming: Game Dev Story for Android Review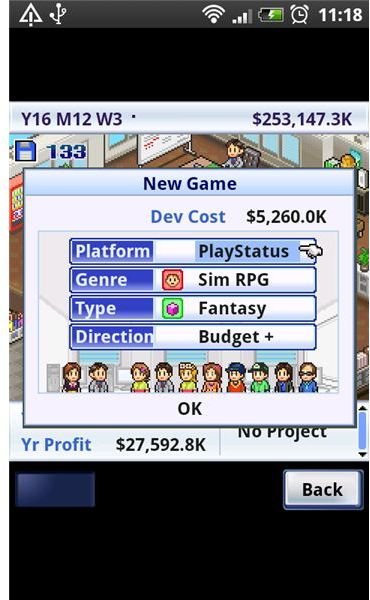 Your Own Game Studio On Your Android Device
As the Android system keeps growing in popularity the new games that emerge are starting to reach a decent quality level. Although most of these games are a direct port of their iPhone counterparts, such as Angry Birds, the Android platform is slowly becoming a worthwhile alternative for those that are serious about mobile gaming. Game Dev Story is another one of these games that made its way from the iPhone where it had already proven to be a popular title. Let's see if the Android version is capable of making such an impact as well.
The Story of Game Dev Story for Android
Game Dev Story is a fairly simple looking game that situates the player in a beginning game developers firm. You are the president of the company and have two employees available from the start. With your starting budget you have to start developing games, hire new staff and slowly work your way to the top.
The game world is entirely in your office and throughout the years the game climate changes. New consoles are frequently released and always look quite similar to real-life versions. Even the naming is similar; as for instance a company called 'Sonny' will produce the 'PlayStatus'. Gamers will definitely recognize many new situations and this knowledge may actually benefit you throughout the game.
The Graphical Style of Game Dev Story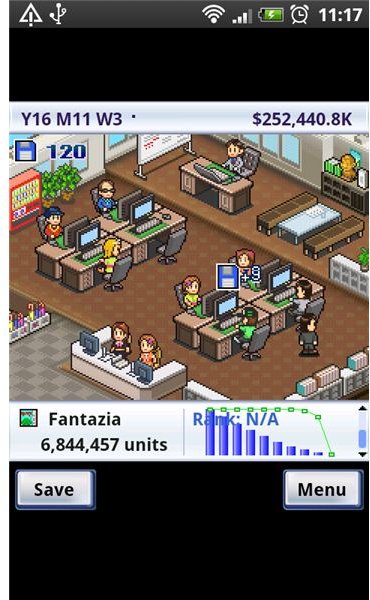 The graphics of Game Dev Story for Android are definitely low-tech, which is probably done intentionally. The old 8-bit style works great for this type of game, as it is all about developing video games with a starting point probably somewhere in the eighties. The graphical style very much resembles the games that came out in that time, although in color.
Choosing this particular art style also means that the game isn't necessarily demanding on your phone, which will benefit the fragmented Android platform considerably. It is definitely something different from all the new games on the mobile platforms that are eagerly pushing the limits of your device and in this sense it is quite refreshing. The graphical style of Game Dev Story for Android is definitely part of its appeal.
The Gameplay of Game Dev Story for Android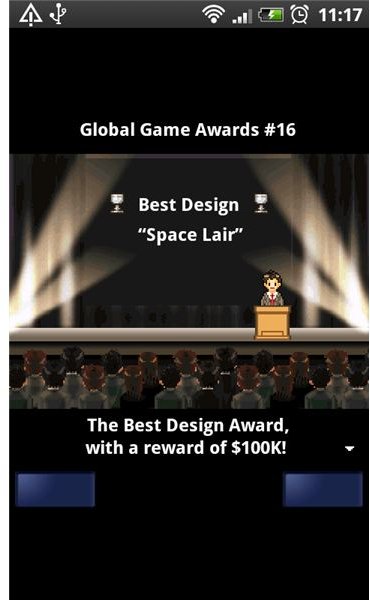 Game Dev Story for Android is an incredibly addictive game to play. It is easy to pick it up and get sucked in for hours. The genre is simulation/strategy that is purely played through text-based menus, and is quite deep. You are not any of the players but instead you command the company as a whole. The main aim of the game is obviously to be profitable and to be able to make popular games. In time your company will grow and you will be able to hire new and perhaps better people.
To develop for a certain platform a license needs to be purchased, which will become increasingly more expensive. To quickly gain some finances it is possible to do a contract job, although this won't help for reputation or fame. There are various elements to increase your awareness amongst your target group, through advertising, attending fairs or winning prestigious prizes. All these elements together make Game Dev Story for Android a great game.
Minor Issues and Closing Words
Although great fun, the issues with Game Dev Story mainly lie in the longevity area. Once you achieve your goals and build up a steady stream of income, there aren't too many challenges left. The game will get repetitive. Also the play area only occupies a part of your screen, as if the game was developed for a small resolution screen. Nevertheless Game Dev Story is a fun and original game for what it is and definitely worth spending $2.52 (limited time offer) on.

References
This post is part of the series: Game Dev Story for Android Series
Game Dev Story is a new and exciting game on the Android platform. The game is not only greatly designed, it is highly addictive as well. Find out everything about the quality of the game in the first part of the series; the review of the game, and tips and tricks in the second part!