How to Play Bejeweled 2 on the iPhone: Tips and Tricks to Use When Playing the Game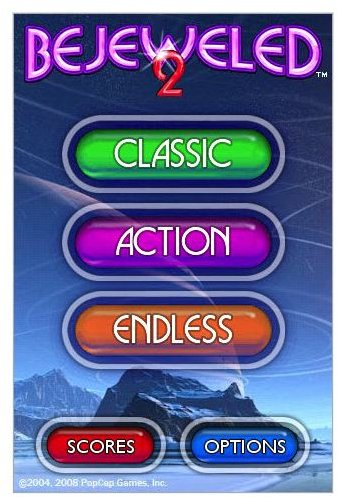 The Popularity of Bejeweled 2
PopCap Games' Bejeweled is everywhere. You can find it on PCs, online, phones and Facebook. Maybe diamonds are a girl's best friend and the dazzling jewels captivate players for hours. PopCap naturally followed its success with Bejeweled 2 by adding more features and a crisper interface. The interface shined in Bejeweled and yet, PopCap managed to take it another level with Bejeweled 2. Add Bejeweled 2 to the iPhone and the two make beautiful graphics together.
If you saw the Bejeweled 2 review when it first came out for the iPhone in 2008, you might want to look again. It's cheaper and it adds another mode.
How to Play Bejeweled 2
Here's a quick recap of the game play for those who have yet to meet this shiny game. Gems sit appear on an 8x8 grid. Players swap two jewels to create three or more like gems in a row or column to smash them. Once gone, the other jewels fall down to take the disappearing jewels' vacant spots.
Match four gems to get a Power Gem that explodes taking a few nearby gems with it. Better yet, make five in a row to get the Hyper Cube. Swap the bright crystal cube with another shape to send lightning bolts to destroy all gems of the same kind.
The game comes with three modes:
Classic: Keep swapping gems until you run out of moves. No time, no pressure.
Action: Swap gems as fast as you can because the clock is ticking away. The timer increases a tad when you make matches.
Endless: This mode didn't appear in the first release of the game for the iPhone. In this one, you never run out of moves and there's no timer. This might bore experienced players, but it works great for kids and those new to matching games.
The game comes with an auto-hint option. This means that if you don't make a move within X amount of time, it'll automatically give you a hint. Players who prefer a challenge can turn this off.
iPhone Bejeweled 2 Screen Shots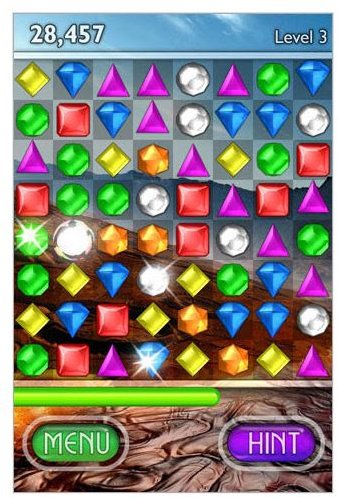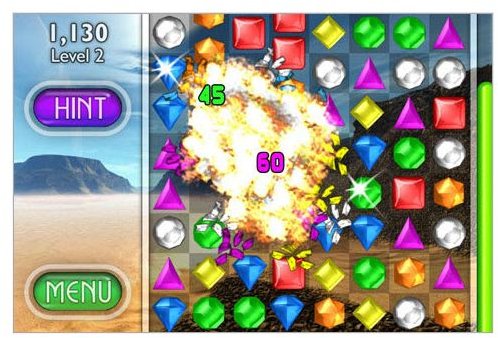 Other Tips and Tricks When Playing Bejeweled 2
Between the game's already gorgeous interface and the iPhone's, the two make a beautiful match for the eyes. You can play the game either in portrait or landscape mode. The pause, hint and timer features (Action mode only) smartly move around when you switch between the modes to more optimal locations.
Thank goodness, Action mode comes with a nice pause button in case you need to step away or take a break. The sounds play in harmony with the gems' movements and explosions without becoming overbearing. Available for $2.99 in the iTunes store, Bejeweled 2 for iPhone will entertain you for hours when you're stuck somewhere or just need a break.
Screen Shot Credits
Bejeweled 2 screenshots from Popcap Games.