The Top 5 Online Social Strategy Games on Facebook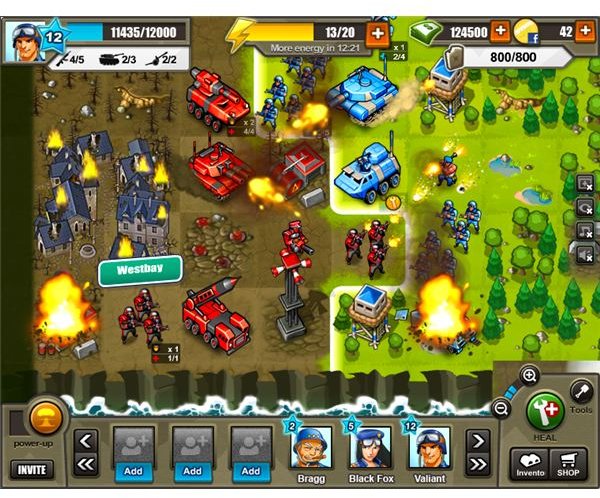 Army Attack
Army Attack is a turn-based military-themed strategy game developed by Digital Chocolate, creator of the popular Millionaire City. Both Army Attack and Zynga's Empires and Allies were released a couple of weeks ago and one can clearly notice their popularity ranking by the sheer number of casual gamers already hooked into the turn-based strategy model. While Zynga's first strategy game integrates the famed Farmville model into its gameplay mechanics, the gameplay in Army Attack is similar to Advanced Wars and has a darker theme than its competitor.
The new social strategy game focuses on turn-based tactical combat with an option to build military buildings. The city-building aspect is heavily deemphasized. You will have to move your squad, expand territory and eliminate any hostile forces that come your way. The visuals are similar to Advance Wars and in spite of the dark theme the game mellows down with its cartoony visuals and provides a satisfying turn-based strategy game for Facebook users.
Global Warfare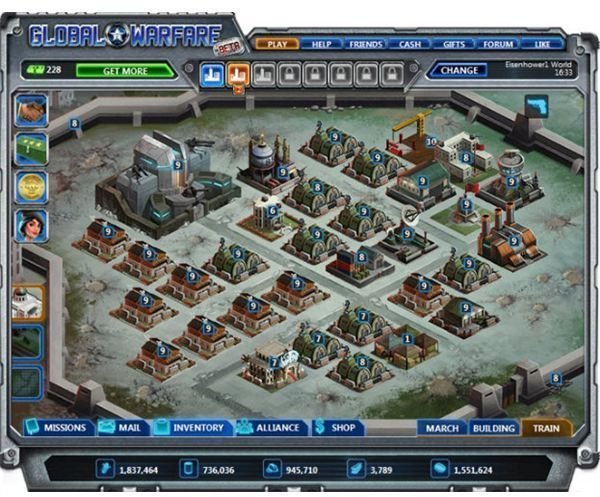 Since 2010, the number of online social strategy games on Facebook has increased, thanks to developers like Kabam and Kixeye, who took the initiative to develop serious strategy titles in an attempt to attract the strategy gaming crowd. Global Warfare is one such great game that tries to bring in the same level of intensity experienced in games like Command and Conquer and Art of War. Set in a futuristic universe, this military-themed strategy game focuses more on rebuilding a desolated city bombed by a dangerous military faction. You will get time to build buildings and strengthen your base and then go out on campaign to conquer enemy factions.
Global Warfare encourages co-op play and hence its developers have built the game with the Facebook gaming crowd in mind. You can team up with your Facebook friend and defend his base or take up resources objectives that can only be completed if you have more FB friends. The game emphasizes on resource, collection, research and provides opportunities for Facebook players to interact and capture scarce resources. The game also has a nice PvP combat system and soon it will integrate alliance vs. alliance combat in which a group of FB players can wage war with another group, making this strategy game a perfect social title for the Facebook platform.
With a tried and tested real-time gameplay mechanic, Global Warfare is still on beta phase. You may experience a few minor glitches that will surely be addressed in the near future. The game developers have planned new releases and updates during and after the beta period.
City of Wonder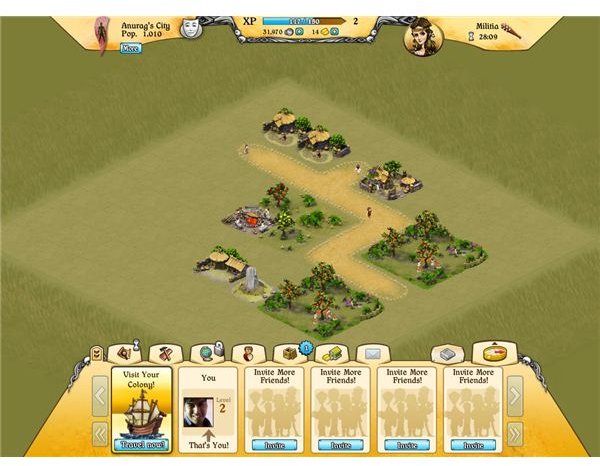 City of Wonder is quite similar to Civilization. Players will have to build cities, military buildings and expand their territory. You will have to fight against your Facebook friends and expand your territories to achieve supremacy. Just like Civilization, this game focuses on research and includes upgrades for military units and buildings. You can trade with your friends via markets and request for gifts and other commodities required for building a prosperous empire.
City of Wonder provides a good city-building, resource-management experience and lets you take command over diplomatic, military or economic affairs. A grand strategy game, this free to play title has brilliant visuals and superb sound effects. It lets you delve into each technological upgrade and provides opportunities to transform your empire into a mighty nation. Civilization fans will quickly recognize the gameplay elements and will find it much easier to play. New players may require going through the FAQ section and getting quick help on base-building, resource-gathering and combat. This free social strategy game can be played on Facebook and you can invite your friends or wage a war against them to gain resource or territorial advantage.
Empires and Allies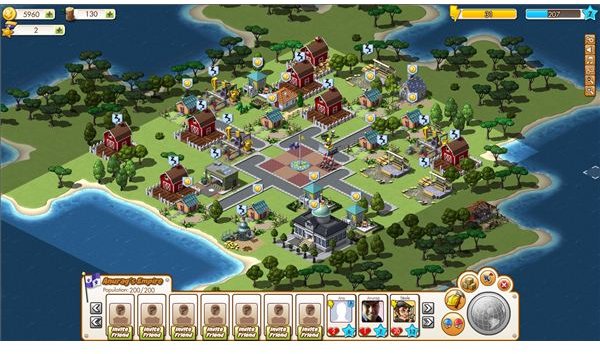 A turn-based strategy game by a company known for its family-friendly games indicates the stiff competition between casual game developers to attract both the casual and the hardcore strategy player. Zynga's very first strategy game is now more popular than Farmville and CityVille and has a million players engaging in turn-based PvP battles.
Empires and Allies is clever attempt to attract the social/strategy gaming crowd. Developers have kept several Farmville and CityVille elements intact (coins, energy, city-building etc.) and infused a military-themed strategy game by allowing players to create military troops and using them against opponents to capture resources and expand their empire. Facebook users will have to build houses, industrial buildings, and military structures and gather resources to build more troops. They can then expand their empires and wage a war against other empires.
The game design is at par with CityVille and the visuals crisp. Combat is fun, and takes place on land, sea and air "platforms". You can take help from your Facebook neighbors or have a friendly brawl against your allies. Players looking for a perfect social strategy game should play Empires and Allies.
Battle Pirates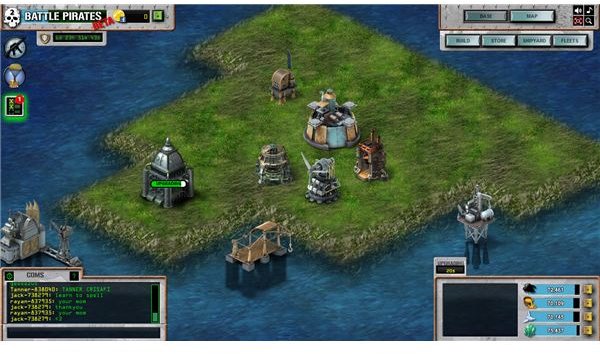 Battle Pirates is a real-time strategy game aimed for the StarCraft-playing crowd. Developed by the creators of Backyard Monsters, this RTS has got the best visuals amongst other online social strategy games on Facebook. The objective is to build a formidable fleet by collecting resources from various industrial buildings and launching an attack against your Facebook neighbors in the sea.
In Battle Pirates, you will have to build units on a tiny plot of land surrounded by sea from all sides and create a virtual fleet of combat ships, gunboats and various other assault units to prepare for battle against your friends. A short tutorial explains all about resources and fleet and provides tips and hints for a successful battle.
The game also lets you interact with your FB neighbors and fight against them. With a familiar RTS game mechanic (base-building, resources collection and combat) and a naval combat theme, Battle Pirates is highly recommended for the hardcore strategy gamer.
References