Cake Mania - Lights, Camera, Action! Guide to Helping the Star Struck Town of Bakersfield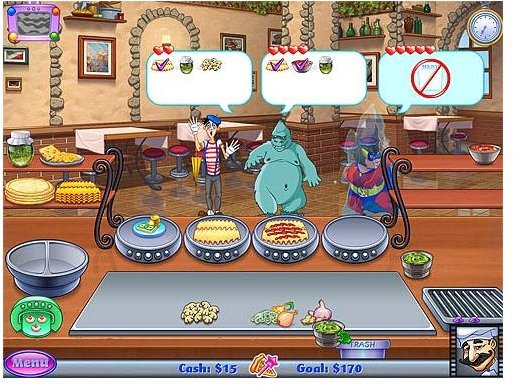 About Cake Mania – Lights, Camera Action!
In this addition to the Cake Mania time management game series, Hollywood movie producers have set up shop in the town of Bakersfield. Jill, Jack, Risha and Gordo are determined to make the town a haven for movie stars and earn lots of money while doing it.
Game Play
There are different shops in the town of Bakersfield that become unlocked as you progress through the game. Game play is consistent with other Cake Mania games except for what is offered at each shop. Each level can be played at a timed or relaxed mode. Your goal in each level is to earn a specific amount of money. Upgrades and other items are available in the Store to purchase in between levels.
Evan's Bakery
To start, you will play Jill and work in the Evan's Bakery. In each of these levels, customers will arrive and menus are given. Jill bakes cakes by clicking on the appropriate colored icon on the oven. When completed, frosting is added through a separate machine. Cakes are then delivered to the customer and money is collected.
Jill can purchase upgrades and items in between levels to improve the game or Jill's performance, add new equipment or items to help improve customer patience.
Risha's Boutique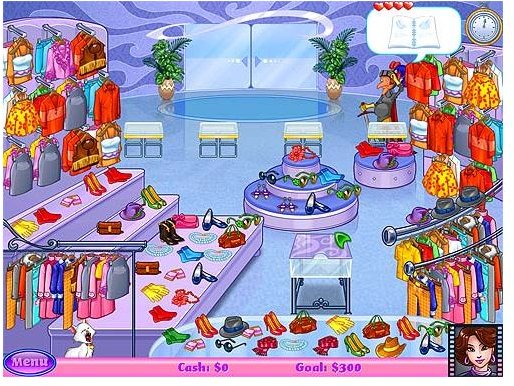 In Risha's Boutique, you will play Risha to sell clothing and accessories. As customers arrive a list of available items is given directly by clicking on their icon. Clothes and other items are delivered to the customer by picking them up from the clothing racks and tables.
In between levels, Risha can purchase new clothing lines for her inventory, a hint helper that can locate items or other things to help keep customers from getting impatient.
Gordo's Pizza
Gordo's Pizza replaces Jack's Burger Barn (found in Cake Mania Main Street) as the only restaurant in town. Play Gordo and make pizzas along with other types of Italian dishes with a variety of ingredients. As customers arrive, menus are distributing by clicking on their icons. Each order is prepared by following the list of ingredients that will be displayed as thought bubbles above the customer's head. Some items require special preparation. Meats will require cooking on a grill, while pasta is boiled in a pot.
Gordo can purchase new food items and ingredients to his existing menu. There is also items to improve customer patience and a "Pizza Magic" helper that can be used to complete a single order.
Game Tips
Jill can only carry one item at a time. Purchase the display rack to put a cake(s) on it to help accidental stacking of the wrong cake.
In the Cake Mania - Lights, Camera Action game all items in the Store can be resold for a reduction in price.
The Camera Man films other customer's while in line, which gives everyone mood bonus hearts if menus have been distributed.
All customers are fascinated by the Movie Star and will change their order to match whatever she chooses on the menu.
The Shopoholic is impulsive and may steal tips from the counter if they are uncollected.
Risha can hold three items at a time. Take advantage of this and use it to help create chains of actions that will earn more points. Also, gift wrapping items for customers will earn bonus money.
The wrong or unwanted food items can be thrown away without any penalty or cost.
The Ninja will confuse other customers and temporarily keep them from ordering. Also, the Abominable Snowman freezes customer's temporarily.
Buying the more expensive food or clothing items will result in higher profits when they are sold to customers.
The Mime repeats the order of the customer standing next to him.
Image Credit
Screenshots for the Guide Cake Mania Lights, Camera Action Game were created by Sheila Robinson.