About Cake Mania Main Street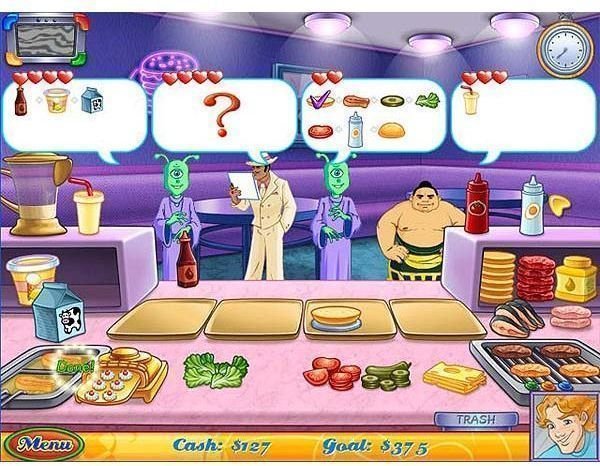 After Jill and Jack Evans come back from their honeymoon they discover that the town of Bakersfield is desolate and run-down. A large mega-mall has wiped out all of the small businesses on Main Street. Jill decides it's her mission to rebuild four Bakersfield shops on Main Street into a profitable money making machines. These include a bakery, flower shop, burger café and sushi bar.
How to Play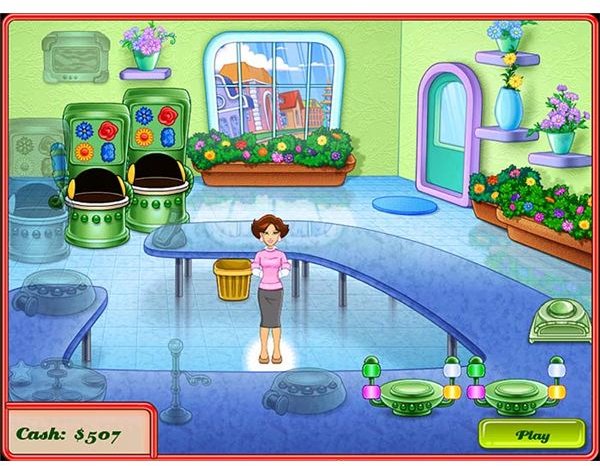 In Cake Mania Main Street, you will play multiple characters. To start the game you will play Jill and use your time management skills at a bakery.
All shops work in a similar way. Your character works behind a counter. Customers come into the shop and you give them a menu. Based on their selection, you prepare the item(s) requested. When ready, the order is then delivered to the customer. Cash and tips are collected and the customer leaves.
Each level has a particular monetary goal. If you fail, the level will need to be repeated. Otherwise you can move on to the next one.
In between levels you can purchase upgrades for your shop. Depending on which one it is, you can upgrade equipment, menu items and get customer mood boosting items.
Aside from the bakery, all other shops will need to be unlocked. This is accomplished by completing a certain amount of levels. Money will also be needed to purchase them before they can be accessed.
You win the game when all levels in each shop have been completed and all upgrades have been purchased.
Game Tips and Hints
Customer moods can change quickly. Keep an eye on this by looking at the number of hearts displayed below their character icon. Boost moods quickly by giving them cookies.
If you have a lot of customers that request multiple items, try to serve the impatient ones first. You can see this by a rapid dropping heart indicator. Otherwise, serve each one of their items to prevent them from becoming too impatient too quickly.
If you make a mistake on an order, you can throw it away in the trash. However be aware that this will result in a small monetary loss.
When you see vampire customers, stop working on the previous customer's order if it is not completed. The vampire is impatient and has a tendency to make others disappear or change their order.
In the bakery, be careful about stacking cakes incorrectly. Only one item can be moved at a time. If you accidentally place the wrong cake on top of another one, it cannot be removed. You will then need to start over and make a new cake.
In the Burger café, you can make multiple burgers on the stove without risk of burning them.
Hippie characters will take any kind of item and are very patient. At the bakery, give them an unfrosted cake. In the burger café give them a burger bun without anything in it.
Unlike other time management games, in Cake Mania Main Street you cannot improve the performance of the character you play. In the bakery and flower shop, both Jill and Risha move at a tediously slow pace. This will require you to think about which tasks you should complete first. Try to chain actions together. For instance, deliver a customer order and immediately pick up the money.
The Superman character can be very impatient. He will start to cry when his heart mood level drops. He also has the ability to freeze other customers from ordering temporarily.
Watch out for the Mobster Guy's tendency to steal money from the counter.