CityVille Business Guide - Earn Money running shops in CityVille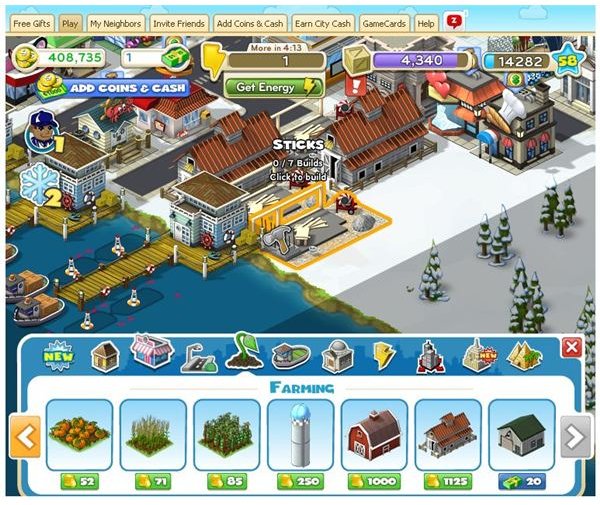 CityVille Business Guide
In CityVille you have many different businesses that help to drive your game economy. Goods produced by farms or brought in by ships are needed to supply each business which can then be sold for cash once the goods are used up. Some businesses will sue more goods than other ones and will generate more money for your city. It is up to you to decide which businesses you want to use in your city. Check the game often as Zynga will more than likely add more businesses as the game continues to develop.
CityVille Businesses Part One
Bakery - Earns 40 coins needs 10 goods
Flower Store – Earns 95 coins needs 25 goods
Coffee Shop – Earns 300 coins needs 100 goods
Toy Store - Earns 180 coins needs 50 goods
Burger Shop – Earns 240 coins needs 75 goods
Gaming Shop – Earns 50 coins needs 10 goods
Diner – Earns 230 coins needs 50 goods
Cosmetic Shop – Earns 120 needs 25 goods
Pool Hall – Earns 420 coins needs 100 goods
Bike Shop – Earns 330 coins needs 75 goods
Seasonal Clothing – Earns 368 coins needs 80 goods
CityVille Businesses Two
Hot Cocoa Shop – Earns 441 coins needs 100 goods
Shoe Store – Earns 572 coins needs 130 goods
French Cuisine – Earns 495 coins needs 110 goods
Sunglasses Shop – Earns 534 coins needs 120 goods
Italian Restaurant – Earns 645 coins 150 goods
Fish Market – Earns 609 coins needs 140 goods
Handbag Shop – Earns 654 coins needs 120 goods
Sushi Shop – Earns 605 coins needs 110 goods
Wedding Store – Earns 702 coins needs 130 goods
Cinema – Earns 749 coins needs 140 goods
Boutique – Earns 795 coins needs 150 goods
Jewelry Store – Earns 830 coins needs 155 goods
Tower Restaurant – Earns 900 coins needs 165 goods
Managing Your Businesses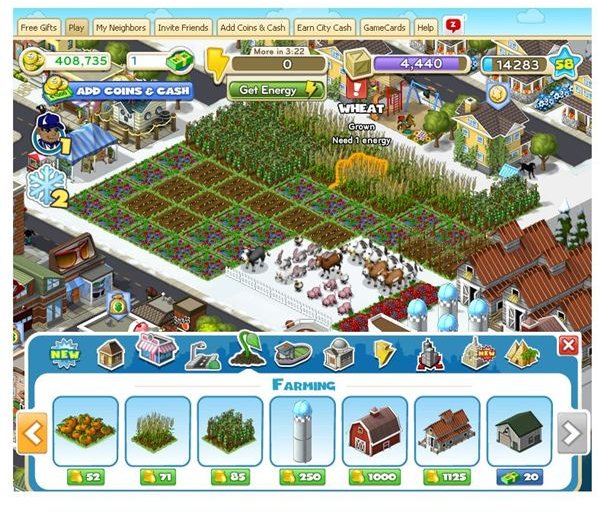 In CityVille you need to not only collect money but you need to have enough goods and energy to get your coins for your businesses. Since energy isn't unlimited and it can be difficult to get extra energy from Facebook friends when you need it you can approach money collection in a few different ways. First of all you can visit Facebook friends and collect an energy point each day for visiting your neighbors. This is great if you have plenty of friends but doesn't work as well if you don't. The second way you can approach managing your businesses is to divide your tasks up. For example for a couple of days you might just farm until you have enough goods to continuously fill your businesses up. You need to make sure you also have enough storage space so build plenty of barns and sheds. As you wait for crops to grow and your ships to come back to port you can use your reserve of goods to keep your businesses supplied and money rolling into your city. Remember you can also make additional cash by having franchises in your friends cities too so this is another approach to making money in the game.
Conclusion
CityVille has a great businesses economy and plenty of great buildings for your city. Be sure to check the game on a periodic basis for new business buildings and different ways to make money and expand your city.