Game Hints and Strategy Hints for Cooking Dash Diner Town Studios - Game Play, Power Ups, Upgrades and Mood Boosters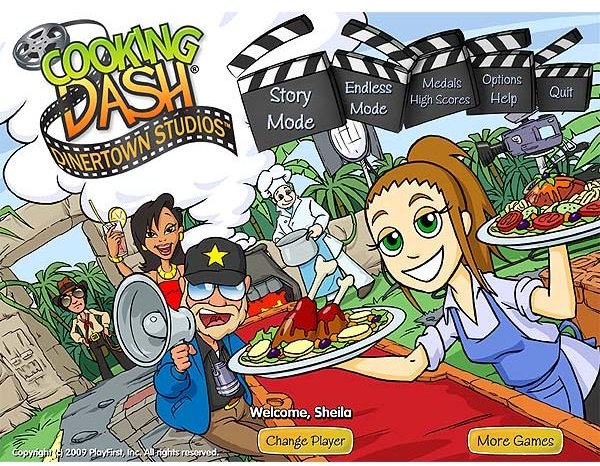 Cooking Dash Diner Town Studios Game Play
If you are familiar with the original Cooking Dash, game play is very similar. As customers arrive they are seated at counter. After the customer decides what they want the food is prepared. Flo handles cooking and frying pan meats, vegetables and other main entrees. Grandma prepares appetizers, sandwiches, salads and other small food items at a preparation table. Drinks and desserts are picked up from separate food stations.
To prepare Flo's grilled and fried items, click on the raw food and place it on the appropriate cooking appliance. After a few seconds, a bell will ring indicating that the food is ready to pick up. For Grandma's items, click on the appropriate food item displayed on her table. She will then prepare it and place it on a small counter next to her.
After food is prepared, click on it. Flo can then pick up the plates and deliver them to the appropriate customer. When the customer finishes their meal, collect the money and tips. Click on the dirty dishes and place them in the washer container bin to make room for the next customer.
Cooking Dash Diner Town Studios has five locations each with about a dozen game rounds. To move forward in the game, a particular score goal must be achieved. In between rounds upgrades can be purchased to help Flo and Grandma's performance, decorate the diner, improve customer's mood or increase diner profits.
Game Strategy and Tips
Higher scores are earned by completing chain actions. Flo can carry two items at a time. Try to do tasks in doubles, such as dropping off food orders, picking up money or clearing dirty dishes.
When purchasing upgrades, start by getting the food warming station and extra counter space for Grandma. As the game progresses, food orders will come in faster and require multiple items. The extra space frees up Flo's hands so she can perform other tasks or free up cooking appliances to prepare more items.
Bonus points can be earned from grilled or fried food items if they are picked up right away. Look at the food indicator next to the cooking appliance. It needs to display a green bar in order to get the bonus. If it shows red, the food is burned and no bonus can be earned.
Improve a seated customer's mood by giving them coffee. Waiting customers can be perked up with the use of a radio.
Upgrades that spruce up the look of the diner do not increase your money, efficiency or customer mood. Purchase these items last.
Celebrity customers can give you "power ups" that can temporarily improve customer mood, make Flo walk faster or make customers finish their meals faster. To get them, be sure to keep the celebrities happy. A special icon will appear after their money has been collected. Seating them next to other customers will also result in a mood boost (as well as a request to take their picture).
Try to seat customers by matching colors. Every time a customer is seated in this manner, the bonus for doing so increases by a multiple of one (1X, 2X, 3X etc).
Customers in Cooking Dash Diner Town Studios can be impatient. Try to serve them first. You can tell by the number of hearts they have displayed. If it drops quickly, that is a good indication that they may leave quickly if they are not helped right away.
The "Cookie Meter" is a telephone that will be available for use after several customer orders have been completed accurately. When it flashes, it can be clicked on to call Cookie for assistance. He will temporarily do food preparation for you.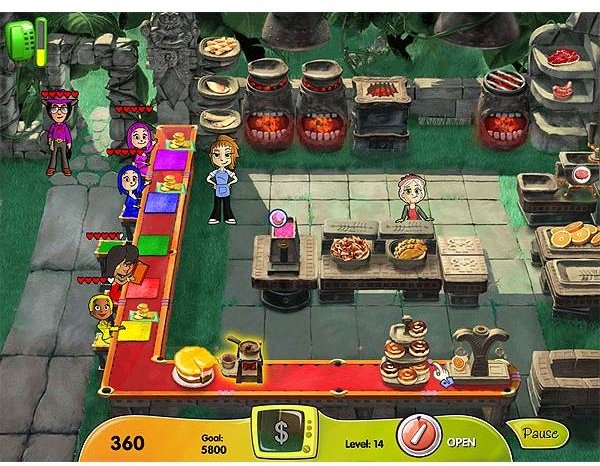 Resources
Image credit: Cooking Dash Diner Town Studios screenshots taken by Sheila Robinson.