Cooking Dash 3 - Thrills and Spills - Game Details and Tips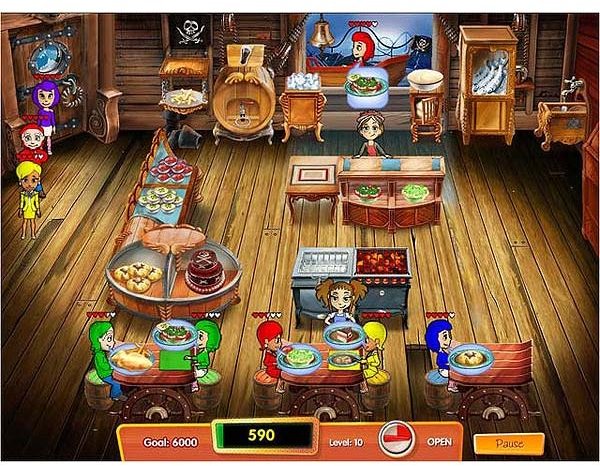 Cooking Dash 3 - Game Play
Consistent with other Cooking Dash games, each themed restaurant will offer a variety of food, drinks and desserts for customers. Play by clicking on customers and seating them at the counter or table. When orders are placed, Flo and Grandma prepare the meals. Grandma is in charge of the station in the middle of the restaurant. She will prepare sandwiches, salads and other dishes that require no cooking. Flo will prepare meats, French fries and other items with the grill and fryer. She will also prepare fruit drinks, soda and ice cream through the appropriate machine.
To have Grandma prepare sandwiches and other items, click on the appropriate image icon in front of her station area. Grandma immediately prepares the item and places it on a small counter next to her. Flo can then pick it up and deliver it to the customer.
Grilled and fried items are prepared by picking up the food item and then placed on the appropriate cooking apparatus. A small cooking meter is displayed in front of it to let you know when the food is prepared. This is indicated by a full green colored bar. Flo then picks up the food for delivery.
Soda drinks are prepared by clicking on the soda machine to fill up a glass. If ice is required, you can then click on the ice that is located next to the machine. Fruit drinks are prepared through a squeezer machine. Flo picks up the appropriate fruit (strawberry or orange) and then clicks on the machine. Juice is then prepared and dispensed into a single glass.
On each level in Cooking Dash 3, Flo will need to earn a specific amount of money to move forward in the game. Money is earned by collecting the tabs and tips from customers who have finished their meals. Bonuses are earned by fast delivery of items, chaining actions and seating customers to color matched chairs.
Upgrades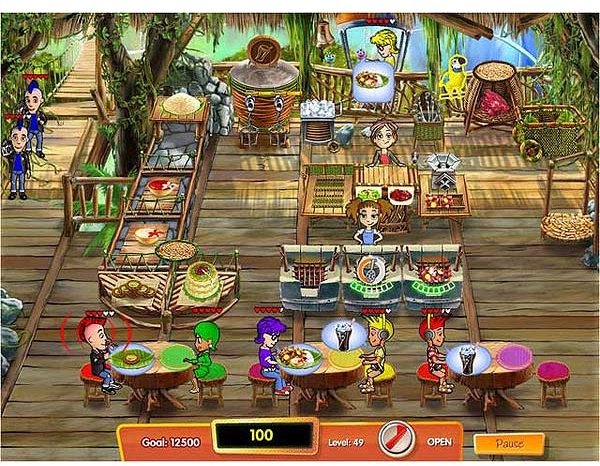 Upgrades can be purchased in between levels with the cash that is earned. Items marked in purple are items that can help the kitchen run more efficiently. These are items like faster grills, additional drink or ice cream dispensers and improving Flo and Grandma's overall speed.
Green highlighted upgrades simply improve the look and feel of the restaurant. They do not provide any bonuses to play or performance.
Mini-Puzzles
A new feature in Cooking Dash 3 is the mini-puzzle. These are matching and hidden object style puzzles that will give players the opportunity to earn bonus prepared food items that can be used in the next level of play. On the match puzzles, a specific food item (like grilled fish) must be clicked on. Once three of them have been clicked, you will collect a bonus food item. These rounds are fairly short so speed is needed to get the most bonus items. After the round is over and the next level begins, the bonus food items will be available at a special food station. Flo can then pick these up for delivery to customers.
Hidden object puzzles have a short list of items you will need to find in a limited amount of time. These puzzles will earn bonus items for use in the next level of play.
Hints and Tips
Desserts will be requested by customers if their number of hearts is high. Desserts will earn bonus money when delivered.
In the level 20 hidden object mini-puzzle, the revolver is located on the front of the stove. The arrow can be found on the cabinet on top ledge.
Color matching customers to seats gives a bonus that increases by 1X for every successful match (1X, 2X, 3X etc.).
To serve customers faster, prepare ice cream and soda drinks ahead of time.
Always try to serve impatient customers first. The most impatient are the Business Woman and Cell Phone Guy. Alternatively, the most patient customers are the Senior Citizen and the Young Girl. Increase customer patience with coffee and the radio upgrades.
Dash Through customers arrive at the back of the room. Treat them like regular customers that are seated inside the restaurant.
This post is part of the series: Cooking Dash 3 - Thrills and Spills Game Guide
Cooking Dash 3 is a time management series based on the popular character Flo from the Diner Dash games. This game guide will give details about the game, basic tips and strategies for expert mode play.