Dawn of Discovery Review for the DS

Dawn of Discovery for the DS
Ready for a new simulation building game for your DS that has some bright, detailed graphics? Dawn of Discovery is a great little game that was just released for the DS in June 2009 that any building game fan will want to pick up. With a great interface and challenging achievement system, you will easily fall for this game. Want to know more about it? Here is your gamer's review of Dawn of Discovery for the DS.
Story Mode (4 out of 5)
Dawn of Discovery is set in the 1400's, which adds a great aspect to the story overall. In the Story Mode, you will go through a long campaign that will have you starting out with small, fishing villages when you start building your empire. From there, you move up to larger towns and cities, until you are finally building up huge cities of stone buildings and castles. There are tons of great characters that you'll find in your villages, towns, and cities - from scheming women to grateful peasants to snotty nobles, there are tons of unique characters that make the story line and game play in Story Mode even more fun. And, the AI that goes along with these toons makes the game even more rich as you have to find ways to deal with them all and keep everyone happy. The Story Mode gets a solid 4 out of 5 from me, I do feel that they could have made the story line itself a little more in-depth, but it's really good overall.
Continuous Play Mode (5 out of 5)
In the Continuous Play mode, you'll simply start building and customize everything exactly how you like it. You can change everything from the size of the playing area to the islands to the people to the AI and much more. I personally love this mode, as I do in any simulation building game, so this is the way that I played the most on this newest DS game. Overall, the Continuous Play Mode gets a 5 out of 5 from me, as there is just so much customization here that you can easily play exactly how you like to.
Strategy (4 out of 5)
The overall strategy for this simulation building game is generally the same as other building games out there - but this one offers some unique twists and challenges that you'll have to face. You still have to keep the majority of your citizens happy, you have to build the right buildings for that area in the right order to keep your town growing and prospering, and you have to make sure that the quality of life is good enough that your citizens stay and pay taxes to keep you building.
While it's a simulation building game and generall the same as all the others out there - I really do like this one. The strategies that you have to come up with to win the area or game are great and you really have to put some thought into them. So, for the strategy part of this simulation building game, I give Dawn of Discovery a 4 out of 5 as well.
Graphics (4 out of 5)
As you can see from the screenshots below, Dawn of Discovery has a great overall presence on your DS. The graphics are very well detailed and the colors are pretty clear and bright. While I think that they could have done a bit more on the buildings and the people, overall, the graphics are great. They get a 4 out of 5 from me.
Images From Dawn of Discovery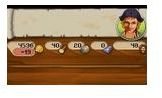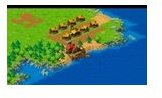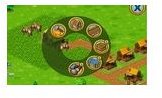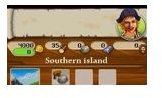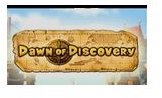 Overall (5 out of 5)
For anyone with a DS and a love of simulation building games, Dawn of Discovery is a great game that you should try out. You can easily rent this one if you don't feel like shelling out the money for a new game, but I guarantee that if you love these types of games, this is one that you will buy right away after trying it out.