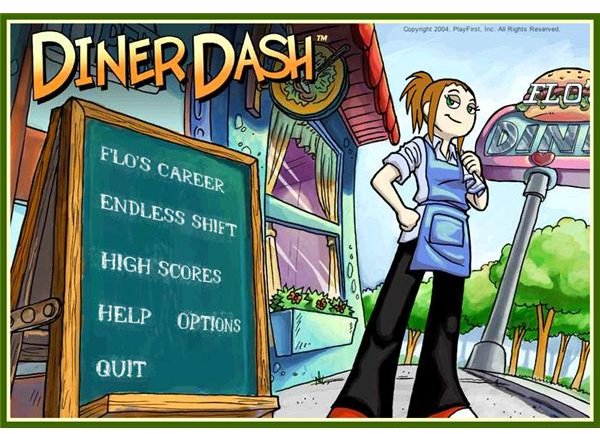 Diner Dash Walkthrough - From PlayFirst
The popular Diner Dash Series of games all started with the basic Diner Dash. Published by the San Fransisco based casual gaming company PlayFirst, the game was released back in 2005.
Since the release of this restaurant adventure game it has become widely popular the world over with a reported five hundred million downloads. First developed for the PC, several versions of the original Diner Dash game have been created for other platforms such as Nintendo DS and the iPhone. Here we are going to go over the original game in this diner dash walkthrough which can be used for all versions of the original game across platforms. For more on the mobile version of this game, see Diner Dash Mobile.
Flo's First Diner
Flo is the games lovable and quirky main character. Raised a country girl, Flo wanted to live in the big city and moved to Diner Town. Her first job was working in a little office cubicle and in short it's not a job that made her very happy. Flo dreamed of quiting the corporate rat race and branching out on her own but she wasn't sure what she should be doing.
One day the stress of office work became to much for Flo and she walked out. She still had no idea what she was going to do but upon walking home, she came across a old restaurant for sale. She decided to buy it and run it, which is how Flo's Diner was born. Flo wouldn't just be the owner though, she decided to work as the main waitress with the goal of making enough money from every shift to keep fixing her new diner up and gaining more customers.
50 Levels of Game Play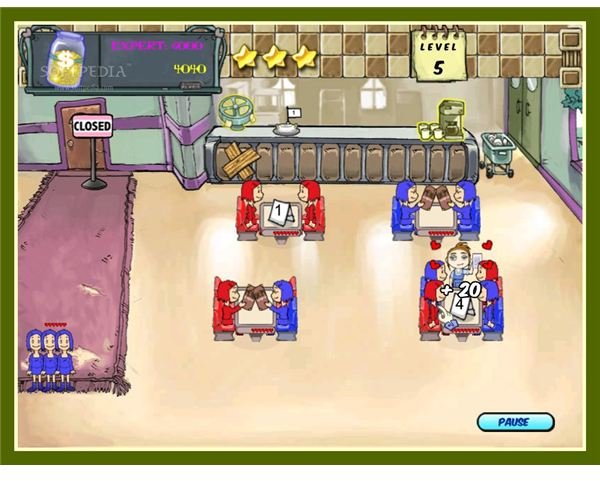 Each of the five stages in the game has ten levels of restaurant improvement to complete. The first stage of Flo's Diner begins by offering a game play tutorial. In the beginning only the ladies will come as customers and they will come dressed in colors of blue and red. As you go father along in the levels on this stage the ladies will also come in yellow and green.
Gamers can move on to the next level by earning enough on their shift. Each customer has a happiness meter made from hearts above their heads. If Flo can keep those hearts up for each customer the greater the customer's happiness with the restaurant will be and the more money Flo will make. You can see the heart happiness indicators above the customers heads in the screen shot to the left. Click on the image to get a better view of stage one, level five game play.
Not all customers are created equal, to keep things challenging during leveled game play there are more than just one type of customer that Flo needs to serve. Customer types include the following:
Young Lady - Medium patience, average eater and tipper
Senior Citizen - High patience, slow eater and cheap tipper
Cell Phone Guy - Impatient, fast eater, decent tipper, annoys other customers
Business Woman - Impatient, eats fast and tips big
Families - Impatient, average eaters and tippers, annoys other customers, need high chair
Teenagers - Impatient, flirty, girls are on cell phones, boys are loud, annoys other customers
Bookworm - Medium patience, slow eaters, average tippers, always has a book
When moving on to the next level, Flo will have three style choices for an upgrade. The first two choices will be offered by completing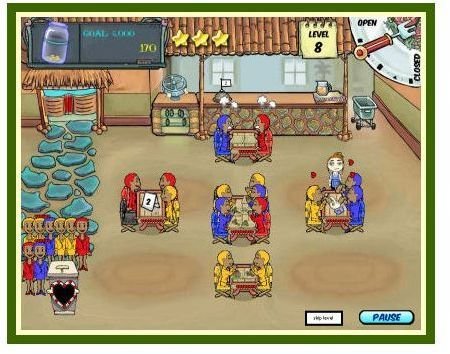 the previous shift successfully. The last style choice is only offered if Flo obtains an expert score from the previous levels. At the right is a screen shot image of stage two, level eight which consists of serving all business women during Flo's shift. Click on the image to get a larger view.
The fifty levels of game play are only available under Flo's Career mode. The other mode that is offered is endless shift, where you play Flo serving customers no stop. For more information on this Diner Dash game, as well as some of the game sequels then click through here: Free Diner Dash Games.
Second Stage
Sample contents.