Top Ten DJ Hero Songs for Nintendo Wii to Earn High Scores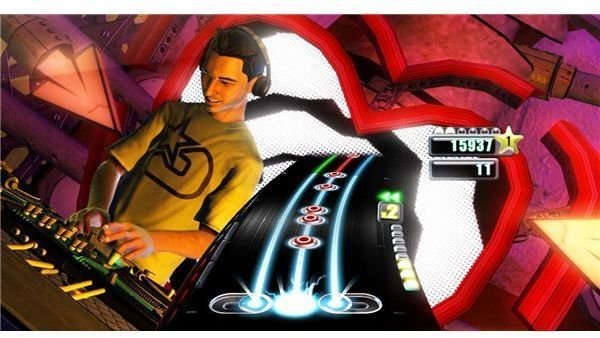 Hip Hop DJ Hero Songs
"Bust a Move" meets "Bustin' Loose"
If you're looking for a rap and soul beat, DJ to Young MC's "Bust A Move" and its mashup partner, "Bustin' Loose" by Chuck Brown
and The Soul Searchers. "Bust A Move" is the party hit that never dies, and Chuck Brown's "Bustin' Loose" tempers the rap attitude with some cool groove.
"Izzo (H.O.V.A.)" meets "My Name Is"
Almost any song with Jay-Z is complicated, but if you want something that's funny and high scoring, pick Jay-Z's "Izzo (H.O.V.A.)" with Eminem's "My Name Is." Though it's certain to get stuck in your head all day long, it's a blast to play. Just watch out for that crossfading.
"Day 'n Nite" meets "Boom Boom Pow"
Smooth hip hop meets chunky hip hop with Kid Cudi's "Day 'N' Nite" and Black Eyed Peas' "Boom Boom Pow." While both are almost mellow enough to cancel each other out, they do provide quite a challenge beat-wise.
Classic Rock Combos
"Robot Rock" meets "We Will Rock You"
Another great DJ Hero song is Daft Punk meets Queen with "Robot Rock" and "We Will Rock You." The "We Will Rock You" anthem lyrics play interspersed between the robotic groove, and while it might get on your nerves after a while, the moves never get old.
"Jukebox Hero" meets "DJ Hero"
One of the best DJ Hero songs on DJ Hero is Foreigner's "Jukebox Hero," which meets with DJ Z-Trip's "DJ Hero" featuring Murs. This one doesn't have any complicated moves, like heavy crossfading, but it does contain some serious scratching. If you hit these right, you'll get Rewind Ready in no time, and that will earn you some high points about two-thirds of the way through the song.
"Insane in the Brain" meets "Spooky"
Cypress Hill's "Insane in the Brain" goes kooky with the Classics IV hit, "Spooky." Hands-down one of the best DJ Hero songs on the game, this one is not only fun to listen to, you get in the groove of the song so well that even the DJ-ing aspect gets easier.
1980's Mashups
"Shout" meets Eric Prydz and DJ Shadow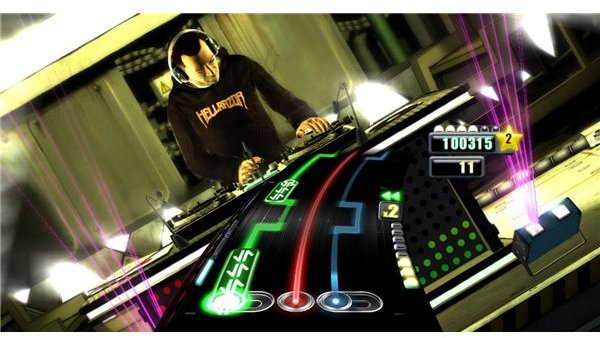 Tears for Fears is featured on several mix tracks, one with Eric Prydz "Pjanoo" another with DJ Shadow's "Six Days" featuring Mos Def and also with Eric B. & Rakim's "Eric B. Is President." The song is "Shout," so you can't really go wrong with either mix.
"Ice Ice Baby" meets "Straight Up"
Even if you're not a fan of Vanilla Ice, almost everyone can appreciate the "Ice Ice Baby" mixed with Paul Abdul's "Straight Up." Or, if Paul Abdul isn't your thing, Vanilla Ice also mixes with MC Hammer's "U Can't Touch This" on a different mix.
Feel Good DJ Hero Songs
"Somebody Told Me" meets "Disturbia" and "Pjanoo"
The Killers' "Somebody Told Me" is also a fun and challenging mix, both with Rihanna's "Disturbia" and Eric Prydz "Pjanoo." Although the Rihanna one is better, both give you an opportunity to scratch and spin to a great hit with a slight challenge. The mix with Rihanna doesn't provide quite as much high score capability, but if you can perfect your hits enough to score a Rewind Ready, you'll drastically increase your points.
"All Eyez On Me" meets "Bittersweet Symphony"
2Pac's "All Eyez On Me" is featured on two mixes, the better of which being the Aranbee Pop Symphony Orchestra's "Bittersweet Symphony." Since 2Pac's original song is a little lacking in melodic quality, the orchestra backdrop provides the best filler possible and makes an otherwise bland song sound like an epic victory.
Source: