Paradise Life Review- Own an Island on Facebook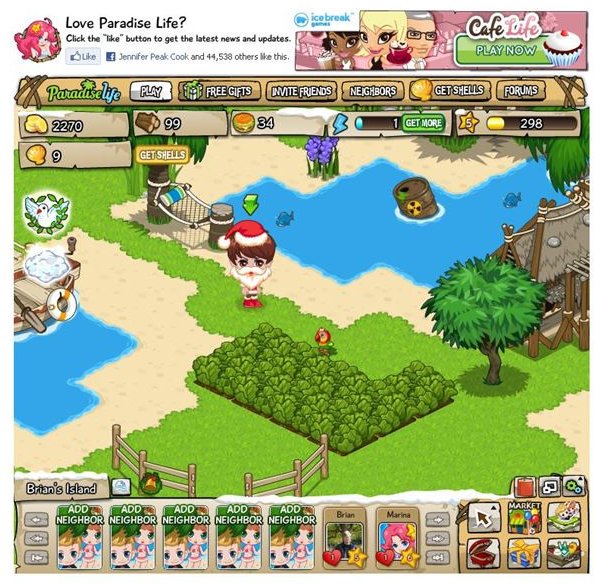 Paradise Life Game Basics (4 out of 5)
Paradise Life is much like the Facebook game Frontierville. In Paradise Life you have your own little island where you can grow crops and clear your land to make more room. Energy points are used to clear land and harvesting crops can provide you with "food" that you can eat to help replenish your energy stores. Tress shrubs, rocks, garbage and other items can be removed form your island for coins and experience points. Collection items can be earned as your island is cleared. Occasionally critters need to be removed from your island as they interfere with your land clearing.
Energy System (4 out of 5)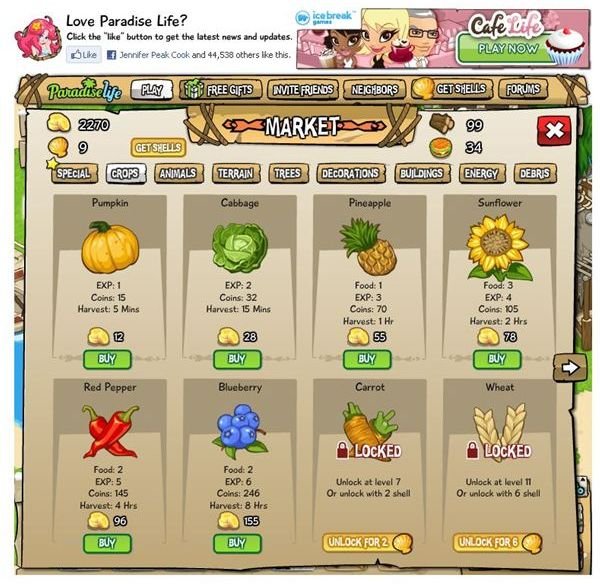 Paradise Life uses an energy system like Frontierville to remove trees, shrubs, and other items from the island. More energy can be found when you clear items, or it can be bought in the game store with food points. You can earn these food points by harvesting crops on your island. Energy will also replenish slowly over time with one point every five minutes. Facebook friends can send food items as gifts to help neighbors with energy.
Quests and Collections (4 out of 5)
Paradise Life has many quests you can do that will teach you about the game. There's also a hand guide book which will show you the basics of the game. The player can follow quests which are located on the left hand side of the screen in the game. As you uncover your island you'll loot items which become part of collections and special rewards can be earned once you have all the items of a specific collection.
Island Customization (4 out of 5)
Facebook games are popular because they allow you to customize so many areas of the game and play the way you want to play. With Paradise Life your avatar is fully customizable with new clothes and various looks. Your island is also fully customizable with various items from the game store. In addition to crops you can raise animals on your island and grow fruit bearing trees. Terrain such as water, sand, and grass can be purchased and added or taken away from your island. The game has many different island decorations including holiday themes, benches, umbrellas, fountains, a campfire, and more. Buildings are also a part of Paradise Life with a hut, storehouse, hotel, and others available for your little island. While the game is new it already has a nice set of decorative items you can place on your island to make it your own.
General Game Play and Conclusion (4 out of 5)
While Paradise Life doesn't offer anything new it is a nice looking game with good graphics and a nice soundtrack. The game is essentially Frontierville on water but it's still fun to play. The energy system can get a bit annoying and you'll need plenty of friends to send you energy gifts so you can keep playing but overall the game game play is decent. Hopefully more content will be added to the game and it can continue to grow into a great Facebook game.