Play Treasure Hunting Games On Facebook with Legend Hunter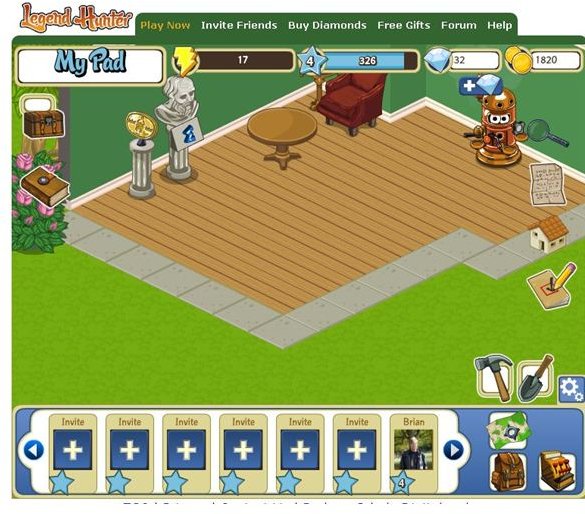 Game Basics (3 out of 5)
Legend Hunter is another in a series of treasure seeking games game similar to Zynga's Treasure Isle that you'll find on Facebook. The goal of the game is to explore map tiles and uncover loot, coins and experience. Leveling up in the game unlocks more maps to explore. Own your own little villa in the game and decorate it with various items. Complete quests along the way as you uncover tiles and look for secrets. Use the world map to explore other areas and discover even more goodies and items in the game.
Playing the Game (3 out of 5)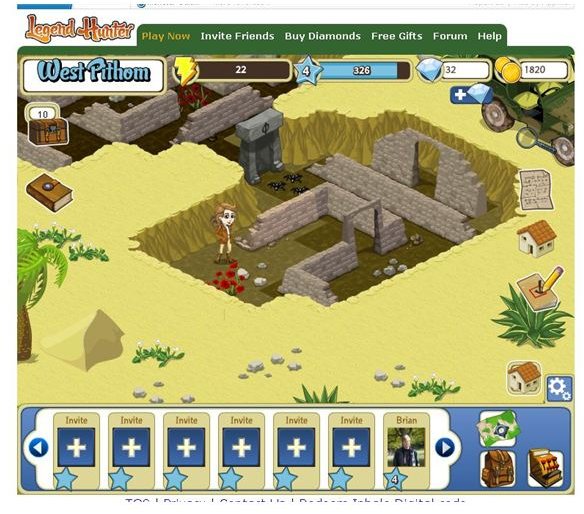 In this game, you uncover tiles using energy points. You'll gain coins, experience, loot and even free energy points as you move from tile to tile. Some of the tiles take extra energy points to complete. The game features a number of quests for different loot items, which you will find hidden under tiles in the game. As you play, you'll find these hidden objects and complete the quest for rewards. To the right of your game map you can find the quests to complete. View the game map to see the other maps you still need to explore in the game. When your energy is low visit your villa and decorate it with different items. Use the coffee pot to brew coffee, which will give you extra energy once it is ready.
Your Villa Customization (3 out of 5)
In the game, you have your own little villa to decorate. You'll find dozens of different objects that you can add to it. You have different floors, wall tiles, chairs, tables, and other items. As you level up you will unlock more items and the ability to expand the villa. The main problem with the villa is you don't start out with much with most of the items locked at the beginning of the game. It would be nice to see more items that you could add to the villa to give it more of a personal touch.
Graphics/Game Interface (4 out of 5)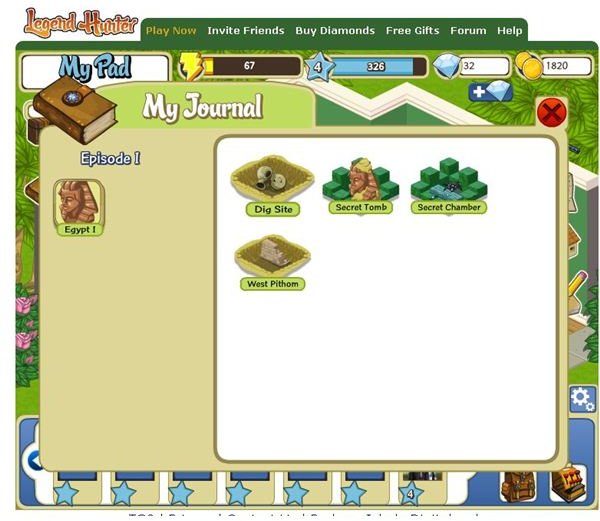 Legend Hunter has average graphics and a nice soundtrack. The maps all look different so there is always something new to see. The map shows you exactly where you are in the game and what level you need to be to access it. At the bottom of the screen, you'll find the map interface, your backpack for items such as energy refills, and the game store where you can buy various items such as keys or tools to open tiles. It is easy to find your way around in Treasure Hunter. The top of the page gives you your current level, energy remaining, and coins you have.
Collections/Journal (2 out of 5)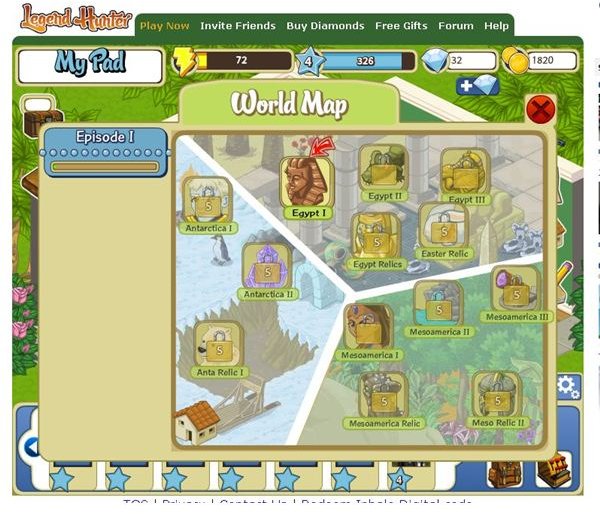 In many Facebook games like Legend Hunter you can collect various items for rewards. To the left of your screen you'll find your storage crate. Access this to see which items you have collected and which ones you still need for the reward. Currently there isn't much selection for collections and rewards which is a bit disappointing. As you play however you should get more items to collect which you'll find in the storage crate. Below the storage crate is your journal which shows you the maps you have explored in the game and you can use this to track your progress.
Overall Game Play and Conclusion (3 out of 5)
This is another average treasure game. You have plenty of maps to explore and you get your own little area to decorate but the game doesn't add much to the genre that is overflowing on Facebook with similar games. These games require energy and this once factor can turn people off since waiting for energy can be annoying. There's no guarantee you'll loot energy refills as you play. Therefore, this game has enough content but you have seen it before and is essentially a clone of games such as Treasure Isle. If you must play another treasure seeking game, try Legend Hunter. This game is worth playing but don't expect anything new or exciting from it.
References
All images from Legend Hunter.
Source: Article is author's own experiences playing Legend Hunter on Facebook.