Sailing Games on Facebook: Perfect Getaway Review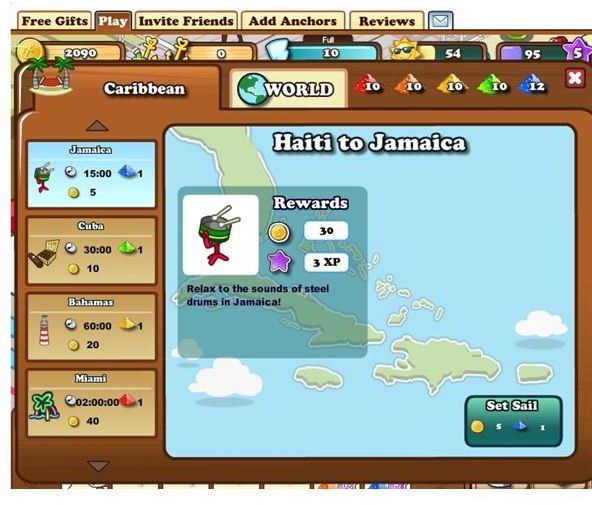 Game Basics (4 out of 5)
If you like casual sailing games Perfect Getaway is the game for you. This is a Facebook game where you get to manage your own cruise ship. You have a main deck that you can set up with chairs, swimming pools, food carts and other items to entertain your guests. You can collect coins and experience points from these items to help you level up and make money in the game. To manage your service items such as food carts you can hire a Facebook friend to main the station whether they are playing the game or not. Restock your stations with goods after your guests have emptied them. Visit many different ports of call in the game and gain experience, coins and sometimes a loot item. Expand your cruise ship deck to make room for more guests and items to entertain them.
Building Your Cruise Ship Deck (4 out of 5)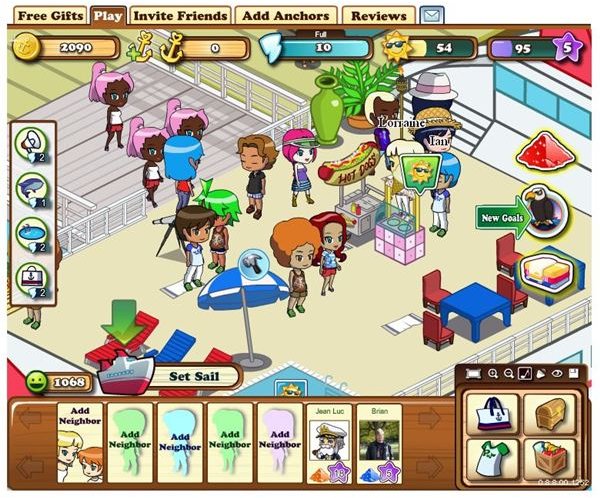 Perfect Getaway has a host of different items you can use to build the ultimate cruise ship deck in the game. You will need to balance your items to keep your customers happy while on board your ship. It's a good idea to have several different items so everyone is happy. You have leisure items such as deck chairs or swimming pools, which add to your leisure points. Services such as an ice cream stand or hot dog stand also add to your leisure points but also provide you with coins to buy more items in the game store. Decorative items such as crates, plants, umbrellas, vases and other items give your cruise deck a decorative touch. You have furniture such as tables and chairs as well as different flooring options for your ship. You can change the railing style or even the hull style at higher levels in the game. The boat is expandable in both its length and width to give you more room.
Souvenirs and Ports of Call (4 out of 5)
As you visit different ports, you'll pick up souvenirs or collection items. Once you collect the entire set you can trade these in for a special reward. For example, collect all the hammock pieces and get a new hammock as your reward. You'll unlock new areas of the world as you level up and cruise. You'll start the game in the Caribbean and then more areas will unlock. You can use anchors or game cash to arrive instantly in a port.
Graphics/Sound (3 out of 5)
Perfect Getaway features a soundtrack, which adds to the game play. On the graphics side, the game looks decent but it is not outstanding. The avatars and nicely modeled and they move around doing different tasks such as swimming or talking to other people. They will stop at a stand and buy something for example, or sit in a deck chair. The avatars make the deck come alive and they don't jus circle around as they do in other games like this on Facebook. Click on each avatar to see how happy they are and adjust your game if they are unhappy. The ship itself is plain looking so change it around with the various options in the build menu.
Interface/Multiplayer (3 out of 5)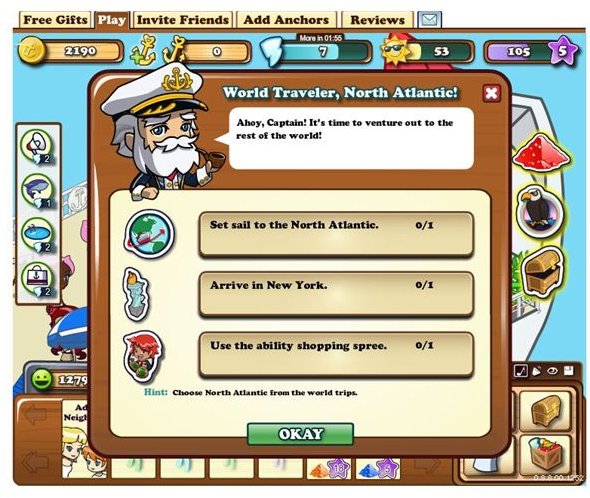 On the interface side, you will mainly use the build menu and click on the ship icon once you reach a port of call. You can access your collections through the souvenir button. Store any items you no longer want in your inventory or just sell them. View your leisure and level at the top of your game screen. You can send your Facebook friends gifts and visit their ships in the game and perform simple tasks for rewards.
General Game Play and Conclusion (4 out of 5)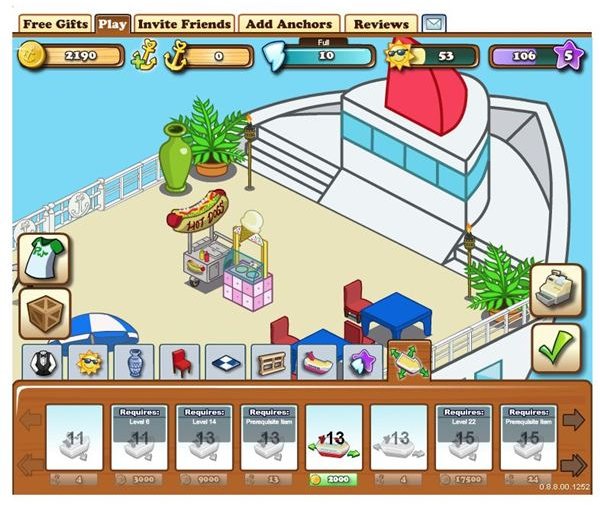 Perfect Getaway offers enough content to keep the game interesting. It can be fun to visit different ports and decorate your ship in unique ways. The game store has enough items to give you the decorative options you want for your ship. Like many Facebook games, you can expect to see quite a few annoying popups as you play asking you to perform some task. It would be nice if developers stopped this practice since it is very disruptive to your game play experience. Overall, the game is fun and a change of pace from making food or building a club on Facebook.
References
All images from Perfect Getaway.
Source: Article is author's own experiences playing Perfect Getaway on Facebook.