Space Wars: Space, War, and More by Zynga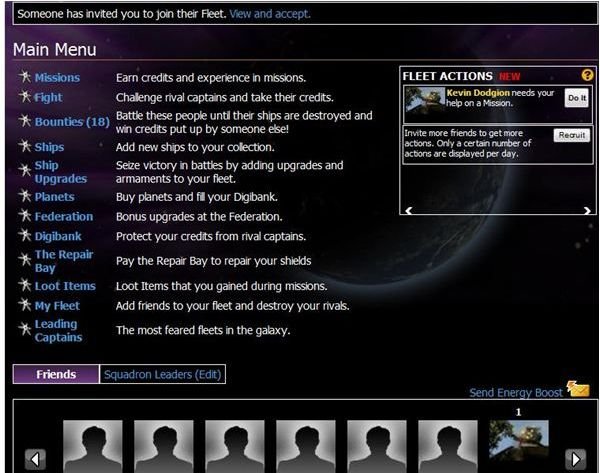 Space Wars, What is it?
Jokes aside, Mafia Wars., the million-player MMO from Zynga, was the origin to the design and gameplay of this interesting spinoff, Space Wars.
In Space Wars, much like Mafia Wars, you take command of a Mafia Fleet of your own, Commanding it as Don Captain. In it, you fight all kinds of Strange Creatures and people, from Aliens, to Pirates, and more. This isn't like being a Pirate in that other MMO though.
The game runs much like Mafia Wars, excluding some minor changes and graphical upgrades. The two games share the same timers, resources, and most major components. But something important to mention is the Pets system of Space Wars, which is unique to it, but we'll get into that later.
Interested in fighting off Aliens Hordes, commanding your vessel, and fighting for Power in this Browser Based Science Fiction MMORPG? Well then read on!
Galactic Business - Singleplayer Aspects of Space Wars (3 out of 5)
In Space Wars, you start out as a Fleet Captain of a small Fleet, with little income. Using what resources you have, you must complete missions and Operations to collect credits, and with that cash, make your way up the top of the Universal ladder of Space Fleets.
The MIssions range greatly, from rescuing miners, to freeing prisoners, and even killing Alien Nests! With each mission comes a required set of items, a reward, and an energy cost. As you use up energy, you must wait for it replenish.
In
terested in owning some Inter-Galactic Property? Feel free to! In Space Wars you can own land ranging from colonies, to bases, to even Ice Harvesters. These interesting properties give you an hourly income which will keep you funded for those battles ahead, and when away from the computer. With all this cash, you purchase your items.
The items of course, give you an edge in battle, and are requirements for bigger and better missions. As you complete the missions and advance yourself, you need to unlock bigger and better stuff. Use your hard earned credits to stay ahead. It's important to note that some items and ships will use up your income from properties, so remember to keep your income out of the red!
Singleplayer Aspects - Missions and Pets (3 out of 5)
As you complete missions, you will notice that you gain experience. If this experience reaches 100%, then you level up in that mission's skill, and gain an award point. With award points, you can purchase bonuses and other great items from the Federation. Remember though you can always buy more award points using real currency.
Now. The MOST exciting portion of Space Wars, is the pet system. With your money, you can purchase a pet, who will give you bonuses in battle and in missions, but that pet needs care taken to it! Remember to save some energy to care for that best friend of yours in space! Pets range from man's best friend, to the weirdest of creatures.
The gameplay for Space wars is pretty average. Mostly because it outright mimics that of Mafia Wars. The only plus side is the pet system. That pet system keeps it under two, but just bearly three out of five
Guns Blazin' - Multiplayer Aspects of Space Wars (4 out of 5)
Ready to take on those enemy fleets from far and wide?
Not exactly!
Before you can get anywhere near them, with your guns blazing, you need to make sure your numbers add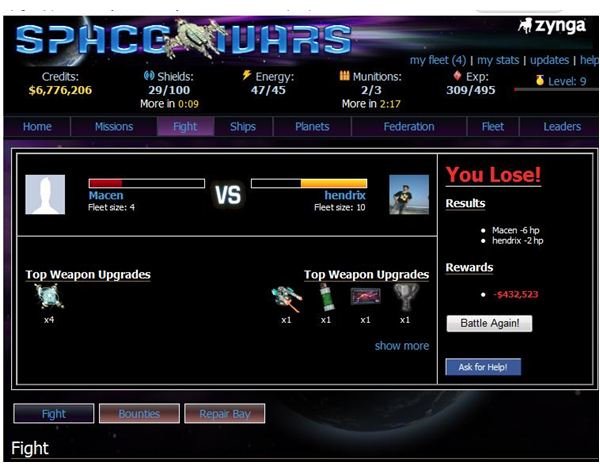 up
In Space Wars, just like Mafia Wars, the combat system works on fleet size, in combination with your weapons and defenses. If you have (for example) 5 fleet members, you can use the First Five Offensive Items, Ships, ( From Most Powerful to Least) and then you cannot use any more of your items. So don't overbuy items in that Freemium Store, expecting an advantage! You need to keep yourself full of fresh recruits to do that!
Multiplayer Aspects - Recruitment and Rating (4 out of 5)
Thankfully, Space Wars helps us out, through making it possible to buy fleet members with Award Points (Which cant be done in Mafia Wars), or to recruit our friends on Facebook and Myspace to get the greatest advantage. So you better start writing out those requests! Or instead, let the facebook integration do it for you.
In the battle scenes, its important to mention that unlike Mafia Wars, you get a much nicer setup that explains graphically the forces of you and your opponent. This really gives a helping hand when trying to decipher what went down. This, and the other features, really bring Space Wars above and beyond over Mafia Wars, which is why it gets four stars out of five
Conclusion?
The Conclusion was a tough, but Space Wars succeeds in being a decent spinoff.
If you want to play Mafia Wars in a smaller, less hectic environment, allowing you to climb more quickly up the Inter-Galactic Ladder, then you should definitely give Space Wars a try. On the Flip side however, this game has a completely unique setup, if you look behind the similarities in engine and design.
For example, the unique Pet system to the game is unlike Mafia Wars completely, and this pet, customized by yourself, can assist you in your missions, of course it needs care. The game really kills time and is great for the casual gamer
Once again though, remember these are Recruiter dependent games games, meaning you must recruit to survive. If you run out of people to recruit, you're going to find yourself in big trouble, Fast.
In Conclusion, this game, beyond the graphics, renaming, and addition of pets, is a Mafia Wars Clone. It can be a bit irritating seeing such similarities, but if you honestly wanted a smaller, Sci-Fi style of Mafia Wars with pets, and some minor advancements in it, then Space Wars is your safe bet. But if you're looking for more, you can also check out FarmVille, or perhaps you want to find out what's the latest and greatest by Mindjolt.