Facebook Game Review: Millionaire City - Make tons of Money on Facebook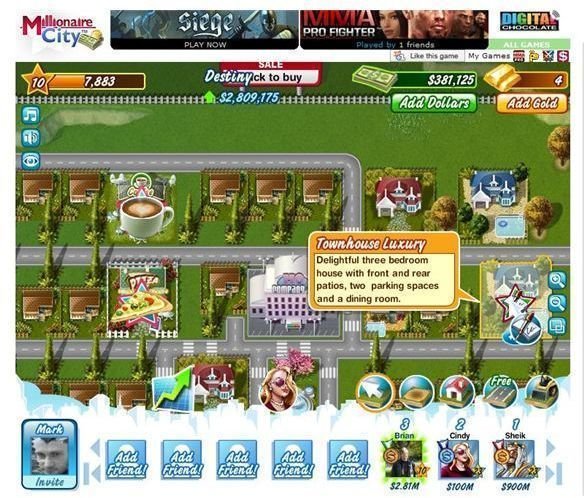 Game Basics (4 out of 5)
This game is a bit different from other city building games and has a heavy emphasis on money. The currency used in the game is called "millionaire dollars" and these are made by having people sign contracts to move into your homes and rent them. Different contracts will also earn the player small amounts of experience points. You can also make these millionaire dollars by having places of business which will slowly accumulate dollars for you and your dollars can also be used to build new structures. In the middle of the game play area is your mansion which will tell you your net worth. Players can also do a series of quests to earn additional millionaire dollars for their growing cities.
Building Houses (4 out of 5)
The bulk of your city will be houses which will provide income for you in the form of contracts or rent. Your home renters also provide business to any shops that might be nearby. It is a good idea to put several homes close by to any shops you might have. As you accumulate more millionaire cash and level up you will unlock different housing types and be able to make more money. Each house also requires a certain number of housing plots which you must construct before putting a house down. Each house will take some game time to build or you can have an instant build at the expense of some millionaire dollars.
The Business (4 out of 5)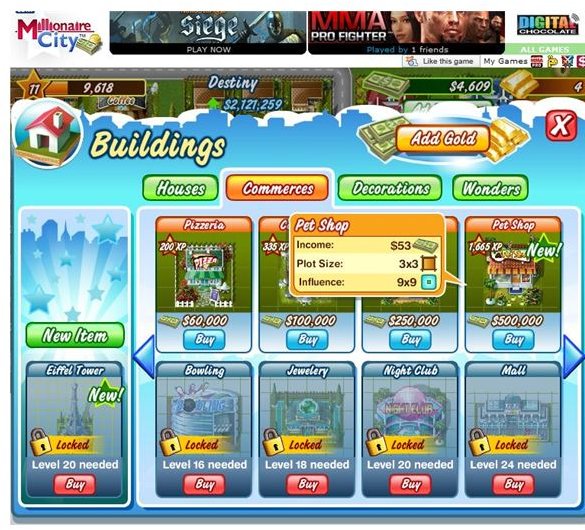 The business provides quick income for your growing city but you must have some homes next to a business it get the full effect. If you click on a business it will give you the radius that it covers and the number of customers it is serving. You can increase customers by building bigger and better homes next to the business. As you progress through the game you will unlock bigger businesses for your city such as malls, nightclubs, and banks.
Decorating Your City (3 out of 5)
The decorative items in the game such as trees, fountains, and gardens also serve an important function in the game. These items provide a bonus to the rent you get from your homes. It is a good idea to put some trees next to each home to get the additional income from the bonus the decorations provide to you.
Contracts (3 out of 5)
There are several contracts in the game that take time to mature. If your going to be online a lot you will want shorter contracts for some quick money. If your going to be offline you can get longer contracts like a day. Naturally longer contracts will pay you more money for your city. If you don't collect the rent on time your tenants will leave and you won't receive the money from them.
Conclusion
Millionaire City is a fun game to play and you need to balance your city homes, contracts, businesses and decorations to make the most money. That is the name of the game in this city make the most money and grow your city. The graphics are a little lackluster but the game has a nice soundtrack and an easy to use interface. Be sure to do the quests in the game to make additional millionaire dollars. By having some Facebook friends play with you you can expand yor city faster and make even more money.
This post is part of the series: Millionaire City
Check out this collection of articles about Millionaire City for Facebook.