Facebook Game Guides: Millionaire City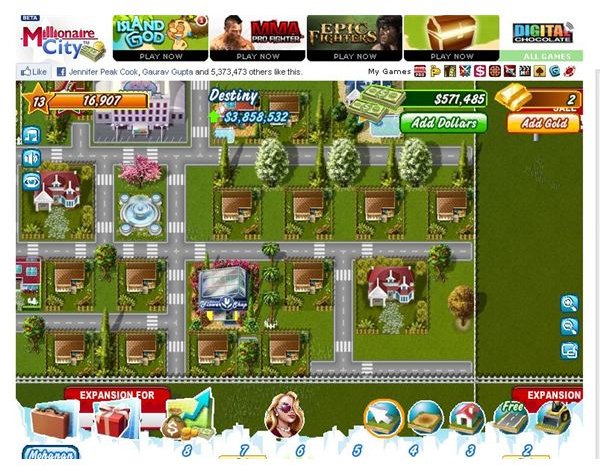 Millionaire City Game Guide Basics
In Millionaire City, your task is to build homes, collect rent, and to get businesses up and running so you can collect as much money as possible. Millionaire City is a city building game but the main theme is to make the most money possible. You can take quests and sign up your Facebook friends. As you collect money, your company value will go up but if you make building mistakes, you could potentially lose a lot of money too. As you collect money, you may loot different items that fulfill collections requirements and grant special rewards in the game.
Millionaire City Game Guide Understanding Homes and Contracts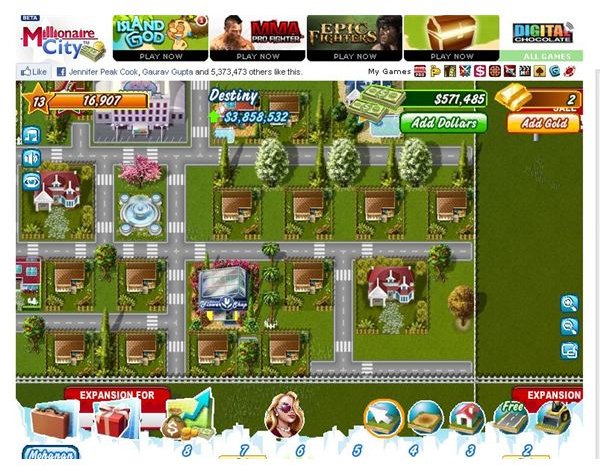 Each home you place on your game screen will pay you money over time. The money you collect comes from what are called contracts. By clicking on a home, you can select the contract time you want and come back when it's ready to collect your money. Contracts can run anywhere from three minutes to three days. Higher-level contracts will grant you more money for your growing city. In the game, you'll find many different homes including ranchers, villas and so on. At the higher levels, you'll get apartment blocks and skyscrapers for your city. As you build homes, you'll draw down your cash reserves and you can't build more structures until your reserves are replenished. These reserves are called Millionaire dollars. To complete a home right away click on it as it's built and use your cash reserves if you have the funds available.
Millionaire City Game Guide the Business
In Millionaire City, you also have businesses you can add to your city. These structures will not only add income to your game but nearby homes will provide an income bonus for the business. It's a good idea to have some business buildings near homes to get the added income benefits. Click on a business when it's ready and you'll see the radius it covers on the map. Commerce buildings are naturally more expansive and you won't have a as many businesses on the game map as you will homes. Make sure you place your businesses in the right locations to maximize the additional revenues from homes.
Millionaire City Game Guide Building Structures
In the game, you'll also need to have the available plots for your new structures. Use the plot tool to pick the area of land you want. Each structure in the game store will list the amount of grid space it requires. For example, a coffee shop needs a 3 x 3 grid space while a MCDollars needs 3 x 4. Once you have a structure under construction and have extra cash you can pay for it to complete right away or simply wait game time until completion, the choice is yours.
Millionaire City Game Guide Decorations
Make note that decorations can also provide income bonuses for other structures so it's a good idea to space out your buildings with the decorations. Having wonders in your city will provide a citywide bonus.
Conclusion
Millionaire City isn't a hard game to play and it can be lots of fun. Take your time, build your city slowly, and make use of the quests, which will help you learn about the game. Be sure to check Millionaire City often for new content that is added.
This post is part of the series: Millionaire City
Check out this collection of articles about Millionaire City for Facebook.