The Arena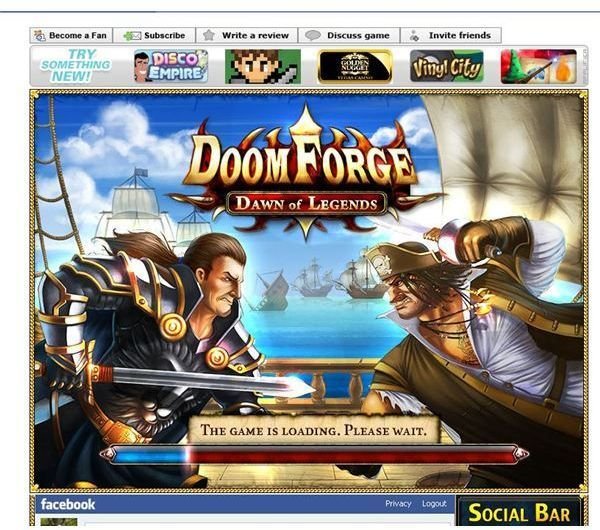 In Doom Forge you will enter the arena to take part in battles. The game will give you three Facebook users to pick from but you can always refresh to see someone new. You will also fight someone at or slightly above or below your current level to keep the game fair, yet challenging. Your fighter can use special moves in the arena which are located the main fighting area. These moves can cause devastating damage but at the expense of rage. If you run out of rage you will have to wait until it replenishes in your bar. Each fight will also use up twenty energy so you need to wait till that is full until you go for other fights or you risk losing the next match.
Character Screen
From this screen you can see the various weapons and armor you have equipped as well as any others you own. You can also click on the statistics button and see your various stats including wins and loses. Each piece of equipment you own will also show you which level you need to equip it. If the item is red you don't have the required level to wear that particular items and you need to level up first.
Skills Screen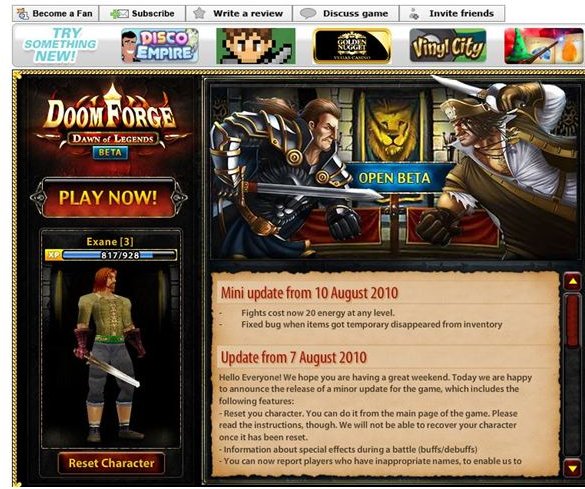 On the skills screen you will find the various skills of your fighter and you can also train new skills here. As you level up new skills will become available for you. You start with some basic kills and then move on to more advanced ones. Some skills also move up in rank so for example you start with Power Strike but at level five you can wield Power Strike rank 2. Use the scroll arrow at the top of the skills screen to move through the various skills. The skills you can't yet use are blacked out but you can still read them.
The Market
On this screen you can buy and sell equipment and weapons. Items cost either game coins which you earn by playing or gold coins which can be bought with real life cash. For armor items use the tabs at the top to select different pieces of armor with various pieces available including head gear. Magic items such a potions can also be used as your playing as well as jewelry pieces. The "sell your stuff" tab gives you a list of your current gear that is not equipped which you can sell back for some coins if you wish. You can also sort your gear by the wearable items at your current level which makes it easier to see what you can and can't wear if your inventory is quite full.
Bank/Social/Quests
The bank tab lets you make a payment by PayPal for game gold which you can use to buy some items within the game but you can also get some gold by completing offers. The social screen allows you to send messages to your friends to get them to play. With friends playing you can form guilds and do some quests which will unlock from the quests screen. Use the chat feature below the main game to get some new friends and enjoy the game to its fullest.
Conclusion
Doom Forge is one of the few free fighting games you will find on Facebook but it is quite good. Have fun playing it and I hope you win lots of battles. Be sure to upgrade your equipment once you level to stay competitive against your opponents.
This post is part of the series: Doom Forge
A collection of articles to help guide you through Doom Forge for Facebook.