Facebook Doom Forge Review - free fighting game on facebook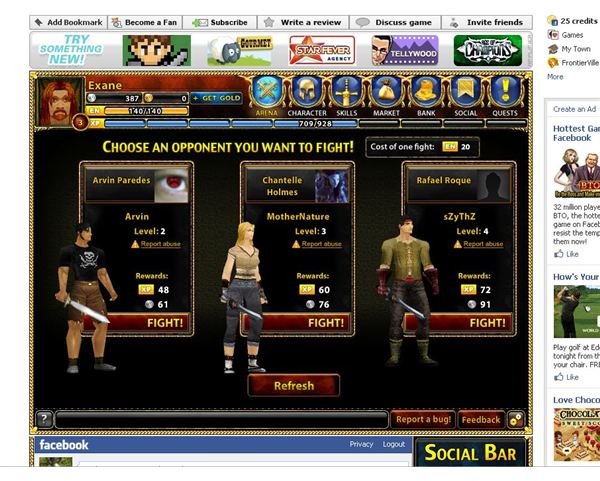 Doom Forge Basics (4 out of 5)
While farming and city building games dominate the Facebook landscape you'll find a small crop of free fighting games too and one of those is Doom Forge. In this game you go head to head against another Facebook user with your own custom character. Each character can be outfitted with new weapons and armor which will unlock for you at each new level in the game. At each daily login you can play the wheel of fortune with a chance to win equipment, coins or other items. The main game area is the arena where you will face other Facebook users. You will win coins and experience in the game with each win and a smaller amount if you lose so you'll always get something. The game will put you up against players near your level to keep it fair and competitive. In the arena you can use special moves which you can train after each new level you reach. These special moves can make the difference in your battle but they can drain your energy. You can get more energy by taking a rest in between fights.
Game Play (4 out of 5)
Doom Forge gives you quite a few customization options which makes the game interesting and fun. You can add new weapons and individual armor pieces to your character. The game isn't complicated any anyone can get in right away and begin playing this free fighting game. You can easily remove items you don't want from the character screen and sell them back for extra coins. From the skills screen you can train your fighting skills with Deep Cut and Power Strike your two basic moves. As you level you will unlock moves such as Victory Roar, and Counter Strike. From the market screen you can outfit your character and even buy potions that will heal you. The market is set up well and easy to use even if you're not used to playing games like Doom Forge. If you have many Facebook friends you can have them join you clan in the game. When you do this it unlocks quests you can do which are jobs for extra game coins. You'll only find one free mission you can do which is disappointing and most of them require several Facebook friends.
Interface and Conclusion (4 out of 5)
The games interface is laid out well and below the game screen is a chat area where you can talk to other Facebook users playing the game which adds a social element to the game. You can also invite your friends from this screen too with the big "invite friend" button. The main play areas is well laid out with the main buttons at the top of the screen and overall the game is easy to play with simple menus and setup of your character. The blue bar at the top of the screen is your experience towards the next level. You should plan to fight in the arena often to get to the next level it doesn't happen quickly. If you want to play a simple free fighting game on Facebook Doom Forge is recommended.
This post is part of the series: Doom Forge
A collection of articles to help guide you through Doom Forge for Facebook.