Facebook Car Town Game Guide - Car games for free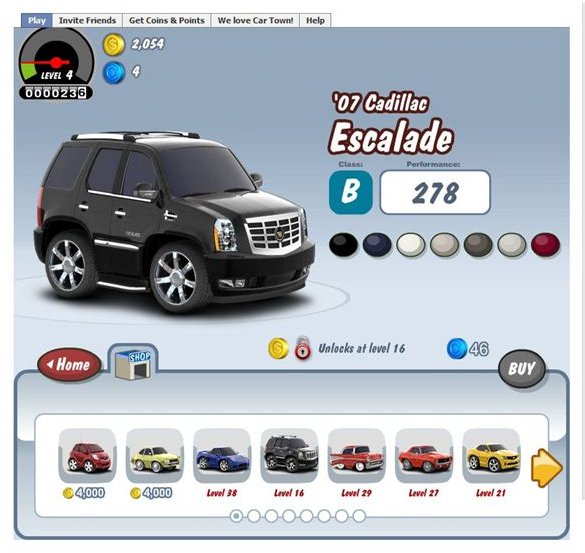 Car Town Basics
If your looking for car games for free on Facebook you'll want to tryout Car Town. In the game you start with a basic shop and one car of your own. In your shop you have repair bays that can be filled with waiting cars or you can just pick a job and have a Facebook friend perform the task. Jobs include installing fuzzy dice, doing a car wash, installing new wheels, and a whole host of other jobs. Jobs take actual time to complete so if you're going to be online it's a good idea to take a job with a short time so you have the money to work with. If you don't collect your money in time you won't make anything and the job is wasted.
Your Car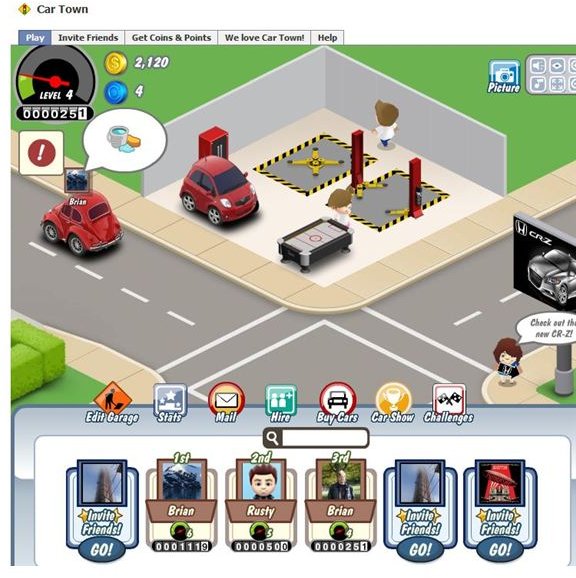 As a car owner you can do several tasks with it. First of all you can take several jobs including delivering pizza which earns you a few coins. You can earn more coins by going on a road trip but this requires a free worker in your shop to tag along. Your car can also be entered into a car show and if you win you get the top prize. Besides these few tasks you can also race your friends with the car. This option allows you to challenge a friend t a race by clicking on the Facebook friend and then racing. The game does allow you to race one NPC character. When the race starts just match your speed to the meter and don't go into the red,. The racing is easy and it won't take too long until you get the hang of it, just remember that faster cars may beat you if you have a basic car.
Your Car Customization
One thing you can do to improve your racing is to upgrade your car with customization options. This si a lot of fun and easy to do by jus clicking on your car and picking the options you want from the store. You can upgrade the cars performance in the engine, handling, aerodynamics, and weight categories. Other changes are cosmetic and include the wheels, paint scheme, window tint and body. These customization options are great and a nice addition to the game.
Your Garage
Your garage is fully customizable too so you can add new repair bays, tool chests, even games that give some coins periodically to your shop. Besides tool chests you have barrels, cones, signs and other options such as new flooring, walls, and signs. Expanding your shop can be done here too and will cost either coins or game credits which you can buy or save up as you level. The storage box is also available here where you can store the items you don't want to use such as extra cars or shop decorations.
Conclusion
Car Town is a fun game and well worth playing due to its many options and customization features. Be sure to click the sign outside and visit the showroom to see other cars in the game. You can buy a new car from the menu just be sure you have enough credits. Good luck with your racing and the progress of your car shop. You'll find a few car games for free online and one of them is Car Town.
This post is part of the series: Car Town Guide
A collection of articles to guide you through Car Town for Facebook.